Estimated read time: 4-5 minutes
This archived news story is available only for your personal, non-commercial use. Information in the story may be outdated or superseded by additional information. Reading or replaying the story in its archived form does not constitute a republication of the story.
PROVO — BYU basketball coach Mark Pope didn't even have to think when asked about San Diego State's biggest advantage in the Aztecs' first trip to the Marriott Center since BYU left the Mountain West Conference in 2011.
"They're really long. I mean, man, are they long," Pope said.
He's probably still having flashbacks to one key element of their length.
The Aztecs (1-0) suit up 15 players between 6-foot-1 inch and 6-foot-10 inches on their roster, including four at the high end. But where San Diego State really stands out is the length in the backcourt.
That includes Santa Clara transfer KJ Feagin, who BYU knows well from his time in the West Coast Conference, and it includes Washington State transfer Malachi Flynn — the 6-foot-1 guard who dropped 27 points, seven rebounds and three assists on Pope's team when the Cougars beat Utah Valley, 83-76 back in 2016.
That will be a challenge for a BYU team with limited size, one that played several guard-focused lineups in a 76-58 win over Cal State Fullerton in a way that could become commonplace while dealing with the nine-game suspension to Yoeli Childs.
Apart from starters Dalton Nixon and Kolby Lee, who played 25 and 17 minutes respectively, only Taylor Maughan came off the bench as a pure forward. The BYU-Hawaii transfer played just 1:25, meaning BYU spent a lot of time in four-guard lineups shooting 11 of 24 from 3-point range and forcing just two blocked shots — both from transfer guard Alex Barcello.
"Their backcourt is really big, and their frontline is so long," Pope said. "There might be some shock when people see us walk out on the floor, and San Diego State walks out on the floor. But what we're hoping for is that there is some shock when we walk off the floor, too.
"We've got a lot of work to do. They are a big-time team right now."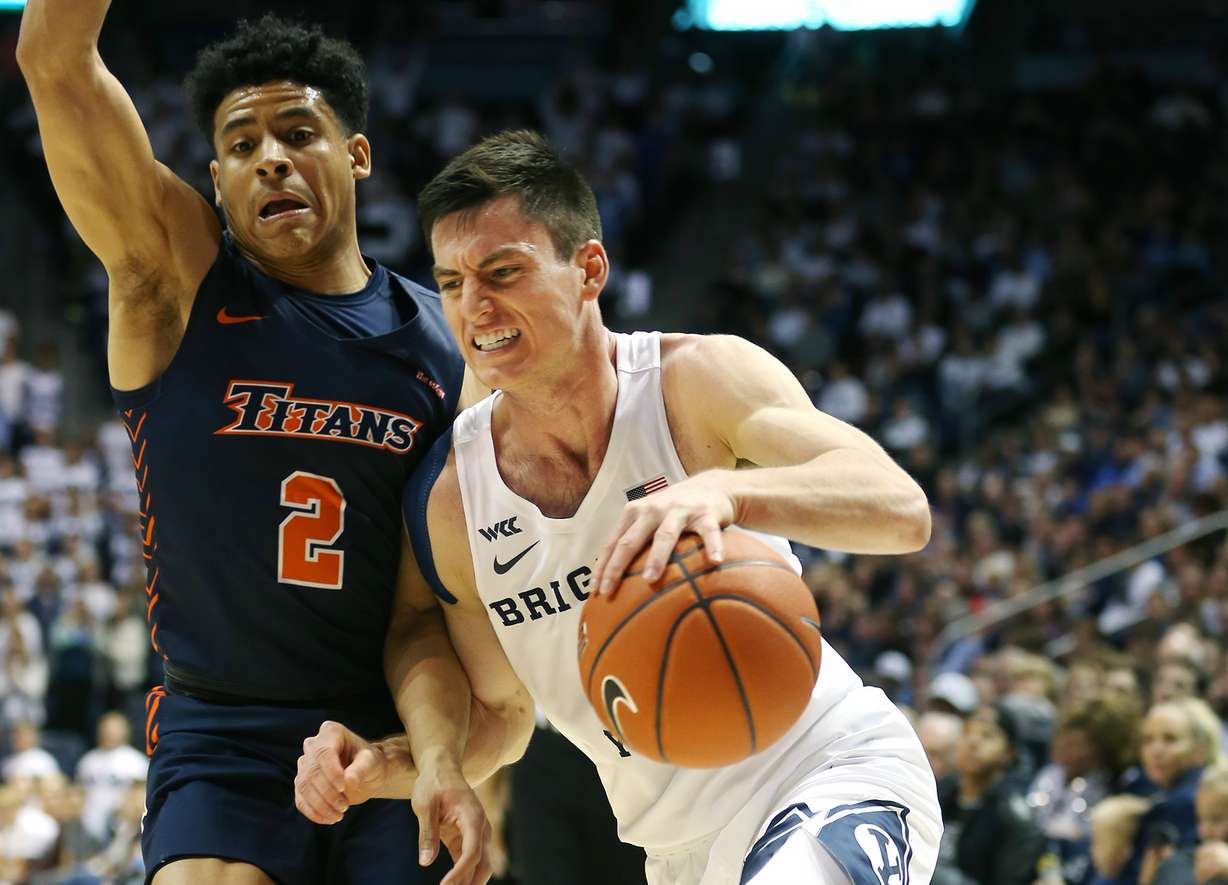 The Cougars are 48-25 all-time against San Diego State, including a 29-3 mark in the Marriott Center. But the Aztecs come into Saturday's 2 p.m. game in Provo with momentum, not just from a 90-81 win last year at Viejas Arena, but coming off a 77-42 rout of Texas Southern.
San Diego State hasn't won in Provo since 2005.
San Diego State used that length to execute an exquisite defensive game plan, holding the Tigers to just 13 first-half points before rolling to the win. That included 15 points apiece from Flynn and Jordan Schakel and limiting Texas Southern to just 41 rebounds, including 14 on the offensive glass.
It has the makings of a big game in a rekindled rivalry that went dormant for several years when BYU bolted the Mountain West for the West Coast Conference in response to the football team's bid for independence.
"Everyone knows the history of the rivalry … and it was fun to relive that rivalry last year," San Diego State head coach Brian Dutcher said. "We won a very good game here in Viejas and we'll face a very good BYU team and a very raucous Marriott Center. We're excited for that opportunity."
The game is the first of three key games for top-flight BYU programs on campus. After the 2 p.m. MST tipoff, BYU football will host Liberty at 5:30 p.m., and No. 4 BYU women's soccer tries to wrap up an unbeaten regular season against Loyola Marymount at 8 p.m.
Fans with tickets to either the football or basketball game will be admitted into South Field for free to celebrate the Cougars' Senior Night in soccer.
The Aztecs should play to their strengths with a long, defense-focused lineup against a much smaller BYU basketball team. But the Cougars could have a strength in their own small set: the 3-point line, the great equalizer in college basketball. BYU made 11 3-pointers against the Titans, including a 53% mark from deep in the first half.
"When we go with a smaller lineup, we're going to focus on attacking and staying with the flow," said Barcello, who had a career-high 17 points, including three 3-pointers in his BYU debut. "But whoever is in the game, I know we're going to stay on attack."
But the Cougars know they'll need more than the 3-ball to win Saturday; they'll need to improve on the 35-34 rebounding edge they posted in the season opener.
"They're a big team, and they've got a lot of length. I know one of our biggest points of emphasis will be to rebound the ball," BYU guard TJ Haws said. "I think if we can get stops and rebound the ball, then our transition offense is going to be really great for us."
×
Related stories
Most recent BYU Cougars stories