PROVO — BYU basketball coach Mark Pope couldn't contain his excitement a couple of weeks ago when transfer guard Alex Barcello received his NCAA waiver to play immediately for the Cougars.
In Tuesday night's home opener, the junior from Arizona showed why.
Barcello had a career-high 17 points to go along with two assists in his BYU debut, and the Cougars canned 11 3-pointers to shoot their way to a season-opening 76-58 win over Cal State Fullerton in front of an announced crowd of 11,116 fans at the Marriott Center.
TJ Haws added 17 points and three assists, and Connor Harding supplied 11 points, eight rebounds and three assists for the Cougars (1-0), who also got at least one triple from Zac Seljaas, Dalton Nixon and freshmen Trevin Knell and Blaze Nield in the win.
"I look at it as a blessing. It's great to be able to come out here and play with such great guys and such a great team. I'm just thankful," said Barcello, whose 17 topped his previous high of 16 points scored as an Arizona sophomore against Georgia Southern. "I was happy that I could go out and play for these guys, and for a great coaching staff."
Austen Awosika led Fullerton (0-1) with 16 points and six rebounds, and Brandon Kamga scored 10 points for the Titans.
.@bfowler16 and @DaveMcCannKSL give a rundown of tonight's @BYUbasketball game against @FullertonMBB.#BYUHOOPSpic.twitter.com/aAux11ffGN

— BYUtv Sports (@byutvsports) November 6, 2019
"His energy is so contagious, and what he brings on the defensive end really just sparks our team," Haws said of Barcello. "What we keep talking about is winning games by getting stops. We play defensively. But his energy is unbelievable, and it spreads to other guys. "Then on the offensive end, he makes shots. We're super grateful to have him. He's a great guy."
BYU scored 12 of its first 15 points from 3-point range, going 4 of 7 from behind the arc with a pair of treys from Barcello and Harding. That helped erase an early deficit, as well as the addition of injured wing Seljaas.
The Bountiful product did not start after offseason surgery to repair a broken foot suffered during a preseason tour of Italy, but came off the bench less than four minutes into the game. Moments later, Barcello nailed his first triple from the left wing to give BYU its first lead, 9-7 with 15:29 left in the half.
Can you say SWAT team? Alex Barcello bringing the heat. #BYUHOOPSpic.twitter.com/XTKLfVOOg5

— BYUtv Sports (@byutvsports) November 6, 2019
It wouldn't be the last time the Arizona transfer made newly eligible by the NCAA found the triple, though. The junior scored 11 points, including three 3-pointers and two more assists, to lift BYU to a 38-24 halftime lead.
"He's really good. But the thing about Alex that helps us so much is he's so physical off the bounce," said BYU coach Mark Pope, who improved to 1-0 as full-time head coach in Provo. "What I mean is a lot of times, when you're driving, guys can body you up and move you off your driving line. But he doesn't; you can't move him. He's so physical and tough. He's such a beautiful complement to TJ, who is slight and light and clever — but not always a physical presence.
"Those guys have a little yin and yang personality in the backcourt that is going to be hugely important for us. The same on the defensive end."
The Cougars shot 8 of 15 from 3-point range in the first half, and just 2 of 11 from inside the arc. But when you're shooting 53 percent from deep, who needs jumpers?
"When you have good shooters on the perimeter, it really opens up the floor," said Haws, who averaged 17.8 points and 5.1 assists per game as a junior. "If they want to play in the gaps, they're going to make shots. We have great shooters, confident shooters, and when guys are making shots, that court just opens up a whole bunch."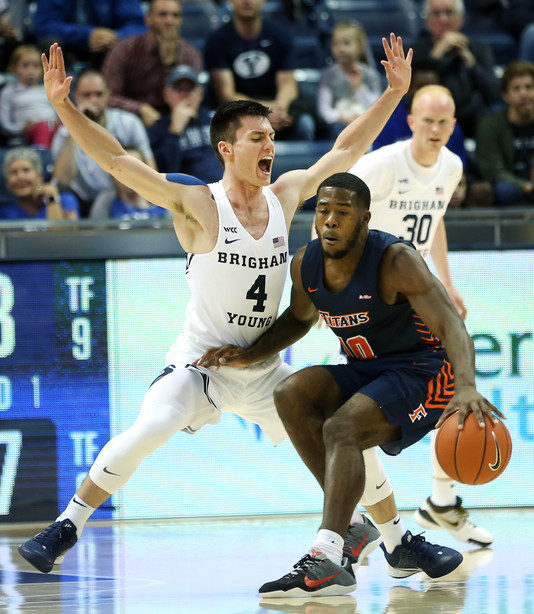 The Cougars assisted on 9 of 11 made field goals in the first half, and finished with 16 assists on 28 makes. Five players recorded multiple assists, including Jake Toolson, the reigning Western Athletic Conference Player of the Year, who finished with seven points, four assists and five rebounds on just 3-of-9 shooting in his first official game as a graduate transfer for the Cougars.
But it was the 12-0 run with lockdown defense over six minutes late in the first half that sparked the Cougars, and the defensive swat moments before his first 3 that sparked Barcello.
Also preempting that 3: the emergence of Seljaas off the bench. The senior wing had six points, eight rebounds and two assists in 17 minutes off the bench in his first game since offseason foot surgery.
"I thought that was awesome. I know how hard Zac worked every single day when he was hurt; nothing stopped him from working every day," said Barcello, who drew five fouls and committed none. "I was so happy for him, knowing all that hard work he put in. Everyone believed in him, and knows how well he can play.
"We were all happy for him."
Here's to the first of many wins in the Marriott Center for @CoachMarkPope!
⠀⠀⠀⠀⠀⠀⠀⠀⠀#BYUhoops#GoCougspic.twitter.com/jSZ5PpM5DN

— BYU Basketball (@BYUbasketball) November 6, 2019
Next up
BYU hosts former Mountain West rival San Diego State at 2 p.m. MST Saturday. The game will be broadcast on BYUtv.
×
Photos
Related Links
Related Stories