SALT LAKE CITY — Mike Conley remembers how he was feeling during his first day of training camp with the Utah Jazz. As he listened to the terminology and went over some of the intricacies of head coach Quin Snyder's systems, he couldn't help but crack a joke.
He and new point guard Emmanuel Mudiay turned to each other and said: "I think you need a Ph.D. to play here," Conley remembered. "They didn't tell us that before we came."
If you're looking for the cause of Conley's slow start to the season, that might be reason No. 1 — and maybe No. 2, 3 and 4, too.
Conley hasn't lost a step. His stop-and-go hesitation dribble that froze Tobias Harris and led to a wide-open layup in Wednesday's win over the Philadelphia 76ers was proof enough of that. But there has been a learning curve to grasp what the Jazz do, and maybe a bigger one than anyone anticipated.
"It's not so much the plays," Conley said. "It's just a lot of terminology, a lot of things that are different words than most of the rest of the NBA, which is great once you learn them all. Nobody really knows what you're saying because you are speaking a foreign language than the rest of the league — which is brilliant."
The problem is you first have to learn that language.
So when a play has been called, it's sometimes taken Conley just a little longer than normal to realize what exactly he should be doing. That split-second pause has led to disrupted timing and has made Conley look less comfortable in his first couple of weeks in a Jazz uniform.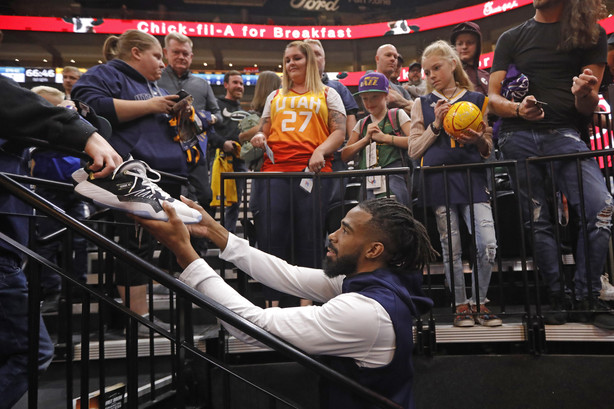 "I don't know that we have any monopoly on complexity," Snyder said before Wednesday's game. "If you watch us play, right now, it's more about execution and comfort."
For Conley, the game against the Sixers showed progress in those two areas. Conley had 15 points on 6-of-15 shooting, six rebounds and two assists. Those numbers don't jump off the page like his 29-point outing against the L.A. Clippers did last week, but it might have meant more in the long run.
Early in the game, Conley ran to the corners to draw defenders wide and to provide space for Donovan Mitchell to walk into wide-open midrange jumpers. He then made an aggressive drive into the hoop threw it high up on the glass before Rudy Gobert grabbed the rebound and flushed it home.
These were by design. Sure, Snyder would prefer a layup or a three, but an open shot is an open shot. And the Jazz have long thrown the ball up to the rim to allow Gobert a chance to clean things up — even if it's not always a pass.
"I felt like I had a good flow throughout the whole game, just knowing when my time was to be aggressive and when I was to be a decoy, or cutting or whatever it was," Conley said. "I'm trying to figure out the timing of that. I've been on a lot of teams and every year, sometimes, it's different. In the first 5 minutes, they want you to be aggressive. Second-quarter, they want you to be aggressive. So I'm just trying to figure out where my timing is, and I think tonight was a good step."
The game had more from Conley. He made a chase-down block on former Jazzman Raul Neto, he made a lob pass inside to Gobert for an easy bucket, and in the fourth quarter he smartly waited for contact under the basket before laying it in.
Those plays were instinctive — plays that showed he's starting to not have to think so much, that he's growing more comfortable.
"We're just all learning," Conley said. "And that's the beauty of it. We're not playing our best on both sides of the ball yet, but we're able to chip away and win."
When Conley was asked if the Jazz's offense was really that much different than most around the league, a knowing smile appeared on his face.
"Yeah," Conley said emphatically. "Yeah."
But now, Conley is starting to be in on the secret.
×
Related Stories