SALT LAKE CITY — As Mike Conley watched the film of the Utah Jazz's last two losses to the Kings and Clippers, he saw some things he wasn't too proud of.
Mainly, how he had allowed his man to get into the paint for rebounds. He wasn't the only culprit — far from it — but he wanted to make sure that didn't happen again.
So he made a deal with his team: If he misses a box-out, he's paying up.
"I told them they can fine me $100 every time I miss a box-out from now on," Conley said.
On Wednesday in Utah's win over the Philadelphia 76ers, Conley had six rebounds from his point guard spot. Conley wasn't alone in getting to the boards. The Jazz outrebounded what had been the best rebounding team coming into the night 50-42 and allowed just seven offensive boards.
Rudy Gobert had 16 rebounds, Bojan Bogdanovic and Georges Niang had six, Donovan Mitchell had five, Royce O'Neale had four. It was like three days of sitting on the fact that they had lost two straight games because they didn't do something as fundamental as boxing out weighed pretty heavy on them.
"I was all over the place trying to get rebounds," Conley said. "I didn't want to give up no money. So I think everybody just really took it to heart and it showed tonight. It was a good win against a very good team."
Jazz coach Quin Snyder specifically praised Conley's effort on the boards and for his ability to get to 50-50 balls on Wednesday.
"Oftentimes rebounding is execution and guys helping each other out and not taking anything for granted," Snyder said. "So I think we had great urgency on the boards tonight."
But does all that praise mean that Conley's wallet is safe?
"I might have (missed a box-out)," Conley said. "But I think I've made up for it. I was under the bigs a lot trying to tip them out, stuff like that. So I was in there still. But we'll see."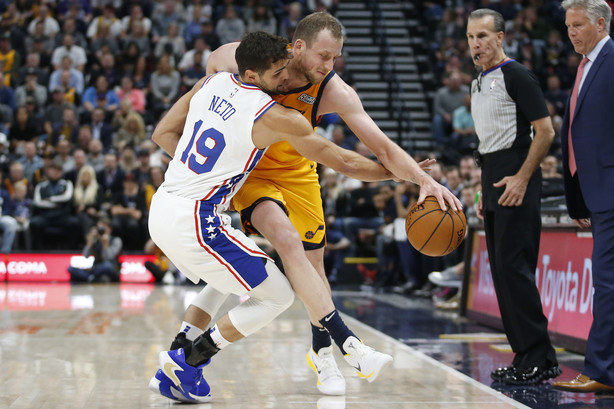 Raul Neto's return
When Philadelphia's Raul Neto checked into the game for the first time, he was greeted by a hearty cheer. It was a nice moment for the backup point guard that had helped the Jazz to three straight playoff appearances.
"I worked a lot on not getting emotional when I am on the court," Neto said. "Of course before the game, when I was talking to all my former teammates and they showed a lot of love and the fans showed a lot of love, too, it was great being back."
It ended up being a busier-than-normal night for Neto.
With Ben Simmons injuring his shoulder in the second quarter, Neto got some extra time in his homecoming game.
He played 30 minutes and finished with 11 points and four assists — showing many of the things that made him a valuable, if not always used, part of the Jazz.
"We didn't get the win, so it is not as good as winning against them, but it was great. I think once I stepped on the court, I just forgot about all of that and (tried) to play my game."
×