This archived news story is available only for your personal, non-commercial use. Information in the story may be outdated or superseded by additional information. Reading or replaying the story in its archived form does not constitute a republication of the story.
Even if it's made you wiser, more experienced and more successful than your younger self, aging still gets a bad rap. Sure, you'd never trade the memories and experiences you've collected over the years, but you'd probably prefer not to see them written on your face every time you look in the mirror.
If sagging skin, fine lines and wrinkles are making you look older than you feel inside, it might be time to give aging a run for its money — without ever stepping into an operating room.
If you're hoping to restore a more youthful appearance while combatting wrinkles and sagging, lifeless skin, there are a few reasons Sculptra Aesthetics should be your go-to method.
It doesn't require surgery
Sure, a facelift — particularly under the care of an experienced plastic surgeon — can take years off your face and restore both beauty and confidence. But going under the knife isn't for everyone — nor is it always necessary.
If you're concerned with fine lines and wrinkles resulting from the skin's natural loss of volume, dermal fillers — particularly one that doesn't simply restore volume but also promotes collagen production — is a fantastic alternative to surgery. Not only is it easier on your body and your pocketbook, a procedure like Sculptra can be performed in the office with little to no downtime.
If safety is your concern, you'll be pleased to know its also on the minds of those helping you achieve more youthful skin. At Utah Facial Plastics, injectors are trained by and work alongside board-certified cosmetic surgeons, using cannulas rather than traditional needles to minimize bruising and swelling.
It boosts collagen to improve skin quality
If you've never used facial fillers, it may be overwhelming to sift through the various products on the market today. Fillers, according to American Academy of Facial Aesthetics, are injected into the skin in order to restore volume lost over the years, because aging tends to increase lines and folds around the mouth, make the lips appear thinner and more downturned and the skin to become thinner and looser.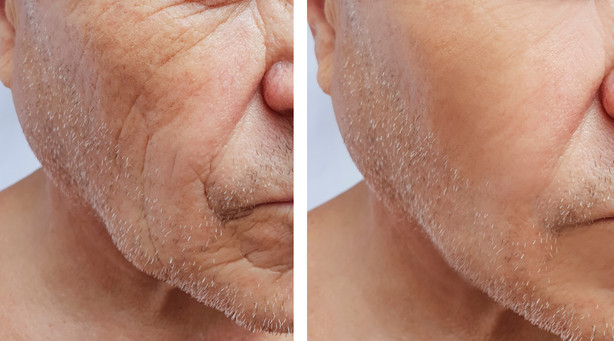 Most dermal fillers are made from various substances like hyaluronic acid, which is naturally found within the body. While these are effective in creating volume, they don't naturally improve skin quality. Sculptra, however, uses poly-L-lactic acid, which, according to Sculptra Aesthetic, works with your body to help rebuild lost collagen for a more youthful appearance. That means you're not simply making up for lost volume, you're improving and restoring your skin to its younger, more vibrant condition.
Results are long-lasting
According to Utah Facial Plastics, Sculptra isn't just any facial filler. Because of its collagen-production properties, your immediate Sculptra results may not be as dramatic as those of another injectable. That's because the poly-L-lactic acid will improve the skin over the course of treatment — and long after. In fact, Sculptra Aesthetics boasts results that last up to two years.
"Scultpra is the ideal filler for people who need comprehensive revolumizing in multiple areas of the face," said Dr. Scott K. Henstrom, double board-certified plastic and reconstructive surgeon at Utah Facial Aesthetics. "Properly done, it can restore much of the volume a person loses as they age, in a very natural way."
For those looking for a comprehensive plan to target aging skin, Henstrom recommends Sculptra as part of a strategic schedule.
"It can easily be combined with other treatments and has longer-lasting effects than any other non-permanent filler because of its very significant stimulation of collagen production," he said.
It's easy to learn more
If you're interested in restoring your face's more youthful appearance, reducing fine lines and wrinkles and improving the texture of your skin, learning more about Sculptra is easy.
You can schedule a free consultation with Utah Facial Plastics to discuss your goals and determine a successful treatment plan with a board-certified cosmetic surgeon.
For a limited time, Utah Facial Plastics is offering a special price on Sculptra — buy 3 vials and get a 4th for free. (Restrictions may apply, $700 value, while supplies last, with nurse injectors only). Schedule your appointment at (801) 776-2220.
×