Estimated read time: 4-5 minutes
This archived news story is available only for your personal, non-commercial use. Information in the story may be outdated or superseded by additional information. Reading or replaying the story in its archived form does not constitute a republication of the story.
John Garlinghouse was on a long flight from Salt Lake City to Washington D.C. to attend a conference in July 2018 when he felt unusual stiffness in his lower back. The business executive got to his hotel and then walked down to the White House and back to work off the pain, but when he bent over in his room, he says, "It was absolutely the most excruciating pain I've experienced in my life."
Then 59, Garlinghouse was an intensely active man who mountain biked up Cottonwood Canyon four days a week and snow-shoed three days a week in the winter. Suddenly, "astronomical pain," he recalls, immobilized him and he couldn't feel his right leg below the knee, his calf muscle like jelly.
Garlinghouse spent the next 36 hours in his hotel bed, icing his back, before deciding he had to return home. "It was no picnic," he says, given his agony, to get to the plane and then endure the four-hour flight.
A friend and pediatric neurosurgeon referred him to University of Utah Health neurosurgeon, Marcus D. Mazur MD, who takes care of patients with spine issues. Mazur's patients can range from healthy patients with traumatic injuries to those with severe and disabling spine deformities to patients with nerve or spinal cord compression from disc herniation or structural abnormalities.
Mazur notes that most neck and back pain cases respond well to "nonsurgical treatment." These treatments can include everything from core strengthening, physical therapy and simple rest, to spinal injections, and nonsteroidal anti-inflammatory medications such as ibuprofen or muscle relaxants.
"Often, the pain will improve over time and their primary care physicians can refer them for therapy or help prescribe medications." Opiates, he adds, aren't effective for spine-related pain and should be used sparingly.
However, when back pain is accompanied by arm or leg pain, such as tingling, numbness, shooting pains, or difficulty gripping something with your fingers or moving your toes, you should get an MRI to see if there's compression of a nerve Mazur says. Such neurological signs suggest you need to see a spine specialist.
Symptoms that are red flags and may signify medical emergencies include groin numbness, being unable to empty your bladder, loss of bowel function control, and difficulty walking due to numbness or weakness. All four of these symptoms can indicate severe nerve compression, Mazur notes, and you should notify your doctor or go to the emergency room.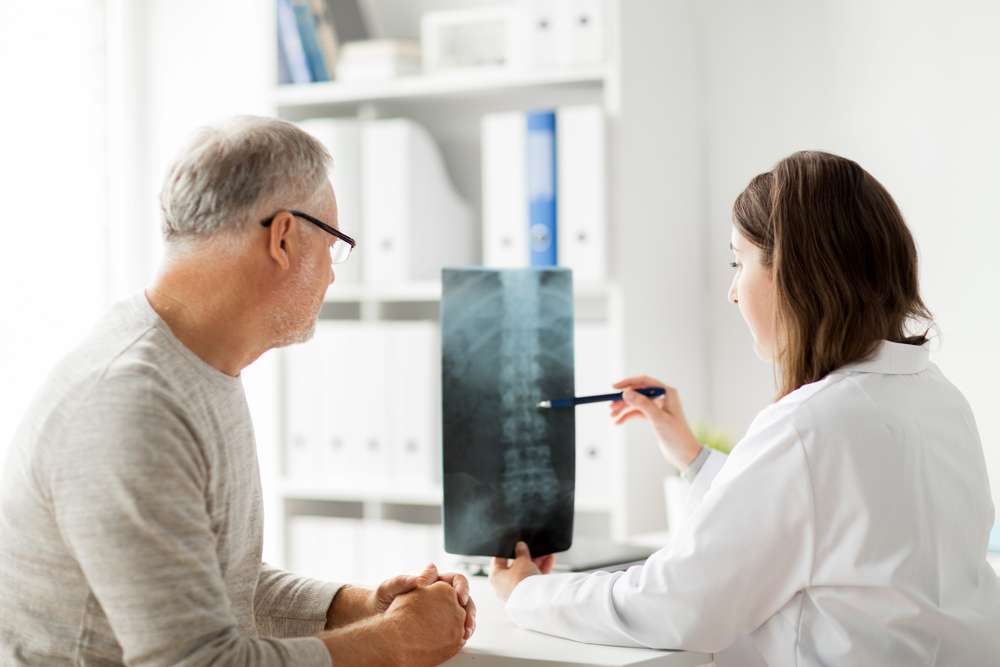 Mazur recommends surgery for patients with degenerative disc problems that are causing nerve compression and fail to respond to multiple nonsurgical treatments. Garlinghouse had several injections but they offered no mid- or long-term relief.
"If symptoms have persisted for usually four to six weeks despite conservative management, that's when we start to consider surgery," Mazur says.
The need for surgery broke a long streak for Garlinghouse. He was just nine years old the first time he'd gone to the OR for a cut on his arm. Fifty years later, in September 2018, he went under the knife for the second time. He arrived at the hospital at 5 a.m. and was lying face down on the operating table by 8 a.m. for his two-hour surgery.
Mazur used an x-ray machine in the operating room to localize where exactly on the spine to operate, made a one-inch incision and through a tubular retractor system created a small opening in the bone. He then took off the thick ligament covering the nerve, retracted the nerve root to one side and removed the degenerated disc fragments from the disc space.
At 2 p.m the same day, Garlinghouse, with the assistance of his wife and son, walked out of the hospital.
Within two weeks of the operation, Garlinghouse was not only on his feet and working again, but taking a plane to another conference, "which was remarkable," he says. Within three days, he could feel both the numbness subsiding and his leg function returning.
He resumed snow-shoeing on his birthday in late December and throughout the 2019 summer worked on a goal: to cycle to the top of Cottonwood Canyon. A year from the day of his surgery, he rode up the canyon to Alta to attend a friend's wedding.
Mazur stresses that each patient is unique and that sometimes the MRI gives a different impression than what he finds in the operating room. Spinal anatomy is composed of complex three-dimensional structures and relationships that are not easily depicted in two-dimensional imaging.
Some patients may have more nerve compression than expected and others may have looseness in the spinal joints or fused spinal segments that may not have been identified. A small number of patients, he notes, do have residual symptoms such as numbness and tingling. There are also some who do not seem to get better, even though post-operation imaging may show that there is no ongoing nerve compression.
Looking back, Garlinghouse marvels at the speed of change from the agony of the herniation to how rapid the post-op recovery was. "I would recommend it to anybody in the same situation," he says. "It was one of the best decisions I ever made in my life."
×