This archived news story is available only for your personal, non-commercial use. Information in the story may be outdated or superseded by additional information. Reading or replaying the story in its archived form does not constitute a republication of the story.
SALT LAKE CITY — As the National Weather Service's Salt Lake City office puts it, "Octoburrr" continues to bring more freezing temperatures to the Beehive State.
The most snow accumulation across the northern Utah valleys will come Tuesday morning, according to NWS.
Broken records
Salt Lake City broke a nearly 50-year-old record low of 23 F Monday with temperatures reaching 22 F
Capitol Reef National Park, Cedar City Airport and Deer Creek Dam all tied previous records Monday with 25 F set in 2012, 12 F in 1970 and 13 F in 1970, respectively
Capitol Reef National Park, Cedar City Airport and Deer Creek Dam all tied previous records Monday with 25 F set in 2012, 12 F in 1970 and 13 F in 1970, respectively.
Hans Flat Ranger Station broke the previous of 21 F record set in 2009 with 16 F. In Randolph, there was a record low of minus 1 F that broke the 5 F record set in 1984.
KSL Meteorologist Grant Weyman and the team are forecasting 13 F on Wednesday morning — which would break the all-time low of 16 F in October set in 1971.
Southern Utah not escaping the cold
A hard freeze watch is in effect for St. George from Tuesday night to Wednesday morning and Wednesday night to Thursday morning, according to NWS. Low temperatures in the 20s are forecasted for the area.
Southern Utah residents should prepare for the possible hard freeze by making sure outdoor hoses aren't connected to faucets and by draining swamp coolers and RVs.
Morning commute
Slushy roads are expected Tuesday morning along benches and bridges to valley floors as certain areas along the Wasatch Front might get up to 3 inches of snow.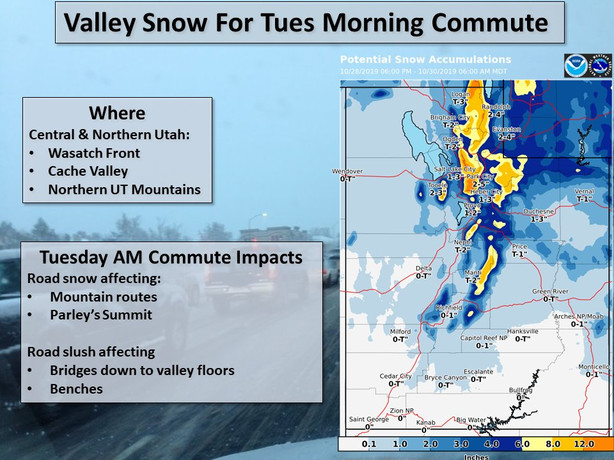 Mountain routes and Parley's Summit will likely have snow impacting roadways in the area, according to NWS.
Gusty winds up to 60mph are also expected to hit areas of Salt Lake County and Utah County Tuesday and Wednesday morning.
To prep for the snowy weather, Utah Highway Patrol Sgt. Nick Street advises Utahns in a video to follow basic road safety guidelines.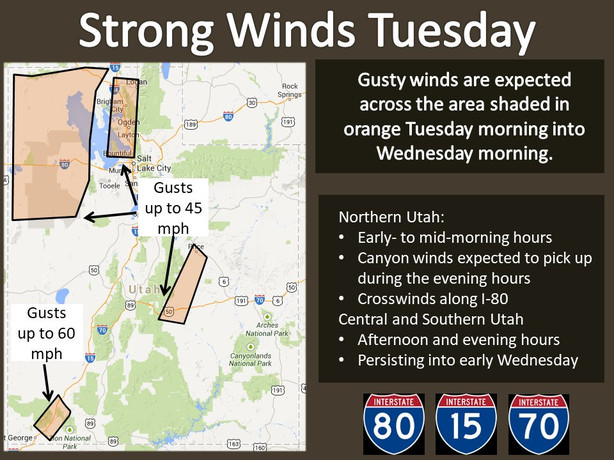 Drivers should check their tires to make sure they have appropriate tread, increase following distance from the legal 2 seconds to 8-10 seconds and keep vision ahead to avoid crashes in the winter weather, Street said.
He also noted that posted speed limit signs don't apply in hazardous weather and drivers should slow down in icy road conditions. Travelers should leave earlier than normal to account for the poor conditions.
Important information for those planning on driving tomorrow. pic.twitter.com/GqPtPBqeA7

— Utah Highway Patrol (@UTHighwayPatrol) October 28, 2019
With winter upon us, West Jordan Police Department also reminded Utahns to be careful when it comes to warming up cars. "Please remember with this cold that car stealing season is upon us," police officials warned in a tweet.
On Oct. 15, a car that was left outside a Magna home to warm up was stolen with a 10-year-old child still inside.
Advisories
Three winter weather advisories and one wind advisory were issued across the state for Tuesday.
A winter weather advisory was issued from 6 p.m. Monday to 6 p.m. Tuesday for the Wasatch Mountains, I-80 northbound, including Woodruff and Randolph.
Another advisory is issued for Tuesday midnight to 6 p.m. in Salt Lake and Tooele Valleys, along with Logan, Smithfield, Brigham City, Ogden, Bountiful, Salt Lake City Tooele, Lehi, Provo, Nephi Huntsville, Park City and Heber City.
Additionally, a wind advisory is issued for Tuesday from midnight to 9 p.m. for the Great Salt Lake Desert and Mountains. Strong winds up to 50mph are expected to hit state Route 30 and I-80, according to the advisory.
The final winter weather advisory is issued for Tuesday from midnight to 6. P.m. in the Wasatch Mountains south of I-80, including Alta, Brighton and Mirror Lake Highway.
Snowplow crews ready for first snow
The drop in temperatures over the past 48 hours has sent a chill down the spine of most Utah residents — including snowplow crews.
"It feels a little early to be talking like this. But, we're getting ready. We're getting ready for snow," said John Gleason, a spokesman for the Utah Department of Transportation.
Bobby Hall, a UDOT maintenance shed supervisor at the UDOT Traffic Operations Center, said gearing up for snow in October tempers the excitement, but most of the plow drivers love the job.
"Snow is our main priority here, that's our main job," said Hall. "So, everybody gets pretty excited for snow."
Earlier Monday, plow drivers filled their trucks with salt so they don't have to take time to do that around 3 a.m. Tuesday, when they expect the storm to start causing trouble on the roads of northern Utah.
"We'll probably come in around 3 o'clock in the morning, and get ready for the storm," said Hall. "If it's snowing, will be putting salt out, plowing."
UDOT has already stocked up on 800 tons of road salt at this shed, which will be replenished 10 times this winter, if snowfall is average. That is only one of many such sheds on the Wasatch Front.
"This is a big day because we are stockpiling all of the salt, making sure that we have enough to get through this storm and many more that could be in the foreseeable future," said Gleason.
A year ago, during a very snowy winter, UDOT plow crews set several records: They put in more hours plowing snow — 250,000 — and spread more salt — 205,000 tons — than ever before.
Last season, UDOT spent a total of $31 million on snow removal — $9 million on salt alone, leaving the agency $7 million in the hole, forcing it to deplete its emergency fund.
"Our plow crews will be out in force just making sure that we make the roads as safe as possible. But, it's a good reminder to slow down and prepare for those icy patches," said Gleason.
×
Photos