This archived news story is available only for your personal, non-commercial use. Information in the story may be outdated or superseded by additional information. Reading or replaying the story in its archived form does not constitute a republication of the story.
AROUND THE SHIELD — Bobby Wagner has been in the National Football League long enough, he was bound to etch his name into the Seattle Seahawks' record book at some point.
The 29-year-old Utah State grad in his eighth year in Seattle became the Seahawks' all-time leading tackler when he recorded six stops Sunday in a 27-20 win over Atlanta.
And he immediately credited his teammates for the accolade.
"Hopefully that number continues to grow as I play here," said Wagner, who has 989 career tackles in eight seasons with Seattle. "I want to play here for a long time. I'm honored to be able to pass the guys who came before us. I'm grateful for my teammates who helped me before this.
"Just humbled."
Wagner's biggest contribution might combine with another former local college star, who was also Seattle's leading tackler on the day. With the Seahawks clinging to a 24 lead in the fourth quarter, former Utah safety Marquise Blair — who finished with 11 tackles — forced a fumble that Wagner scooped up and returned it 5 yards.
Ten plays and 6:50 later, Jason Myers booted a 58-yard field goal to help Seattle pull away for good.
"I was going to try (for a touchdown)," said Wagner, who recovered the fumble at the Seahawks' 1-yard line. "Somebody had my legs, and then somebody started trying to grab the ball.
"I didn't want to be the guy who fumbled it."
Former Utah and Brighton High linebacker Cody Barton added a special-teams tackle for Seattle (6-2), and former BYU defensive end Ziggy Ansah supplied a tackle, a quarterback hurry and a fumble recovery.
Here are how the other former local college and high school standouts played Sunday in the NFL's Week 8.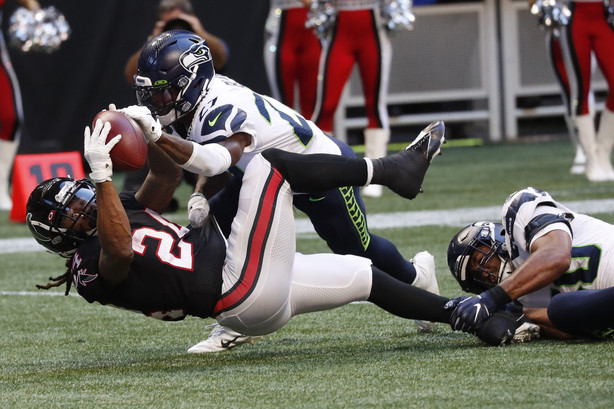 Green Bay 31, Kansas City 24
On the Packers' first offensive touchdown, Jamaal Williams was the lead blocker for Aaron Jones' 4-yard score off a screen pass from Aaron Rodgers.
Later in the game, Williams led out in a lot more than blocking as the Packers' offense took off.
The former BYU all-time leading rusher had 36 total yards and two touchdowns, one on the ground and one through the air, to help Green Bay rally for a win over the Chiefs.
It's the third multi-touchdown game of Williams' career, including his first rushing touchdown of the season.
Former Utah State linebacker Kyler Fackrell had a tackle for loss and added a special-teams tackle for the Packers (7-1).
Former BYU safety Daniel Sorenson supplied 3 tackles for the Chiefs (5-3).
NO WORDS, AARON RODGERS 🤭

(via @NFL)pic.twitter.com/HEXcq4jQTD

— SportsCenter (@SportsCenter) October 28, 2019
New Orleans 31, Arizona 9
Former BYU quarterback Taysom Hill caught three passes for 63 yards and a touchdown in Drew Brees' return in the Saints' win.
That's more touchdown catches than standout NFL wide receivers Larry Fitzgerald, Juju Smith-Schuster, Odell Beckham Jr., and Julian Edelman.
Former Utah safety Marcus Williams made 2 tackles for New Orleans, who improved to 7-1 on the year.
Two TDs for Brees 🙌
All smiles from Taysom 😁#SAINTS#SAINTS#SAINTSpic.twitter.com/Fsy3XpL67q

— New Orleans Saints (@Saints) October 27, 2019
San Francisco 51, Carolina (4-3) 13
Former BYU linebacker Fred Warner racked up a team-high six tackles to help the 49ers (7-0) stay unbeaten.
Former Utah punter Mitch Wishnowsky had three punts for 121 yards (40.3 average), all downed inside the 20.
Houston 27, Oakland 24
Utah State grad Nevin Lawson had three tackles, fellow Aggie Dallin Leavitt added a special-teams tackle, and former Herriman High lineman Andre James rotated on the offensive line as the Raiders (3-4) lost to the Texans.
New England 27, Cleveland 13
Former BYU linebacker Kyle Van Noy had a 9-yard sack to help the Patriots improve to 8-0.
Former BYU linebacker Sione Takitaki notched a special-teams tackle for the Browns (2-5).
Tennessee 27, Tampa Bay 23
Former Southern Utah defensive back LeShaun Sims had four tackles and a pass defended to help the Titans (4-4) to the win.
Former Utah, Utah Valley and Orem High kicker Matt Gay knocked down three field goals, including a 48-yarder for the Buccaneers (2-3).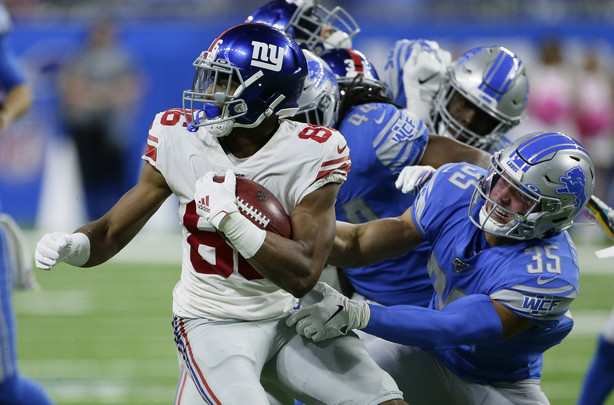 Detroit 31, NY Giants 26
Former Southern Utah safety Miles Killebrew had two tackles on defense and another on special teams to help the Lions (3-3-1) to a win over the Giants.
LA Rams 24, Cincinnati 10
Former Utah star Eric Weddle had six tackles, and Utah State grad JoJo Natson added one kick return for 14 yards as the Rams (5-3) rolled to a win over the winless Bengals.
Utah State and Fremont High alum Nick Vigil had three tackles and a pass deflected for the Bengals (0-8).
Jacksonville 29, NY Jets 15
Former BYU and Bingham High linebacker Harvey Langi had two tackles on special teams for the Jets (1-5) in the loss to the Jaguars.
Indianapolis 15, Denver 13
Former Utah, Snow College and Westlake High offensive lineman Garett Bolles started at left tackle in the Broncos' loss to the Colts.
LA Chargers 17, Chicago 16
Former BYU cornerback Michael Davis had two tackles, and former Utah lineman Sam Tevi started at right tackle as the Chargers (3-5) beat the Bears.
Philadelphia 31, Buffalo 13
Former Weber State defensive back Taron Johnson had three tackles, a sack, a quarterback hurry and a forced fumble in the Bills' loss to the Eagles.
Former Utah, Snow College and Bingham High standout Star Lotulelei added a tackle for the Bills (5-2).
Minnesota 19, Washington 9
Former Utah State lineman Donald Penn started at left tackle in Washington's 19-9 loss to the Vikings
×