DRAPER — Nicole Nelson has played with most of her teammates on Manti's girls soccer team for the better part of the past decade, since fourth grade.
And ever since she became a Templar she's wanted to do two things: win a state semifinal game, and score with a header.
Check, and check.
Nelson scored twice, and Allie Bridges added a goal Thursday to help Manti to a 3-0 win over Juab, clinching the first-ever state final berth in program history.
The Templars (16-1-2) will play Judge Memorial at 1:30 p.m. MDT Saturday at Rio Tinto Stadium.
"We've been playing together forever, and this has been a dream since fourth grade," said Nelson, whose school first sanctioned girls soccer in 2006. "The last 5-6 minutes of that half were hard. We were trying to count down the seconds until Rio."
Bridges opened the scoring by redirecting a corner kick in the 10th minute, but Nelson's first goal opened the offense for the Templars, the No. 1 overall seed in the tournament.
The senior rose up like a salmon to strike a glancing header inside the near post in the 27th minute that carried Manti to a 2-0 halftime lead.
"That kid has put more time on the ball than anyone else in the program — for the past 14 years, even," Manti coach Eleisha Steinfeldt said. "The ball has been her best friend, and her goal this whole year was to get a header goal.
"To see that goal go in is just joy. Pure joy."
Echoing her coach, the six-time goal-scoring Nelson added: "That was probably my favorite play of the whole season."
The Templars pushed for a third goal to help seal the win in the second half, and got it when Nelson pushed her second marker past the Wasps (14-5) in the 54th minute.
Manti goalkeeper Katie Larsen had a hand in the shutout, too, tipping one short-range attempt over the bar in the 64th minute and adding a save with just over 12 minutes remaining to earn her 15th clean sheet of the season.
"This is our fifth time in the semifinals, and it's just been this monkey on our back," Steinfeldt said. "It feels amazing to get past this point. We've been here too many times, and to get to play on Saturday is monumental for us. We can't wait to play."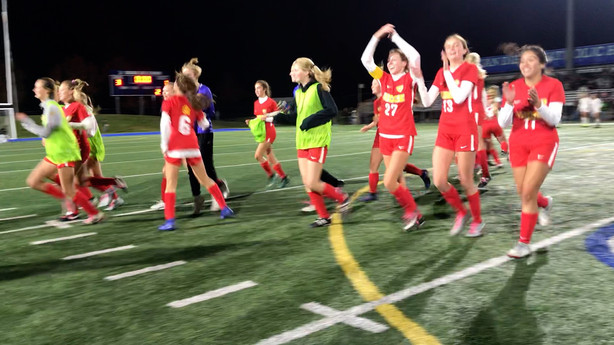 Judge Memorial 3, Morgan 1
At Juan Diego, Judge Memorial's girls soccer team had been held to one goal twice during a pair of regular-season meetings with Morgan, falling 2-1 both times.
The Bulldogs picked a great time to break both streaks against their Region 13 rivals.
Caeli Sherman scored the game-winner in the 44th minute, and Judge Memorial snapped a three-match losing skid against the Trojans that includes last year's title match with a 3-1 semifinal win.
"Third time's the charm, I guess," an emotional Judge coach Scott Platz said after the match. "I don't think the last games wore on their minds at all. We played well, but (Morgan) was a better team. We were very evenly matched, and (Trojans coach) Brian (Searle) does a great job with that team. They are unbelievable."
Judge sophomore Lucy Callahan opened the scoring just four minutes into the game, but the Bulldogs' lead did not last long against their opponents in the previous two state finals.
By the 20th minute, Sydney Cragun had equalized for Morgan (14-4-1), single-touch roofing a close-range shot to pull back level at 1-1.
It took until Sherman's goal to start the second half for Judge Memorial (15-3) to take control again. The sophomore converted from just in front of the goal line in the 44th minute as the Bulldogs went up 2-1, and Madison Tartaro added another just over five minutes later.
"I think it was nice to know that we had secured the lead," Sherman said. "The team was working hard the whole time, and we kind of knew we had it.
"I felt like we could break through."
Judge Memorial then went to man-marking Cragun for the remainder of the half, shutting out the senior striker who had 23 goals on the year.
"She's so dangerous, we couldn't let her get free — and she still scored," Platz said. "She's an unbelievable player and they are a great program. I learned a little something from losing to them last year in the championship."
×
Related Stories