Estimated read time: 4-5 minutes
This archived news story is available only for your personal, non-commercial use. Information in the story may be outdated or superseded by additional information. Reading or replaying the story in its archived form does not constitute a republication of the story.
SANDY — Jordan Crockett has won several state titles with Rowland Hall's girls soccer team — and even the 2019 national club championship with Utah Celtic.
But the Winged Lions senior center back had never won anything quite like what she did Saturday afternoon at Rio Tinto Stadium.
For starters, she was playing with her younger sister, Rowland Hall freshman midfielder Jada Crockett. In two previous trips to the title match, Jordan was the only Crockett on the field.
Moreso, the Winged Lions weren't the heavy-handed favorites this year, like they were when they beat Waterford 7-0 a year ago, or in a 6-3 win over the rival Ravens in 2017.
Top-seeded Real Salt Lake Academy, playing in its first-ever UHSAA-sanctioned tournament, were the favorites after having beat Rowland Hall 1-0 during the regular season.
So Crockett went and did something the Winged Lions had never done before.
She beat RSL Academy — and won her third-straight title.
Summer Connery scored the match-tying goal in the second half, and Rowland Hall held off RSL Academy, 4-3 on penalty kicks for the program's fifth championship and fourth in seven years.
"This team is the closest it has ever been since I have been at Rowland Hall," Crockett said. "It's amazing, for us to step out as a family, to work hard and support each other.
"That Real Salt Lake team is amazing; they go to school for soccer. I'm just happy that we could grind through. Hopefully next year, the result stays in our hands."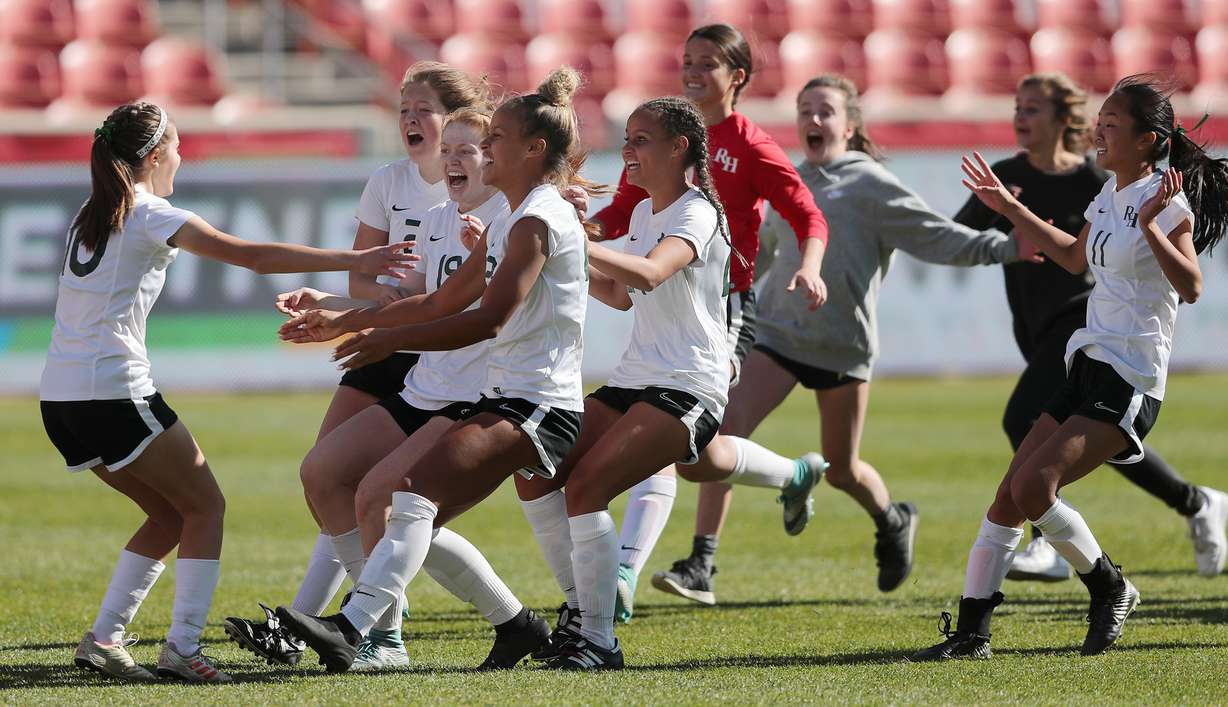 Crockett, Connery, Anna Fukashima and Giselle Bodeen each converted a penalty for Rowland Hall (14-2-2), while Natalie Scott, Abbey Hansen and Kiana Pippin scored from the spot for the Griffins.
Liv Watt gave RSL Academy (12-2) the halftime lead when the sophomore center back uncorked a rocket into the top shelf in the 38th minute.
But Connery equalized for the Winged Lions about 15 minutes after the break, redirecting a splendid cross from the end line from teammate Kaitlyn Bates that helped force extra time.
"I wish we had the poise that we had in the first half that we did in the second half," Rowland Hall coach Bobby Kennedy said. "But these are 15-year-old kids, too, so you have to account for the big occasion.
"We play as many tough teams as we can outside the division, but it's harder now in the RPI."
It was the first time RSL Academy had gone to extra time since the 1-0 win at Rowland Hall on Aug. 20, and the first time the Griffins didn't win since a 7-0 home loss to 6A Westlake back on Sept. 3 in their first season of UHSAA competition.
"I think it was really important for us to keep that spirit up. We weren't out of it; we could still win," said Connery, who also praised the RSL Academy in their first year of UHSAA affiliation. "We came out (of halftime), and we felt like we were playing better than them. We knew that we were going to get a goal sooner or later."
Connery's coach called it the kind of goal she could score blindfolded.
"That was how we have to break them down," Kennedy said. "I've seen her do that so many times that she could hit that thing with her eyes closed."
Crockett nearly won it for Rowland Hall in the first added session, but RSL goalkeeper Bailey Tillman made a diving save to keep the team's level and force a penalty shootout.
Instead, the senior who has also played for the semiprofessional RSL Women converted the first penalty kick for the Winged Lions, and Connery sealed the title with a boot inside the far post.
"I don't look at the goalie; that goalie is good and she got in my head a little bit," Crockett said of her PK. "I wasn't trying to look at her, but just try to keep everything out of my head. I didn't want to let my team down, and I took the hit.
"I'm surprised she didn't save that; she's a frickin' good goalie."
RSL goalkeeper Avy Galata, who came into the match for penalty kicks, made two saves in the shootout for a team that returns all but six seniors next year to a club that represents the charter school that shares campus space with Utah's professional soccer teams, on the same site as Dell Loy Hansen's multimillion-dollar developmental academy.
"They gave us a run for our money; RSL is such a good team," Crockett said. "We're so thankful that they are huge competition for us — the biggest competition of the year, clearly.
"Our team just came out as a family, and we grinded it out."
×
Related stories
Most recent High School stories