RIVERTON — It's been a weird series of days for Lone Peak High School.
The Knights' Class 6A state football tournament opener was nearly postponed a few hours when the school was locked down, then evacuated, and eventually surrounded by more than 100 armed police officers with the emergence of a potential threat on campus.
It wasn't just the students (football players included) who felt the surreality of the convergence of a potential active shooter on what was supposed to be a celebratory day, christening the 2019 postseason. Lone Peak coach Bart Brockbank, who is not employed by the school, got the same calls, text messages and emails that every other parent did and immediately left work to rush toward the school to verify the safety of his own children.
"It was kind of crazy," Brockbank recalled. "I think they said they had 12 police organizations on campus. My kids were sending videos of the SWAT team rolling around with their guns."
The threat never materialized; a tipster had mistakenly linked Lone Peak in Highland to Highland High in Sugar House, and — thankfully — the Knights were able to resume a normal schedule, including pulling away from 37-8 to advance to next week's second round at Region 4 rival Skyridge.
Chase Comer scored two touchdowns seven minutes into the game, Justin Ostler had a 60-yard pick-six and the Knights (2-9) rolled up a 27-0 first-quarter lead before cruising to the win Friday night at Riverton.
In some ways, it was just another Friday for a Lone Peak squad that has faced several moments of distraction in the past few weeks and was left unfazed.
"I wasn't worried about the focus of the kids," Brockbank said. "Stuff flows off their backs pretty good — the whole state thing, and all the drama we've had this year — they've done really well."
The Knights took a 1-9 record into the playoffs, the result of a Utah High School Activities Association executive committee ruling forfeiting five wins for the use of an ineligible player. That didn't just eliminate Lone Peak from the potential of a first-round bye but sent them on the road for the entire postseason — as long as that lasts.
"After the decision initially came down from the state, I think they came together. They closed ranks, and ask 'Is everyone against us?' I think that's really solidified the team," Brockbank said. "It's us against them, but it's about us. We just need to go out and execute.
"Today, everyone was thinking 'what more can happen?' But I feel like they've come together after we got complacent, and the kids are back to being focused and working hard."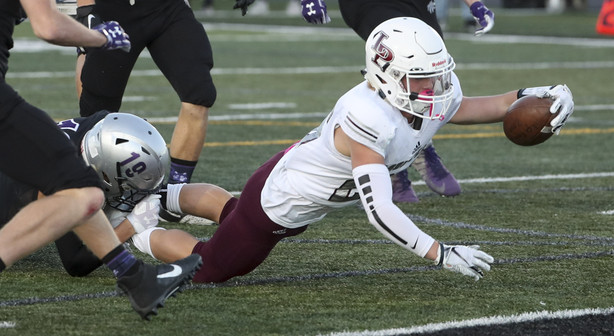 Blowouts reign
In a new playoff system where every team in Class 5A and 6A makes the postseason (except winless Cottonwood, which received a special exemption from the UHSAA), there were bound to be plenty of lopsided wins in Friday's early round.
In 6A, only two games were decided by single digits — with the rest boasting an average 34.7 points. The 5A first round was slightly more competitive, with three games decided by eight points or less. But the remaining six teams won by an average of 37.7 points, including Orem's 60-point win and 40-plus point wins by Lehi and Timpview.
Upsets still happen
That being said, there were still a few notable upsets in Friday's opening round.
Take, for example, Layton's win over Weber. The Lancers had just two wins all season — and one in Region 1 play, a 43-7 rout of Clearfield — before opening the playoffs on the road at the Warriors, which beat Layton by 34 points in the regular season.
But Tyler Reid threw a pair of second-half touchdowns to force overtime, added a 1-yard run in the extra period, and Weber missed the PAT after Logan Payne's 12-yard TD run to send the Lancers through.
Other upsets, by the UHSAA's RPI ratings, included Westlake's 35-14 win over Davis and Jordan's 20-17 over West Jordan.
Mistakes spell success in sloppy opening round
In the 5A tournament, Alta's 27-21 opening-round win over Box Elder came down to mistakes.
But it wasn't the Hawks' trio of turnovers that decided the game.
Cinco Lucero threw three touchdown passes, including two to Daniel Thomason. But the Hawks (5-4) scored the go-ahead touchdown on the most broken of plays when sophomore center Maxwell Riley picked up a fumbled pass and ran it in 6 yards in the fourth quarter before holding on for the win.
"We didn't fire on all cylinders tonight, and we've got to take a good look at the film and identify why that was so," Alta coach Alema Te'o told the Deseret News. "But regardless, I was proud of the guys and the effort. There's some learning from this and we're going to figure that out real quick."
×
Related Stories