SANDY — When she was a bit younger, Ani Jensen watched as Skyline's girls soccer team vaporized years of discontent with the Class 4A state championship in 2015, snapping a 14-year title drought.
In the years since, the Eagles have come agonizingly close to getting back to Rio Tinto Stadium and back to the top of the heap, but have fallen short each time.
Jensen wasn't going to let them fall short again.
The senior forward struck a golden goal off the underneath of the crossbar in the seventh minute of extra time, and Skyline held off shorthanded Bonneville 2-1 Friday afternoon at Rio Tinto Stadium in the Class 6A state championship.
"I've been fighting for this championship for four years," Jensen said. "We've all dreamt of it, and we're finally here. It's an honor to even play on this amazing field and to win it is the best feeling in the world. I have the most amazing teammates, and I couldn't have done it without them."
Lilly Kimball gave Skyline (19-1-1) a 1-0 lead with five minutes remaining in the half that led to the halftime advantage. Goalkeeper Lucy Peterson made it stand up — until Bonneville's Hailey Price's glancing header pulled the Lakers level with just 6:43 remaining.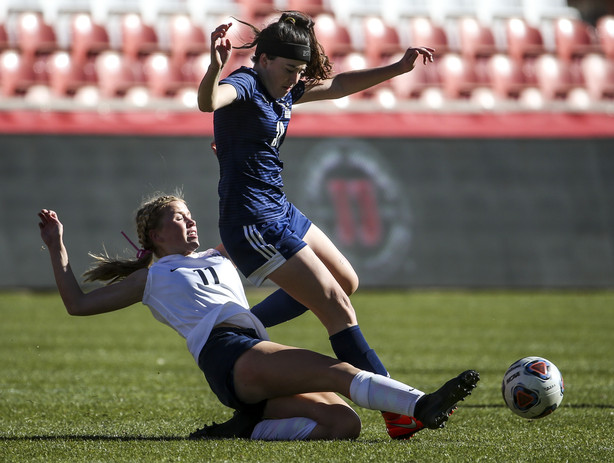 Things went from bad to worse for Bonneville (16-5) when Rylee Lopaz was shown a straight red card in the final minutes of regulation, and the two sides went to extra time.
But the Eagles refused to quit.
"That's their discipline," said Skyline coach Yamil Castillo, who has eight region titles in 10 seasons as head coach at Skyline. "The goal was to win. There was no panic; we didn't quit. We kept playing, we made adjustments, we put an extra forward up front and the goal came for those reasons."
After holding the bulk of possession in the extra period, Jensen scored the final goal of Skyline's season, launching a rocket from the edge of the box that kissed the underside of the crossbar before striking the back netting.
"It's literally my dream, scoring at Rio Tinto," Jensen said. "That's the best goal I've ever scored, hands down. Nothing is better than that."
A No. 5 seed in the state tournament after the introduction of the UHSAA's new RPI-based rating system, Skyline took advantage of No. 16-seed Mountain View's wrecking ball-like run through the bracket before knocking off the Bruins 3-1 in the semifinals.
All that stood in the way of another title was Bonneville — a team that, like Skyline, was making its second state final in three seasons but whose last title came in 2012.
The Lakers' heartbreak will endure for a day before looking back on a magical season.
But after a similar heartbreak, a similar depth of hurt and a similar length of pain, the Eagles found themselves on top once again.
"We were here the last time in 2015, and before that we were here three other times taking second place. I thought we were never going to win this," Castillo said. "But we did it — and we're ready for more."
×
Photos
Related Stories