This archived news story is available only for your personal, non-commercial use. Information in the story may be outdated or superseded by additional information. Reading or replaying the story in its archived form does not constitute a republication of the story.
SANDY — In back-to-back seasons, the Skyline girls soccer team advanced to the Class 4A state final at Rio Tinto Stadium, only to be stopped by Timpanogos.
Emma Heyn didn't want it to happen a third time.
The senior forward had a goal and an assist to help the Eagles win their first state championship since 2001 with a 3-1 victory Friday over the same Timberwolves at Rio Tinto Stadium.
"This is unreal, especially for us seniors," Heyn said. "We got this last chance to get it, and we did it. It's amazing.
"Since we've been here twice, I just wanted to block out the atmosphere and focus on the game and winning this year. None of the other stuff mattered."
Heyn opened the scoring just five minutes into the match, finishing the Eagles' second corner kick of the first half from Bella Sorensen and sending it just inside the left post. Heyn took a shot with her back toward goal, but she knew where the far post was — and that's all that mattered.
"I wasn't even thinking," Heyn said. "I was just thinking 'I have to make this.' I knew I had to go far post, so I placed it there and it went in."
Skyline (18-1-1) outshot the Timberwolves 13-1 in the first half, and even went for goal on each of its eight set pieces.
"I think that those past two years fueled us this year. Our relationships we've built made us so tight-knit this year, and that fueled us. It made us want (this year's title) more than anything."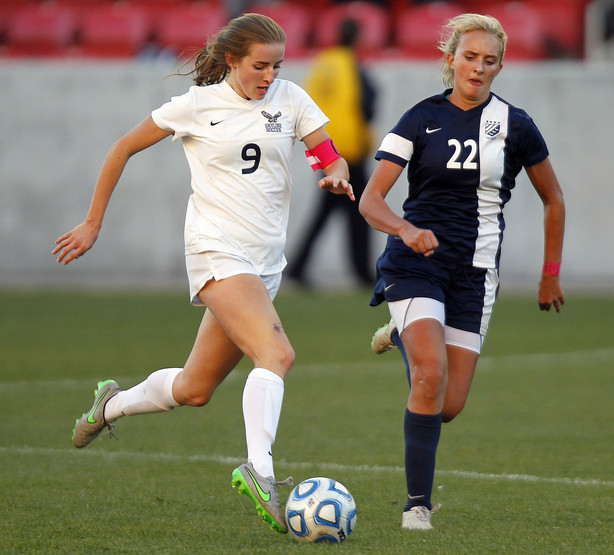 Bella Sorensen doubled the advantage about eight minutes later, sending home a direct free kick from a foot off the corner of the 18-yard box inside the near post for a 2-0 advantage.
"Our ultimate goal is to put a team away early; if you jump on them early, they can't get back without momentum," Sorensen said. "But (the free kick) was definitely intentional. I knew there was always a chance to score if you shoot it, so I lined up, made sure the curve was on the ball and that was the only chance that I had."
Heyn assisted Holly Daugirda with seven minutes remaining in the half, and the senior headed the ball past the goalkeeper from inside the 6-yard box for the Eagles' third goal of the match to give them a 3-0 halftime lead.
Skyline nearly made it 4-0 with an effort, again off Sorensen's corner kick in the 20th minute, that pinged around the box before Timpanogos defender Olivia Burnett cleared it off the goal.
But the Eagles weren't going to be denied.
"This is a team effort; we don't have personalities," Skyline coach Yamil Castillo said. "We play as a team, and we lose as a team. It's great chemistry. Emma, Holly, a lot of the other players have been outstanding, but they've all been fighting for each other."
But the two-time defending champion Timberwolves (9-6-3) weren't done.
Imelda Williams pulled one back for Timpanogos just two minutes after halftime, converting from the penalty spot to give the two-time defending state champs a thread of hope.
---
"This is unreal, especially for us seniors. We got this last chance to get it, and we did it. It's amazing. -Skyline senior Emma Heyn
---
Williams nearly doubled her goal tally in the 52nd minute, bending a free kick from the right side of the box about 10 yards from goal just under the crossbar and into the back of the net. But her effort was called back on a foul.
"This was our third try against a very good Timpanogos team, and we finally did it," Castillo said. "The girls wanted this since the beginning of the season. But we weren't champions until we beat them.
"It was our time. This was our time."
Skyline became the first team other than Timpanogos or Bonneville to win a 4A state title since 2007.
"This is the best feeling in the world," Sorensen said. "It just makes me speechless. I actually can't talk.
"This year, it was really hard on us with the region change. We didn't see these guys twice before we played them. That helped us a lot, knowing we only had one chance to beat them and not three."
It took them three tries to bite the apple — but that made the taste of victory even sweeter for the Eagles, who won their first state championship since 2001.
"I've never felt anything like this before," Heyn said. "It's surreal, and I couldn't have asked for anything better."
×
Photos
Related Links
Related Stories