Estimated read time: 4-5 minutes
This archived news story is available only for your personal, non-commercial use. Information in the story may be outdated or superseded by additional information. Reading or replaying the story in its archived form does not constitute a republication of the story.
SANDY — American Fork's first state title in girls soccer two years ago came with a challenge to repeat, and the Cavemen had the team to do it last year with stars, scorers and a strong defense to anchor them.
But the dream was interrupted by Davis, who got the better of now-BYU starting midfielder Jamie Shepherd and the Cavemen in last year's state quarterfinals, 2-1. Instead, the Cavemen's crosstown rival Lone Peak rode the Class 6A tournament to program history, and American Fork was forced to wait another year.
The Cavemen turned over most of their roster, brought back a young group and tried to forget about the disappointment of a promising season ending earlier than anyone expected. But that disappointment lingered, even a little bit, as a driving agent for a team that took the No. 2 overall seed into the 2019 playoffs and a favorite tag.
Friday's state championship against Davis wasn't about revenge, nor was it a chance to prove who was truly better. The Cavemen didn't want to focus on that, nor did the Darts, who turned over their own fair share of seniors.
Friday's game, though, was a chance for American Fork to celebrate.
Addie Gardner scored the lone goal of the match on an injured ankle, and the Cavemen rode the defense to Haven Empey's ninth shutout of the year to clinch American Fork's second Class 6A state title in three years with a 1-0 win over Davis at Rio Tinto Stadium.
"Since we lost last year, it put us down," Gardner said. "But we figured out what we could do better, and we did. We wanted to do this for the old seniors, who didn't get that opportunity last year."
Empey pushed Grace Nicol's first-half shot over the crossbar, and that may be the only incredible save the senior keeper made on the day.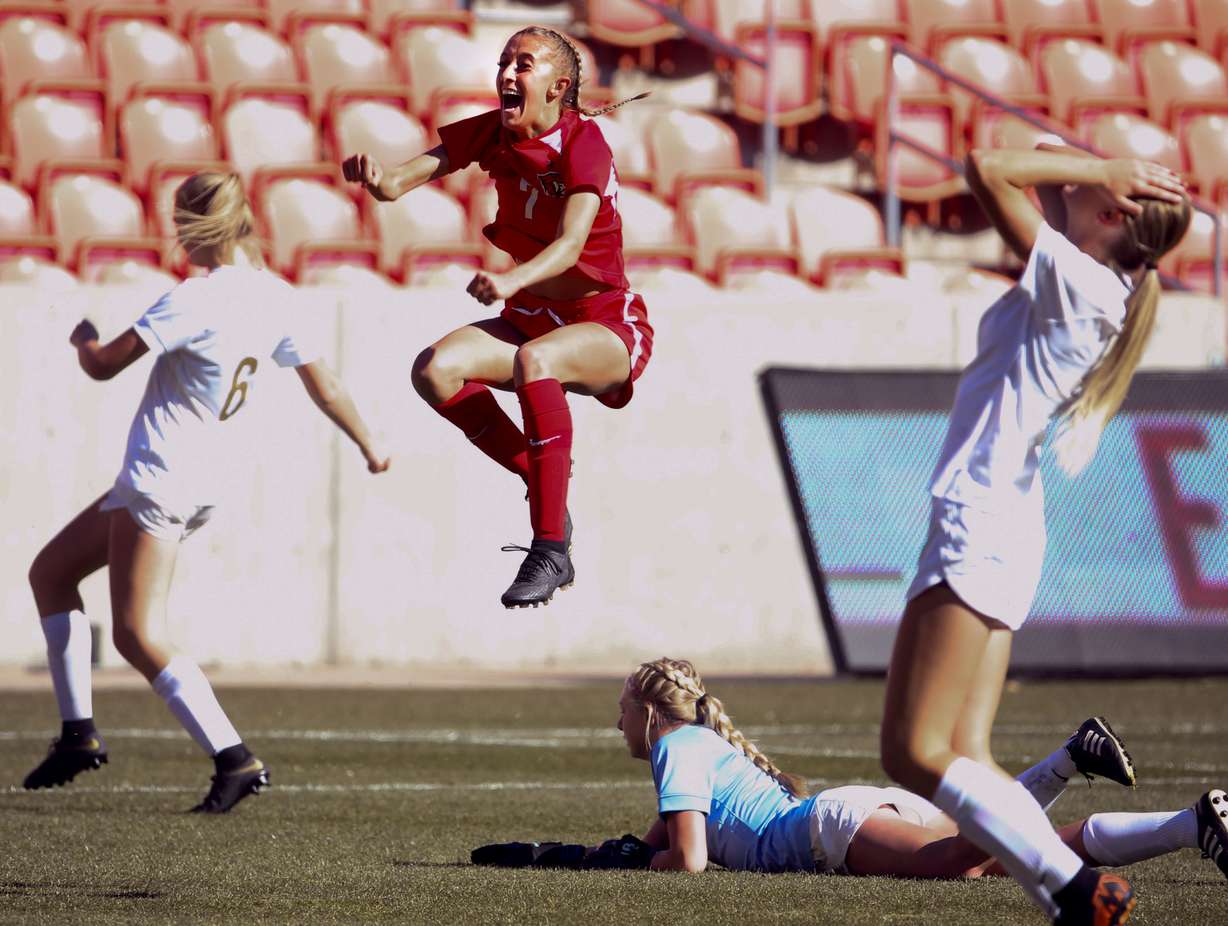 But American Fork's defense was incredible all of the game, with slide tackles causing dispossessions, bodies blocking shots, and every Davis counterattack being interrupted by a speedy big body to keep the ball away from goal.
But the Cavemen (18-2) still needed a moment of brilliance in front of goal. Gardner brought that in the 51st minute, sliding a brilliant pass out of the midfield past Davis goalkeeper Taygan Sill for the game-winner.
"Addie Gardner could barely walk," American Fork coach Derek Dunn said. "Every time she'd step, you could see it. But she didn't give up. That's the heart of a champion."
But a bum ankle wasn't going to keep the junior forward out of the lineup — or off the scoresheet.
"Coach always says we'll get the opportunity, and we did," she said. "We stayed patient, worked off each other, and put it in."
Gardner nearly doubled the advantage a few moments later, but her onrushing attempt in the 59th minute was met by Sill as the two collided in the play-breaking stop.
From there, it was up to the defense to make up the difference, and a talented goalkeeper with a lengthy family history at American Fork, including the Cavemen's last state championship in 2017.
"They are the best defense in the state. They are awesome," Gardner said. "They help me stay calm up top, and I know that if I make a mistake, they have my back. I hope they know I have their back to score, too.
"I trust Haven with my life. She's awesome; she can save anything. She's incredible."
After breaking through and winning the program's first state title two years ago, the Cavemen's repeat bid was thwarted last year in the quarterfinals by Davis.
The loss, combined with American Fork's dogged return to the state tournament, its penalty-kick shootout win over Bingham in the quarterfinals, and a 1-0 victory over Northridge in Tuesday's semifinals, made Friday's celebrations all the more worth it.
So when Dunn stopped for a moment, remembered to breathe and fell to a prone position while his team screamed and hollered and cheered around him, it's easy to see why the Cavemen were so emotional.
It wasn't just the win, or the trophy, or getting another chance at Davis (14-3-3).
It was more than that. Friday's win was, in many ways, what they had hoped to achieve with last year's loaded team: a program-defining moment.
"It was almost eerie, this one. Of course, I still didn't sleep, still had those stomach pains, still had those butterflies and jitters," Dunn said. "But today, I was so calm watching my girls warm up — and the past has created this.
"I hope that this keeps creating future teams to go forward."
×
Photos
Related stories
Most recent High School stories