DRAPER — American Fork's girls soccer team is confident in its defense — enough so that one goal has often been enough to see the Cavemen out to a 16-2 record and a spot in the Class 6A state semifinals.
But confident enough to rely on scoring from its defense?
That, too.
Andi Baldwin scored the only goal of the match on a putback shot with just over a minute left in the half, and the Cavemen held on for a 1-0 win Tuesday afternoon over Northridge at Juan Diego Catholic High School.
"You just have to follow the ball. I knew that it wasn't a very hard header, and I needed to follow it so that it would be good," Baldwin said. "We put a lot of work in this year, and (making the title game) was our goal."
The Cavemen advanced to Friday's 6A title match, where they will face Davis — the team that eliminated them in last year's quarterfinals.
"Revenge season," Baldwin said cheekily. "They knocked us out last year, and we're ready to play them."
The Cavemen (17-2) controlled much of the first half, but Baldwin's header was the breakthrough. The 5-foot-3 senior outside back used every inch of her form to head a free kick from Ragan Fuller on target, but Northridge goalkeeper JaCee Berry tipped the shot to keep it out of the net.
The ball then fell right to Baldwin, who put a left-footed attempt on frame to give American Fork a 1-0 halftime lead.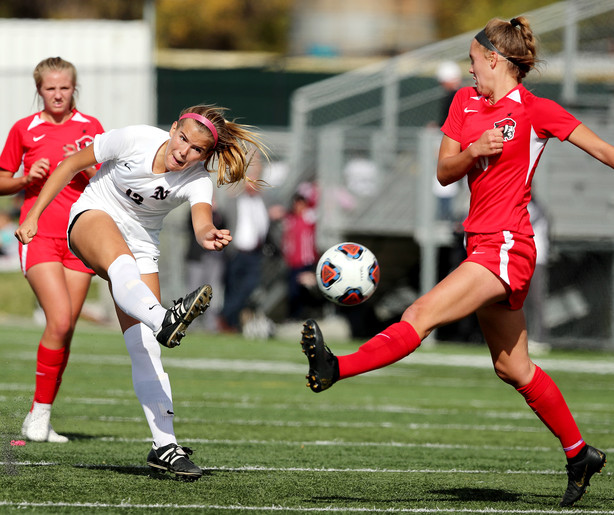 The Knights (15-3-1) threatened sparingly in the second half, but also felt hard-done by a pair of offside calls — including Chloe Cypers' presumed equalizer in the 63rd minute. Yet the Cavemen defense never panicked, holding Northridge leading scorer Tiani Fonoti scoreless for 80 minutes.
"It sounds crazy, but I just let my defense do their thing. Between my goalie and my defense, they ready the game really well," American Fork coach Derek Dunn said. "The last thing you want to do as a coach is go in and change things that you don't see.
"I love my kids, I trust my kids, and I just do the subbing. I let them play."
The second-seeded Cavemen will face fifth-seeded Davis (14-3-2) at 11 a.m. Friday at Rio Tinto Stadium.
Davis 1, Pleasant Grove 0
Davis High's girls soccer team played roughly 39 minutes of possessive, build-from-the-back soccer in the first half of a Class 6A state semifinal Tuesday.
Then they played about 30 seconds of chaotic, get-it-over-the-line footy — and the latter sent the Darts back to Rio Tinto Stadium.
"I thought we had the run of play, and created some really good chances," Davis coach Souli Phongsavath said. "I'm just glad we got rewarded at the end, because we were playing really, really well and controlled the game in the first half."
Reagan Neuenswander scored a goal in the dying seconds of the first half, and goalkeeper Taygan Sill made two saves to help Davis advance to the Class 6A state championship with a 1-0 win Tuesday over Pleasant Grove (12-3-2) at Juan Diego Catholic High School.
"It got crossed, I volleyed it and first hit the pole. Then I just jumped back, and had to head it in," Neuenswander said in describing her goal. "We worked really hard as a team for that; I think we definitely earned that goal."
Neuenswander took advantage of a chaotic scramble inside the box to put the Darts (14-2-3) ahead with just 27 seconds left in the half. After Halle Lund's initial shot caromed off the post, Pleasant Grove goalkeeper Evy Brimhall did well to push a second effort into the crossbar, but the senior midfielder headed back the ricochet into the back of the net for the game's first and only goal.
From there, Davis shifted a formation again — they opened in an never-before-seen 4-2-3-1, then shifted into more of a 4-5-1 to push Pleasant Grove's attack down the middle of the pitch — and limited the Vikings' chance to send the Darts to their first state title match since winning three in a row from 2014-16.
"I can't say enough for the heart of this team," Phongsavath said. "We've got the flu going around, and one of our forwards is sick at home in bed. We had to shift our entire formation about 20 minutes before game time
"I can't say enough about these girls."
×