Estimated read time: 7-8 minutes
This archived news story is available only for your personal, non-commercial use. Information in the story may be outdated or superseded by additional information. Reading or replaying the story in its archived form does not constitute a republication of the story.
SALT LAKE CITY — Several key issues — from homelessness and housing to the inland port — took center stage Monday afternoon during a debate held at KSL between Utah state Sen. Luz Escamilla and Salt Lake City Councilwoman Erin Mendenhall, who are vying to become the next mayor of Utah's capital city.
With just 15 days until the 2019 municipal elections across Utah and with most mail-in ballots already sent to Salt Lake City residents, the race continues to heat up. Here were four takeaways from Monday's debate:
City vs. state
It's clear during the hourlong debate there is a separation of city and state when it comes to background experience of the two candidates, and those differences seemed to clash at times Monday.
Mendenhall, who has been on the Salt Lake City Council since 2013, and Escamilla, who has served as senator of Utah's 1st District since 2009, pointed to their own experiences as examples as to what makes them more qualified for the position they are seeking throughout the debate.
At one point during the debate, moderator Doug Wright asked the candidates about what they would do to bridge the gap between the city and state.
Escamilla said it was important for the city to have a relationship with the state to ensure a positive collaborative relationship between the two. She argued that while the city and others in the state may disagree on some issues, a "strong" Salt Lake City has the potential to help the whole state. That's why she said she'd implement a coalition to help Salt Lake City work with the state Legislature on issues.
She added the city won't go anywhere without collaboration with the state.
"If we don't learn to work with the state and we continue to insult people in the state, we're not going to get anywhere," she said. "There are opportunities of growth, opportunities of really having a collaborative effort and being that strong capital city, but it requires someone who knows how to work with them, how to talk to them and how to get results."
Mendenhall objected to the idea that having a background in state Legislature would solve communication between the two sides. She pointed out that former Salt Lake City Mayor Ralph Becker and current Mayor Jackie Biskupski, who have combined to serve the position since 2007, were both state lawmakers before taking office and that didn't seem to change the relationship between the state and the city.
"We need a mayor who knows how to run Salt Lake City government, and it is a fundamentally different skill set," Mendenhall argued.
She added working with others isn't exclusive to just state Legislatures. She cited her time with various state commissions and her time on the executive board of the Utah League of Cities and Towns as examples of working with others in the state without legislative help.
"I've been working to build these relationships because the rising tide of Salt Lake City truly should lift all the boats," she said.
Inland port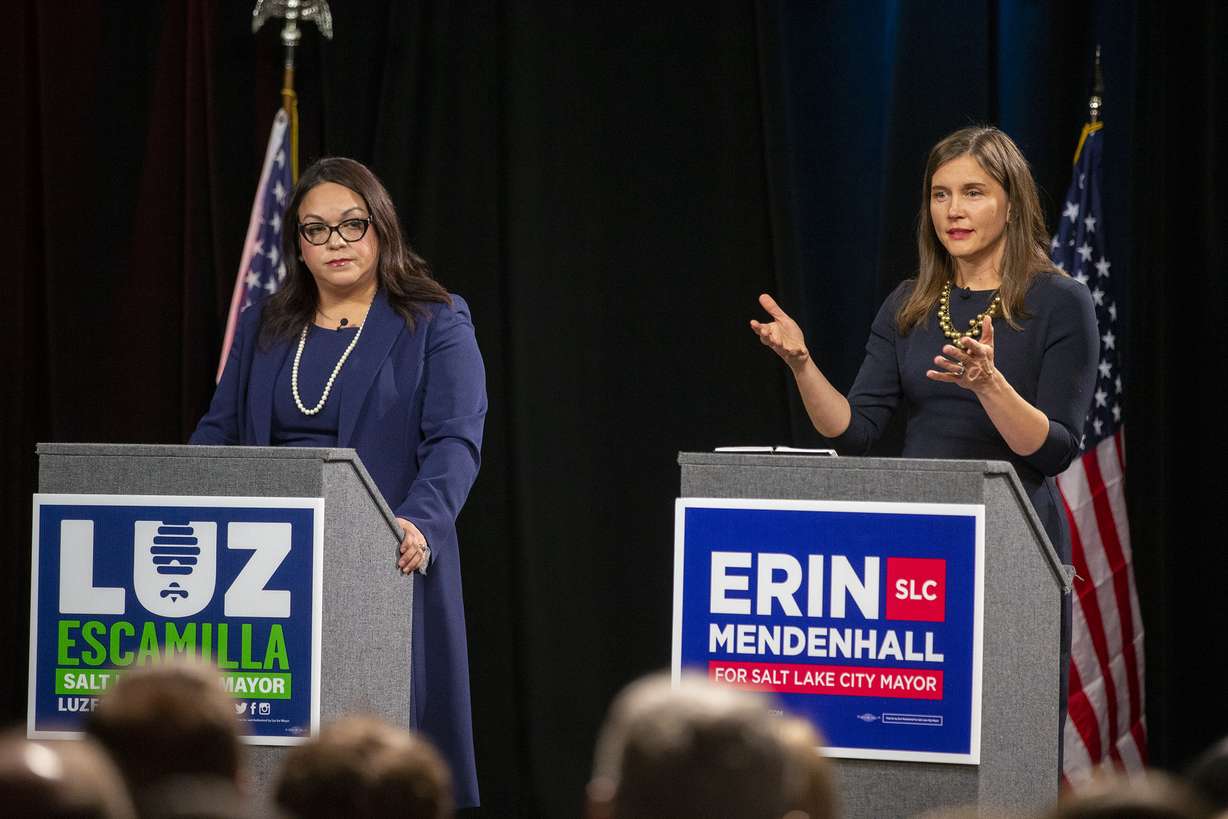 However, those different backgrounds seemed to come to a head when the inland port was brought up. Salt Lake City is currently suing the state over the project plan, which is slated to be in the city's northwest quadrant.
Both candidates have voiced opposition to the plan and Mendenhall said an injunction filed in the case is likely to be decided next month. The case will likely head to court next year.
She also said the project should fit under the Federal Clean Air Act before moving forward.
"I'm not sure how it can … we have to have answers to this. It literally may not be able to fit," she said. "The federal rules we exist in will be a part of the framework for deciding that."
Mendenhall also argued that Escamilla "walked out" on SB268, which had $28 million related to the construction of the Inland Port. The bill passed during the legislative session with a 20-7-2 vote, and Escamilla was one of two senators who didn't vote on the bill.
"We can't afford a mayor who walks out on inland port conversations anymore," Mendenhall said.
Escamilla, on the other hand, explained it was a "bigger bill" that addressed infrastructure across the state, including the state prison that will also be in the city's northwest quadrant.
"To me, that wasn't an inland port bill, councilwoman," she said, motioning her head toward Mendenhall, "not like you did with negotiating with the governor and the Republicans behind doors. This is an issue now about moving forward to the whole infrastructure."
She also called for both governments to work with the residents who feel disenfranchised and "uncomfortable in the whole process," as well as a health impact assessment study as the lawsuit continues.
Housing and homelessness
Issues related to homelessness in Salt Lake City, housing and Operation Rio Grande were also brought up Monday. And again, the theme of city and state came up.
Operation Rio Grande, which launched in 2017 in the city's Rio Grande district, involved a mix of resources from both the city and state. Escamilla said the goal should be to end chronic homelessness altogether and that includes working with the state to continue to solve the problem.
"We're not going to solve the issue of homelessness if we don't collaborate and have a strong relationship with the state," Escamilla said. "The Legislature is having conversations of what level of commitment will come from the state, and it will be, to me, a bad choice to not have that support."
But with winter coming and colder temperatures already experienced in recent weeks, Mendenhall said the state needs to create an emergency winter shelter.
"We cannot wait until January for our next mayor because if we do, we have a humanitarian crisis and we've already failed. The state needs to get on the ball and needs to figure out an emergency shelter," she said. "In the long term, we've got to figure out homeless resources that fit people on the streets' needs."
You can read about Escamilla's and Mendenhall's different housing plans here.
Mental health in schools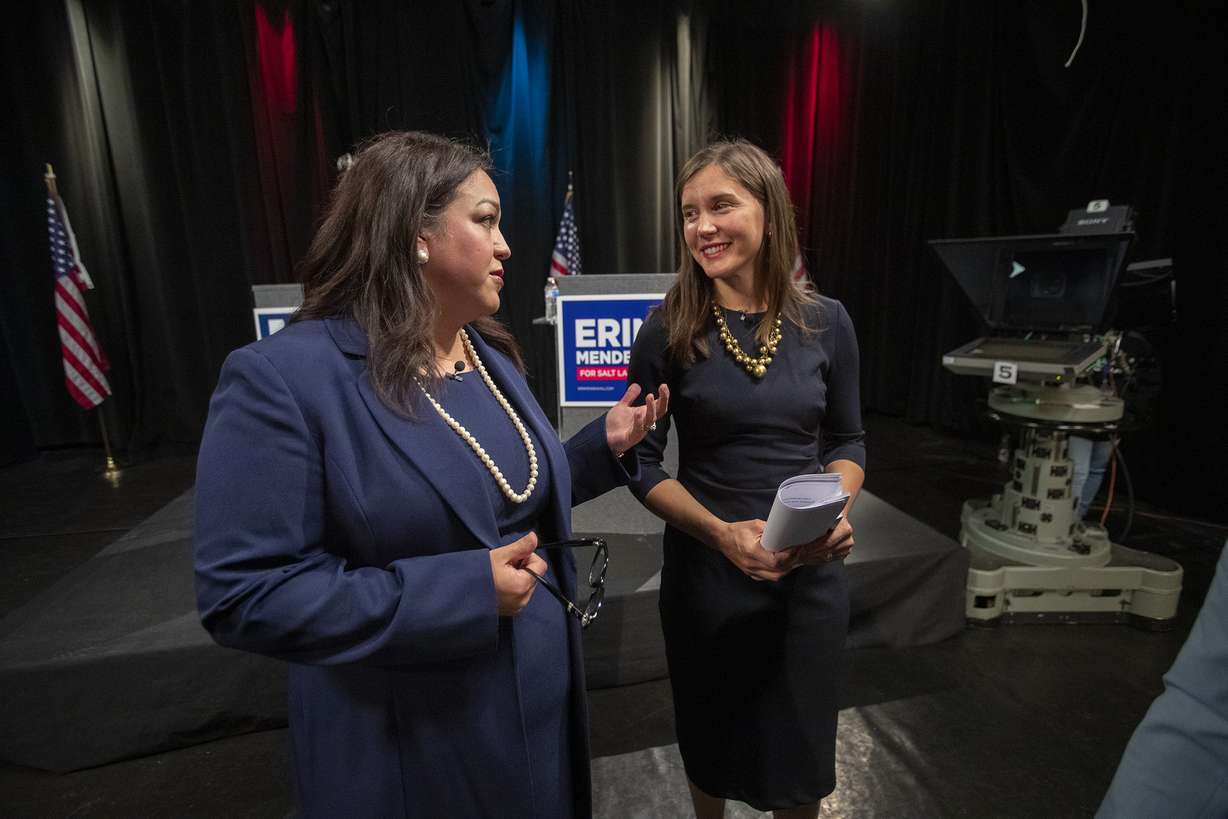 While the two candidates have different backgrounds regarding experience for mayor, both are parents to children in Salt Lake City schools. They were asked about mental health and dealing with suicides in public schools during Monday's debate.
Escamilla, who also serves on the Primary Children's Hospital board of trustees, called for a nurse in every school to deal with mental health needs.
"We have the lowest rate of nurses or (registered nurses) in our schools in the whole state compared to any other part in the country," she said. "I think there is an opportunity for the mayor and the city to be very proactive and collaborate with institutions like Intermountain Healthcare … to make sure we get the health care and mental health providers that we need in our schools."
Mendenhall said whoever the mayor is won't have control over the school district or their budget, but the mayor will have a voice and the ability to partner with the district for a beneficial shared outcome. On a more personal level, she also said she had access to a school counselor after her father died when she was 13 because of the ratio of students to counselors at the time.
"I know the ratio of students to counselors is pretty deplorable across the board," she said, of the current situation. "And I can't tell you where I'd be — if I'd be here on this stage — if I didn't have that kind of opportunity as a student in need at the time. Our students, no matter what the trauma is, whatever life is throwing at them, need to have that access to trained professionals in the schools who are available and ready."
If you missed Monday's debate, you can watch it here.
×
Photos
Related stories
Most recent Politics stories