AROUND THE SHIELD — When you've got running backs like Aaron Rodgers does, who needs receivers?
Of course, when you have backfield pass-catchers like former BYU running back Jamaal Williams, it's hard not to get them involved.
Normally known as a hard-hitting downhill runner, Williams caught four passes for 26 yards and a touchdown to help the Green Bay Packers to a 42-24 win Sunday over the Oakland Raiders.
Williams touchdown, a 2-yard catch-and-sprint from Rodgers with 3:27 left in the half, sparked a 35-7 that helped the Packers (6-1) turn a 10-7 deficit into a 42-17 lead and pull away for the win.
Rodgers, more commonly known as "The Franchise" in parts of Green Bay, completed 25-of-31 passes for 429 yards and five touchdowns, but connected two of them with his running backs, Williams and Aaron Jones.
It's the first time the NFL star signal-caller has completed touchdown passes to multiple running backs in his career.
"We want to give everybody the ball because everybody is dangerous," Williams said after the game. "All we have to do is believe in each other, and believe that each person will do their job so we can go out there and succeed."
The franchise quarterback completed at least two passes to eight different receivers.
"As long as they have to worry about everybody on the field, and not just one or two people, it makes us a better offense," Williams said.
"We play a lot, but we know when it's business time. We know that each week we have to go in and be 1-0. We're just ready to go for next week now."
Former Utah State linebacker Kyler Fackrell had 2 tackles and a tackle for loss for the Packers.
Former Aggie teammate Dallin Leavitt made one special-teams tackle for the Raiders (3-3).
Here are other highlights from former local college and high school football stars in Week 7 of the 2019 NFL season.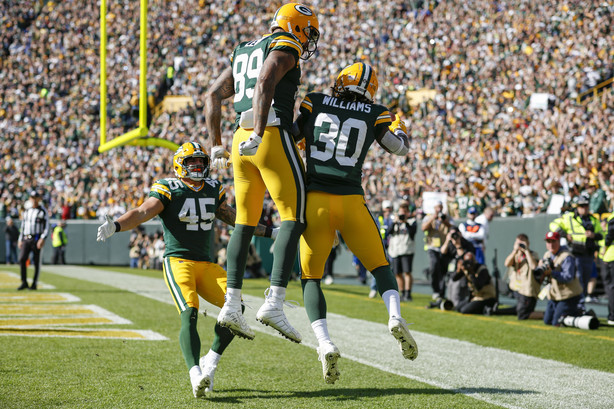 Dallas 37, Philadelphia 20
Former Bingham tight end Dalton Schultz helped the Cowboys (3-3) to a win over the Eagles, but did not record a catch.
Baltimore 30, Seattle 16
Former Utah State star Bobby Wagner had a game-high 13 tackles, a pass defended and a forced fumble in the Seahawks' loss to the Ravens.
Marquise Blair added eight tackles and two passes defended in his first career start for Seattle (5-2), and fellow Utah grad Cody Barton had a tackle on special teams.
New Orleans 36, Chicago 25
Teddy Bridgewater improved to 5-0 as New Orleans' starting quarterback, but he got plenty of help from the former BYU signal-caller on the roster, too.
Taysom Hill ran twice for 21 yards, and added a 4-yard touchdown catch from Bridgewater to help the Saints (6-1) pull away from the Bears.
After trailing 10-9 in the second quarter, New Orleans outscored the Chicago (3-3) 23-0 over the 1.5 quarters to pull away for the comfortable win.
Hill was just the spark the Saints needed, coming into the game as a pass-catching fullback for a 23-yard gain, then tacking on a 4-yard TD grab for Bridgewater's second score of the game to help pull away.
Former Utah safety Marcus Williams had 4 tackles, a pass defended and a forced fumble, as well as 2 special-teams tackles, for the Saints.
Tennessee 23, LA Chargers 20
Former SUU star LeShaun Sims came off the bench to help the Titans (3-4) to a win.
Former BYU cornerback Michael Davis had seven tackles and a pass deflected, and former Utah lineman Sam Tevi started at right tackle for the Chargers (2-5).
Minnesota 42, Detroit 30
Former Southern Utah safety Miles Killebrew had 2 tackles on special teams for the Lions (2-3-1).
Jacksonville 27, Cincinnati 17
Fremont High and Utah State grad Nick Vigil had 8 tackles — tied for the second-most on the team — in another loss for the Bengals (0-7).
San Francisco 9, Washington 0
Former BYU linebacker Fred Warner made 2 tackles, and Utah punter Mitch Wishnowsky had 2 punts for 94 yards to help the Niners improve to 6-0 for the first time in franchise history.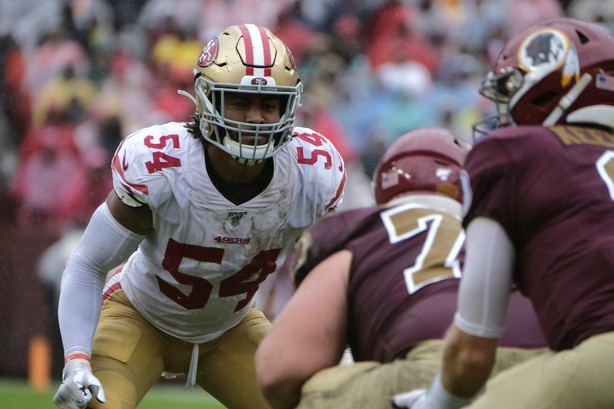 Buffalo 31, Miami 21
Former Utah State defensive back Maurice Alexander had 7 tackles, and Weber State alum Taron Johnson supplied 2 tackles to help the Bills reach 5-1.
Ex-Utah cornerback Eric Rowe notched 5 tackles for the winless Dolphins (0-6).
LA Rams 37, Atlanta 10
Former Utah State receiver JoJo Natson returned three punts for an average of 11.0 yards apiece, and former Utah standout Eric Weddle added 2 tackles in a win for the Rams (4-3).
Kansas City 30, Denver 6
Former BYU offensive lineman and graduate assistant Andy Reid picked up the 200th regular-season of his NFL career Thursday night.
Reid became just the eighth head coach in league history to reach the milestone.
Former BYU safety Daniel Sorensen had 2 tackles for the Chiefs (5-2).
Utah, Snow College and Westlake High alum Garett Bolles started at left tackle and played 69 total snaps for the Broncos (2-5), and former Utah running back Devontae Booker played 16 special-teams snaps.
×
Related Stories