Estimated read time: 5-6 minutes
This archived news story is available only for your personal, non-commercial use. Information in the story may be outdated or superseded by additional information. Reading or replaying the story in its archived form does not constitute a republication of the story.
PROVO — As the final seconds ticked off the clock of BYU's 28-25 upset victory over No. 14 Boise State, the announced crowd of 58,930 fans at LaVell Edwards Stadium screamed, hollered and reverberated chants of "B-Y-U! B-Y-U!" as the Cougars salted away a win in Baylor Romney's first career start at quarterback.
When the final seconds ticked off the clock, many didn't know what to do.
A few stalwart individuals — mostly young in age — immediately leaped over the wall surrounding the field and ran toward the oval stretch-Y at the 50-yard line, ready to celebrate with the team. But whether by cold or by fear, many weren't sure if they should rush the field.
"I was wondering if they were all going to come," joked BYU defensive back Dayan Ghanwoloku, who had six tackles and a sack in the win. "But they made their way down. We had a good showing, so I want to make a shoutout to our fans for coming out to this cold game. Having our record be what it is, we have a lot of support from them and they've stuck with us all the way through."
It's possible that no other college football team in America can claim the type of resume owned by BYU, which improved to 3-4 with wins over Tennessee, then-No. 24 USC and No. 14 Boise State to go along with losses to Toledo and South Florida.
Which makes this win all the more celebratory for the people of Provo. So lap it up, Cougar fans; you needed this one.
Here are three things that stood out from arguably the most complete game of BYU's season.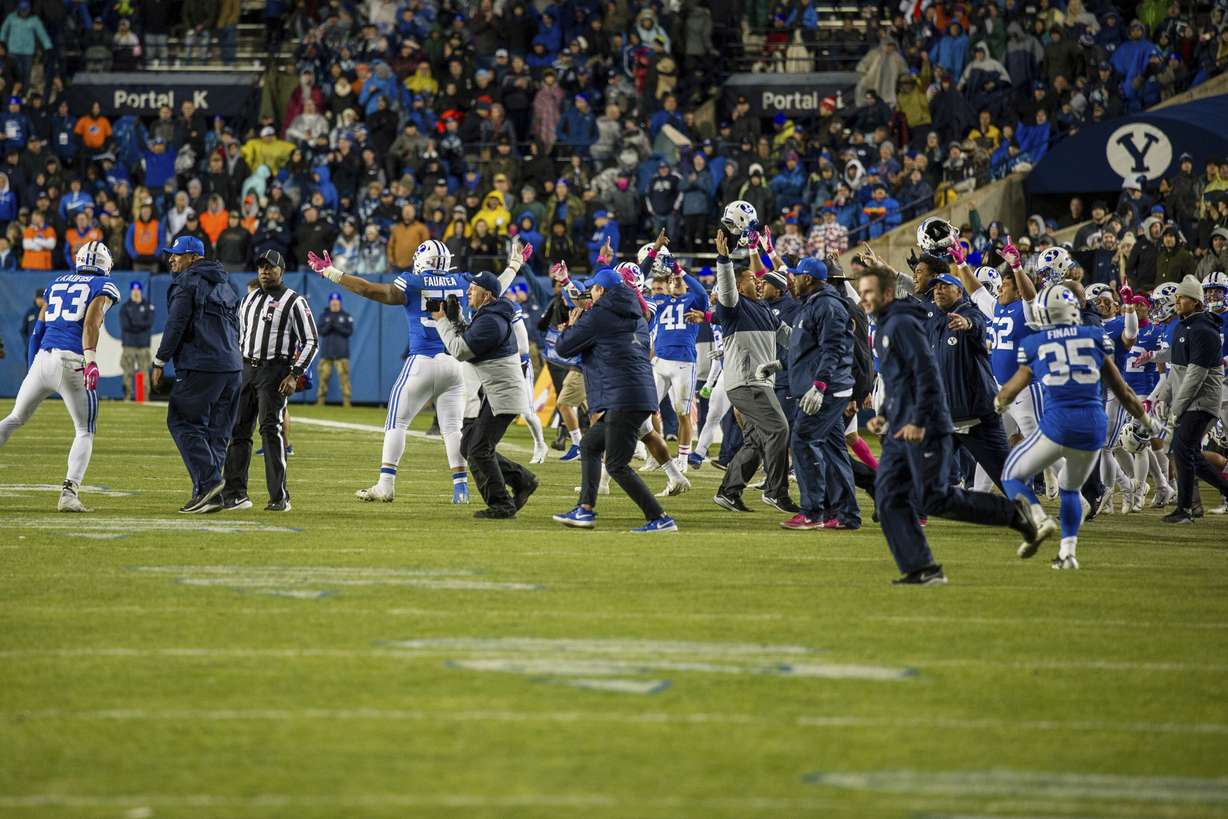 Creativity, and a flea flicker
Aaron Roderick's debut calling plays from the booth bore some remarkable fruits.
Sure, offensive coordinator Jeff Grimes was on the sideline — and had a hand in some play-calling duties — but the Cougars busted open the playbook unlike any previous game, especially in the second half.
The passing game coordinator seemed to have all the tricks, including a flea flicker to Matt Bushman for his second touchdown of the game and an outside pitch from Romney to Sione Finau for a 47-yard scamper that was the longest run play of the season for BYU.
Yes, Grimes remains the offensive coordinator, at least full-time and in name. Sitake said the coaches called the game in a "collaborative" effort.
But make no mistake; BYU's offensive game plan had the fingerprints of a 10-year offensive coach and play-caller at the University of Utah. Roderick's ideas, manipulations and "trick plays" were all over LaVell Edwards Stadium on Saturday night — from the fake fumble to the double-reverse flea flicker to the gaping hole large enough to fit a monster truck that Sione Finau used in his 47-yard touchdown run in the third quarter.
No matter who called the players, it was a commendable effort.
"I'm extremely proud of the players and the coaching staff worked their tails off," Sitake said. "I'm really happy with the guys who stepped up and made plays."
First-half defense
Who would've thunk, but a BYU defense that carried the No. 120 rush defense tag into the game held the Broncos to just 129 total yards in the first half, including 31 yards in the opening quarter?
The BYU defense showed flashes of why made it dangerous against USC, with Isaiah Kaufusi hauling in his first interception since that win over the Trojans more than a month ago, and Lorenzo Fauatea securing his second sack of the season to force a critical three-and-out. Bracken El-Bakri added a key tackle for loss, and Devin Kaufusi batted down a pass at the line of scrimmage on one third-down attempt, as well.
The Cougars held George Holani, a top-50 running back in FBS who averaged 5.63 yards per carry, to 27 yards on 9 carries in the first half, a whopping 2.9 yards per carry.
Brothers Isaiah and Jackson Kaufusi each had an interception, as well.
Physical. Mean. Nasty.
It was the kind of defensive performance the Cougars had yet to put in all year — even in the two overtime wins.
"I think Kalani really challenged us and gave us some goals that were attainable and got after it," Isaiah Kaufusi said. "We were a lot more physical this week than we had been the whole season and it paid off. We had four or five guys on the ball every play."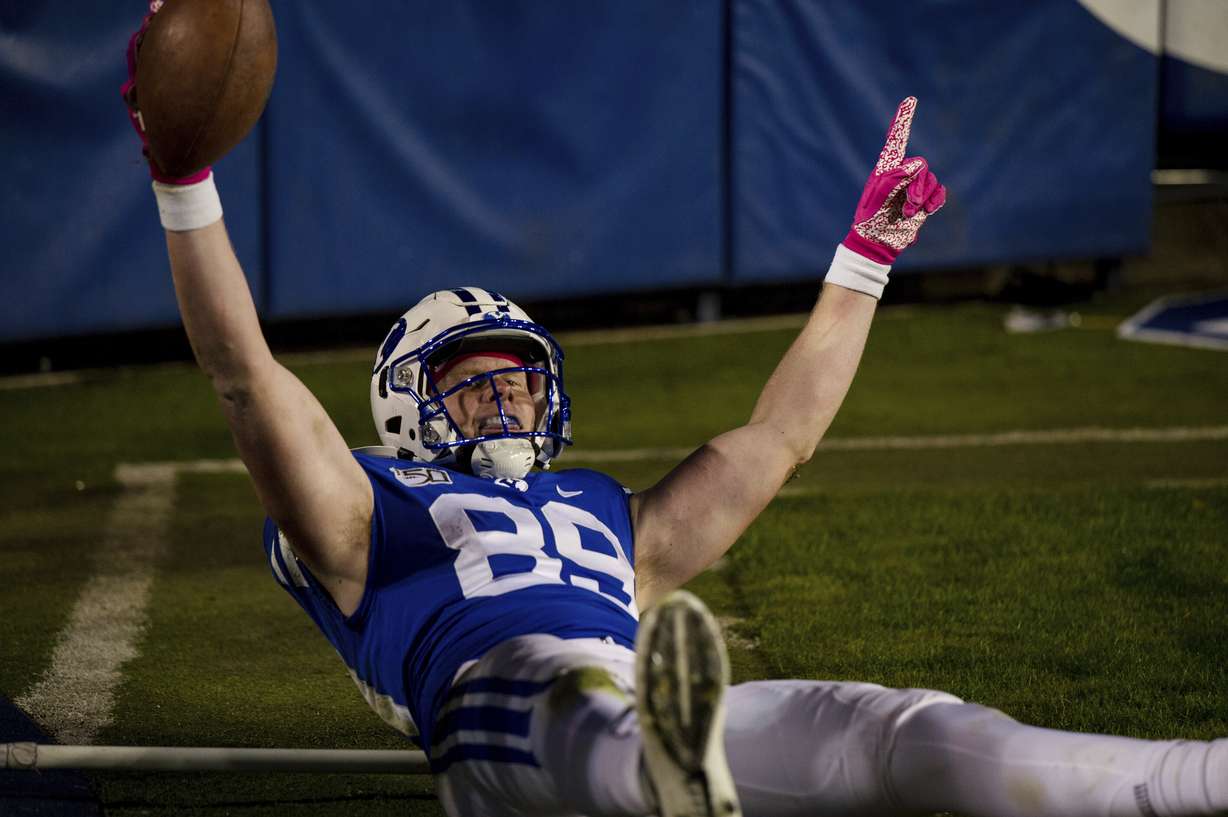 BYU needed a win, and got one with a depleted roster
The Cougars lined up a third-string quarterback, a fourth-string running back and a freshman offensive lineman in Blake Freeland at left tackle filling in for an established-but-injured set that included Tristen Hoge, who missed his second-straight game with BYU.
BYU's youngest group faced an uphill battle as seven-point home underdogs facing a top-15 opponent that held an overwhelming 7-2 all-time record in the series, including winning the past three contests.
So Sitake challenged them all week, in practice, in the film room, and in game prep.
"I believe in the guys," Sitake said. "It's been a rough couple of weeks leading up to this game, and we had to take our licks a little bit. But we've got to keep trusting them. These guys are a resilient group, and when their backs are against the way, they respond the right way. The guys did a great job getting ready for this game."
×
Related stories
Most recent BYU Cougars stories