SANDY — For years, Martina Alvera's peers marveled at her marriage.
In public, Alvera's relationship with her husband seemed healthy and affectionate. But behind the curtain, Alvera was doing all she could to "keep the show alive and well."
The mother of three shared her experience of being in an abusive relationship for 11 years Monday as Sandy leaders kicked off Domestic Violence Awareness Week. The theme of the week — Breaking the Silence: Ending Domestic Violence One Voice at a Time — is meant to encourage more people to speak up about it, according to Sandy Mayor Kurt Bradburn, whether they are affected by it or know someone who is.
"The only way that we're going to end this terrible social ill is to talk about it. And it's one voice at a time. It's one experience at a time," Bradburn said.
Bradburn urged the audience to attend a week's worth of events organized by the city to bring awareness to domestic violence.
"Even if you feel like you're fortunate enough to come from one of those backgrounds that doesn't have to deal with this, the statistics show that it's ever increasingly likely that you will encounter somebody who's dealing with it," he said.
Sandy Police Chief Bill O'Neal said domestic violence is "truly an epidemic problem" and occurs more often than people think.
In the past year, O'Neal said there have been a total of 269 domestic violence assaults reported in Sandy, including 535 nonviolent verbal domestic incidents. Additionally, about 165 children witnessed domestic violence and 278 children were victims of domestic violence, he said.
"A lot of these statistics have decreased in the past year. But it's important to realize that they don't accurately reflect the actual number of domestic violence incidents," O'Neal said.
He said many assaults and domestic violence incidents go unreported due to victims living in constant fear.
Salt Lake County is also commemorating Domestic Violence Awareness Month.
In Salt Lake City, over 3,400 purple flags were placed on the front lawn of the Salt Lake Government Center, with each flag representing a domestic violence survivor who sought help through Salt Lake County's domestic violence service providers in the last year.
Alvera said she didn't grow up experiencing domestic violence and always thought it was something that happened to other families. But when it impacted her life, a feeling of shame washed over her.
"I was very ashamed of myself for letting it happen. I did not want anyone to know. I did not want to be looked at as a weak, nor did I want to be pitied," she said. "My abuser and I looked like the perfect couple. What they didn't know is that I prayed that no one would ever have a life like ours."
Related:
She hoped, "One day he would open his eyes and value and love me," but eventually realized it was the biggest lie she told herself, over and over again.
At one point, her abuser hurt her so severely she had to have the nerves on her neck cauterized in the hospital.
"I'll be on medication the rest of my life, but since he was sorry, it's forgivable," she said she felt at the time of her injury.
When Alvera left her husband a year later, a judge granted her a temporary protective order. However, the protective order was dropped after she moved to Washington from Utah and her husband began to harass her relatives. Soon after, she said, she justified their reunion to prevent him from harassing other members of her family.
"The verbal onslaught came, the blame came, and again the physical violence came," she said, adding that his existing drug addiction worsened.
After her children witnessed him slamming a door on her hand and stabbing her with needles he used for drugs, she left him for good. Since then, she said a judge granted her a permanent protective order in 2018 and she has received help from Sandy police's family crisis intervention team.
"I was once a victim, but today I'm a survivor," she said.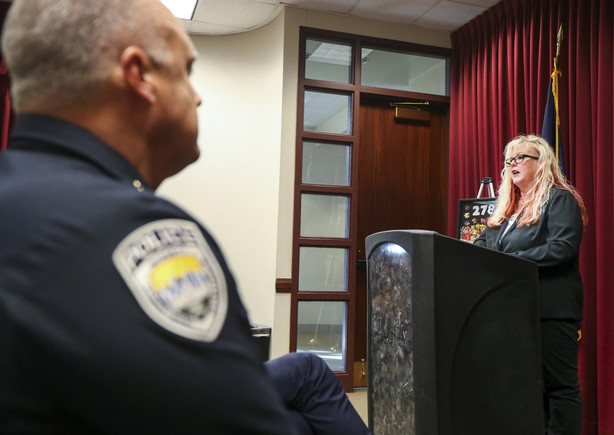 Alvera's story drew tears from audience members with similar stories.
For Rep. Suzanne Harrison, D-Draper, it's an issue that hits close to home.
While attending medical school at the University of Utah in the late 1990s, Harrison said a close friend and classmate was killed by her estranged husband.
She recalled her friend as an "educated" and "vibrant" woman whose death had a lasting impact on Harrison.
"It's frightening to me looking back, we had no idea. We often don't know this is going on in the lives of our friends and community members and neighbors. And that's why we need to be talking about it more," she said.
Adverse childhood events like domestic violence can also impact the development, behavior and academic performance of children in the home, according to Harrison.
Barbara Kline, a friend of Alvera's, said she understands what her friend has gone through because she experienced it herself.
During her four-year marriage to her abusive husband during the 1960s, Kline said domestic violence had not yet been classified as a violent criminal act.
"You couldn't call someone to come help you, especially if you lived on private property," she said. "Men could just do what they wanted."
Kline said the abuse began after she married and lasted for years. It wasn't until Kline's husband struck her daughter that she left him.
Domestic violence resources
Help for people in abusive relationships can be found by contacting:
"You try to keep it inside, you try to keep it quiet. But then there comes a point that you break, and my point was when he hit my daughter," she said.
Since the 1960s, Kline said the system has come a long way to provide support for domestic violence survivors.
"I just hope that women understand that they can get help now," Kline said.
Free and confidential help and support for victims and survivors of domestic violence is available 24/7 at 1-800-897-LINK (5465) or by visiting udvc.org.
×
Photos
Related Stories
More stories you may be interested in