Estimated read time: 5-6 minutes
This archived news story is available only for your personal, non-commercial use. Information in the story may be outdated or superseded by additional information. Reading or replaying the story in its archived form does not constitute a republication of the story.
WEST JORDAN — The event organized by President Donald Trump's reelection campaign was billed as part of a national "Stop the Madness" effort to defend the president against impeachment, but most of the Utahns who showed up supported the congressional inquiry now underway.
"Tell me what democracy looks like. This is what democracy looks like. Ben fights for who? Ben fights for you," chanted dozens of people gathered in the parking lot of a complex where the only member of Utah's congressional delegation backing the impeachment inquiry, Democratic Rep. Ben McAdams, has an office.
The group held signs thanking McAdams as well as Utah Sen. Mitt Romney, one of the few Republican leaders who has spoken out against Trump after he has been accused of attempts to pressure foreign adversaries to investigate his chief Democratic rival in the 2020 presidential race, Joe Biden.
As they repeated their chants, a handful of Trump supporters stood nearby, including a man wearing a red Make America Great Again cap and waving a small American flag who would only give his first name, Sam. He yelled to the group, "Go away. How much you getting paid?" and told a reporter, "People are filthy, they are evil."
Cynthia Hardy of Utah County said she was surprised so few people came out to support the president.
"Liberals are a little better at organizing, I can tell you that," Hardy said. "Part of it is we are just so used to being intimidated by the left that we're afraid to speak up. Anywhere. In Utah, even. I mean, I have a MAGA hat, but I don't dare wear it. I don't put a bumper sticker on my car because I'm afraid it will get keyed."
But Hardy said she decided "now is the time to stand up. I'm sick of the lies. I'm sick of what (California Democratic Rep.) Adam Schiff and (House Speaker Nancy) Pelosi are doing. I feel that Donald Trump is not being given the time of day to show what he can do as a president. There's been roadblock after roadblock after roadblock."
Not everyone who came out to counter the Trump event considered themselves a liberal.
"I was a Republican delegate in 2016," said Matt Millburn of Draper, who held a sign reading, "I'm a conservative. I support the impeachment inquiry." Millburn said he left the Republican Party after Trump won in 2016 to become an unaffiliated voter and now wants to see the president impeached.
He said he believes many people would agree if they "opened their eyes."
Terry Palmer of Midvale said she was holding a sign identifying herself as a "True Conservative" who supports the impeachment inquiry because it was the only sign left. She said she voted for Hillary Clinton, the Democrat who lost to Trump, in 2016 but considers herself politically independent.
Related:
"I'm here to support Ben and his thoughtful way that he's come to the conclusion that we should be supporting this impeachment process," Palmer said. She said McAdams is "not always partisan and realizes that he has a wide constituency."
McAdams, who won his 4th Congressional District seat from two-term Republican Rep. Mia Love last year by less than 700 votes, is seen as one of the country's most vulnerable Democrats in 2020. Republicans are already lining up to oppose him, and Wednesday's event was also part of a national push against some 60 Democrats.
The congressman did not make an appearance at the impromptu rally by Trump opponents that served as a counter to the news conference organized by the Trump Victory campaign to call on the congressman "to drop the impeachment witch hunt."
In a statement, McAdams said he's "listening to Utahns and working across the aisle to find solutions to challenging issues such as rising prescription drug costs, air quality, suicide prevention and consumer protection. I'm also fulfilling my constitutional duty to conduct oversight and act as a check when necessary on the executive branch. It's not an either/or proposition."
McAdams also said he "won't prejudge the outcome of the inquiry but will wait for all the facts to be brought forward. I call on my Republican and Democratic colleagues to do the same."
Former Utah House Speaker Greg Hughes, a Draper Republican who's expected to jump into the 2020 race for governor soon, turned his back to the anti-Trump crowd and used a bullhorn to be heard above the continued chants.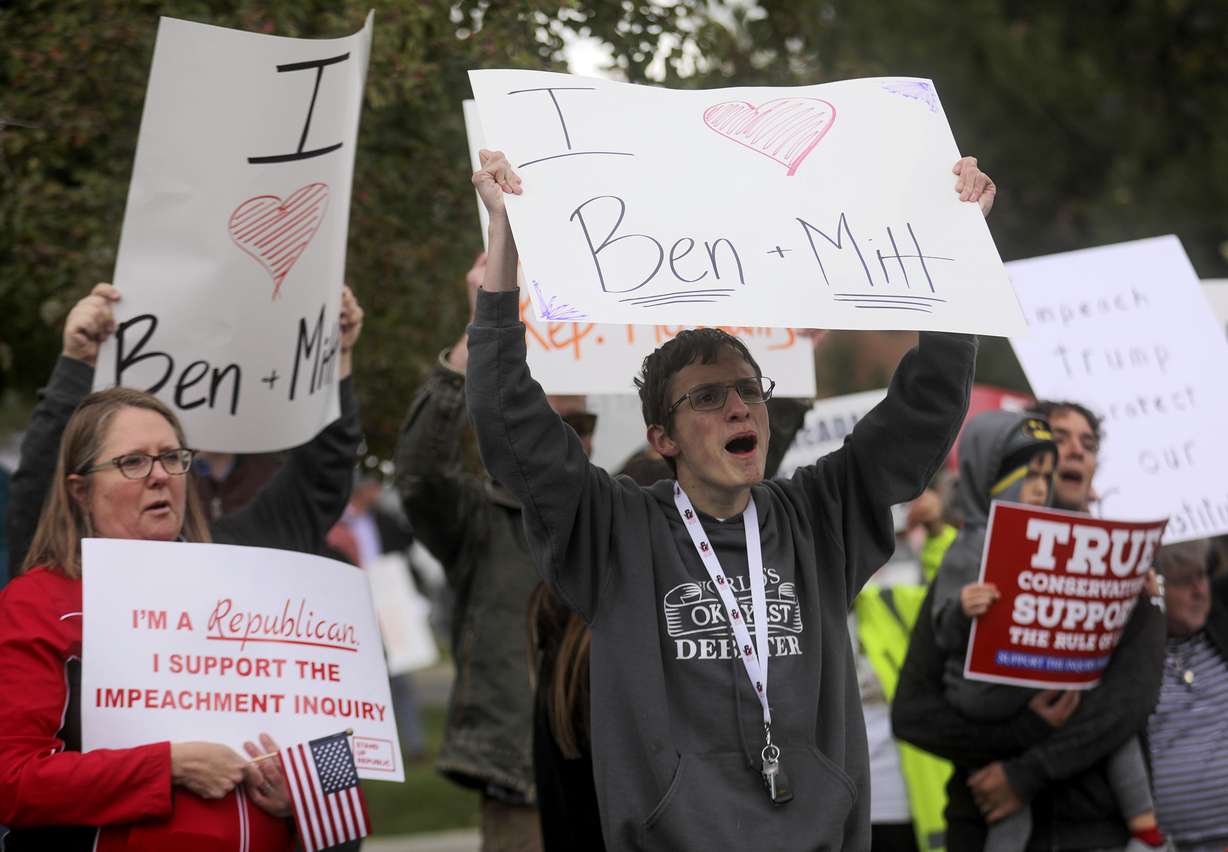 "I didn't come here for them," Hughes, an early Trump supporter, told the small but enthusiastic group of the president's supporters. "I love our friends. They're really good at protesting. But I'm here to talk to you and I'm here to talk to our friend, the congressman."
The former speaker criticized the way U.S. House Democrats are handling the impeachment inquiry, saying it should not be a partisan effort. He said the Utah Legislature would never allow the process to proceed without involving minority Democrats.
Asked after his speech if he believed the allegations against the president should be investigated as possibly impeachable, Hughes said what he has seen "does not rise to that level. ... It's a precarious proposition that's going on right now."
State Rep. Kim Coleman, R-West Jordan, who recently announced she's raised $100,000 to challenge McAdams in the 4th District, did not speak to the crowd but told a reporter she "would like everything to be out in the open in a fair process." She said she doesn't "feel like the American people have all the information yet."
Also at the event was Senate Majority Whip Dan Hemmert, R-Orem, who is already in the 4th District race.
Although there were moments when people shouted at each other and jostled to get their signs in front of the television cameras, people on both sides repeatedly advised each other not to be too confrontational during the nearly hour-long event in increasingly cold weather.
Chris Bell, a spokesman for the CD4 Coalition formed after Clinton's loss to Trump in 2016, said the counterprotest was organized by that group as well as others, including the Democratic Congressional Campaign Committee and Stand Up Republic, organized by former Republican and independent 2016 presidential candidate Evan McMullin.
Wearing a button reading, "I believe in civility," Bell said the intent was to support McAdams.
"We're proud of that," he said of the turnout. "Especially on short notice."
×
Related stories
Most recent Politics stories