SALT LAKE CTY — Even Donovan Mitchell is a little surprised how fast it's coming together.
No matter how talented players are, there's a learning curve when it comes to playing with new teammates. And when it comes to players like Mitchell and Mike Conley, two guards with vast skill sets, it can take some time to iron out the details.
But not always.
"I think we're jelling a lot faster than I anticipated," Mitchell said. "Just with his knowledge of the game, the names are different but the schemes are the same. He's giving me feedback on certain things, how to slow myself down, how to find guys. It's going well."
But maybe it shouldn't be a shock. Or at least not a big one. For one, the pair worked out together this summer shortly after they found they were going to be teammates. And secondly, they aren't the type of players who are going to demand the ball simply to get theirs.
Mitchell has taken as many shots as he has over his first two seasons because he's had to. The Jazz needed a No. 1 option; he was the one who stepped into that role. Even after his more inefficient games (with his 35-shot and zero-assist game at Philadelphia last year being the one many naysayers point to), Utah head coach Quin Snyder was emphatic that for the Jazz to be successful and for them to be at their best, Mitchell needed to keep shooting.
Conley is similar. Last season, he took a career-high 16.0 shots per game. Why? Because that gave the Grizzlies the best chance of winning. When he had Zach Randolph and Marc Gasol flanking him, though, he was more than happy to set them up.
They both just did what their teams needed them to. Now, they are finding out how to best do it together. So far, so good.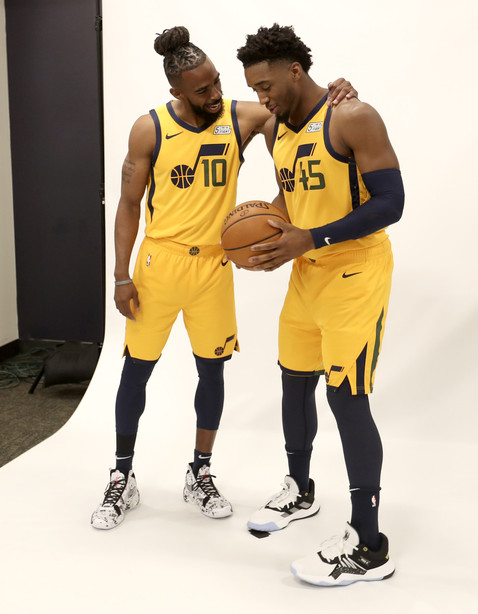 "That happens when you want to mesh," Snyder said. "You're looking for opportunities, you're communicating. It's really two guys that want to help each other. When there's one guy that's trying to mesh and the other guy says, you know, 'This is who I am,' that process takes longer."
Neither Conley or Mitchell is one of those guys. This week, Conley, who has never really played off the ball, has been sprinting down court after defensive stops and heading to the corner. He's been so determined to play in Snyder's positionless system that there's been more than one instance where he's had to turn around and retreat to go get the ball after no one had brought it up.
"I think it just puts less pressure on me as a ballhandler and as a playmaker," Conley said. "Knowing everybody's so unselfish, it just makes the game a lot of fun, makes the game kind of unpredictable. When you go out there, you never know what you're going to get. And you know you're gonna have opportunities."
That's how Snyder would prefer it. He doesn't want Conley and Mitchell just to be trading off shots or switching off when they get to handle the ball, he wants the team to work as a unit.
"I don't want anybody to defer to anybody else, I want us to play in concert, and share the ball and find out the best opportunity," Snyder said. "And I think the fact that you have players that are capable of doing that — if they're unselfish and play to each other and figure out how they can help each other today, you know, that's something that not only is a positive for our team but for those guys individually."
Conley and Mitchell are using each other to get better, too. Mitchell has picked Conley's brain about changing speeds in the game as he works to get more efficient. Conley, meanwhile, has been asking about the offensive system and the reads within it to try and master it. It's already a partnership.
"We're just trying to be as quick learners as we can and hopefully get it started off right," Conley said.
It appears they already have.
×
Related Stories