SALT LAKE CITY — Dante Exum got to pull the seniority card on Monday.
As the Utah Jazz held their annual parade to the Media Day podium, Exum got to cut in line. That's what happens when you are the second-longest tenured member of the team.
"I was like, 'You know what? I'm six years in,'" Exum said. "I was pushing guys to the back."
Exum doesn't feel like a veteran yet, though.
That's partly because of his age — he turned 24 this summer — and partly because of what he hasn't been able to do: namely, play.
During Exum's first season, he shared a team with a young Rudy Gobert and a Joe Ingles who was fresh off the waiver wire. Since then, Gobert has become the dominant defensive force in the league and Ingles has developed into a top-10 small forward.
Exum? He's waited — sometimes patiently, sometimes less so — through injury after injury.
'The thing I like about Dante in camp is he's playing," Jazz coach Quin Snyder said on Wednesday. "Whether he's off the ball, on the ball or guarding the ball, just to have him out there."
Exum has been snakebitten. There's no way around it. After playing all 82 games in his rookie season, he's played in just 122 regular-season contests over the next four years. He tore his anterior cruciate ligament in 2015, underwent shoulder surgery, and last season alone dealt with a high-ankle sprain, a bone bruise and a torn patellar tendon in his right knee.
Will this year be different for Exum? Will he finally get some luck in the injury department? To his credit, he remains hopeful. And he's trying to find ways to stay healthy.
He consulted with the Jazz this offseason and asked how former players had successfully made it through the grind of the season. The answer: They were strong. With that in mind, he hit the weight room over and over. He lifted to get bigger, to get stronger, but also because that's all he really could do while recovering from knee surgery. The result is a noticeably broader Exum.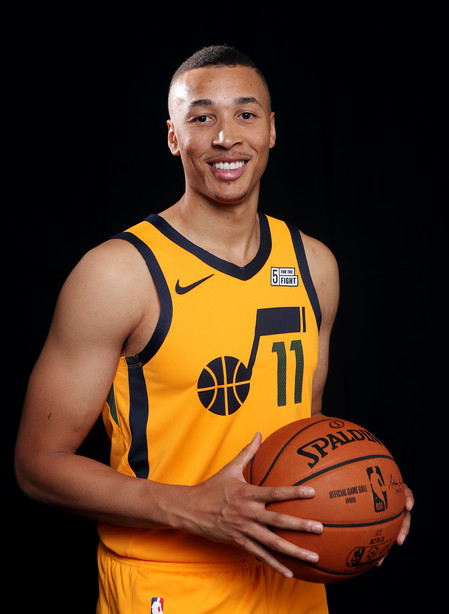 "That was something I just tried to add, just be strong and be able to withstand not just 82 games, but over 100 games and all the practices that come along with it," Exum said.
Body transformation tales are one of the biggest cliches of the NBA offseason. Could Exum's be one of the few that bears fruit?
Regardless, that's not the only thing different for the former No. 5 pick. A few seasons ago, the 6-foot-6 Exum would have made it clear: he is a point guard. He's no longer as adamant about that.
"One of the biggest goals coming into the season is trying to have an open mind," Exum said.
He's played off the ball before, even extensively, but he's embracing that potential role heading into this season. In the first couple days of training camp, he's played the point, he's been a wing, and he's run the floor as a four.
"Right now, we are penciling Dante in as just a player that could play guard and wing," said Dennis Lindsey, executive vice president of basketball operations for the Jazz.
That fits right in with the new-look Jazz. Utah has a myriad of players on the wing that can not only handle the ball but also initiate the offense. Bojan Bogdanovic can create; Ingles is lethal in the pick and roll; Donovan Mitchell's court vision continues to improve. Heck, coaches have even encouraged Jeff Green to play some point guard in the first two days of training camp.
All the secondary ball-handlers have forced Mike Conley Jr. to get used to not bringing the ball up — something he doesn't seem too sad about. Exum should only add to that group, giving the Jazz another weapon that they could plug in nearly anywhere.
Exum hasn't been a full participant in practice yet, as the Jazz are purposefully being cautious with his recovery. Lindsey said that everything is pointing in the right direction, but that there isn't a timetable for when Exum will be ready for full competition. But, at least, he's participating — he's playing.
For now, that's good enough.
"He's looked better and better each day," Conley said. "They have kind of brought him along slower. … So far, the drills he's been in, he's looked really, really good; (he) looks in shape. I'm sure he's excited, and I think he'll be good for us."
×
Related Stories