PROVO — The now-perennially highly regarded BYU women's volleyball team has played in a bigger environments against bigger opponents and much more established brands than Tuesday night's intra-conference match with Loyola Marymount.
Just two weeks ago, the Cougars quieted the Huntsman Center crowd with a 3-1 win over rival and 18th-ranked Utah, then turned around two nights later to beat then-No. 2 Stanford in Maples Pavilion. The Cardinal, which improved to No. 1 in the country despite the loss (no doubt buoyed by a home win over then-No. 1 Nebraska in the same week), took a loss from BYU in back-to-back seasons.
Those same Cougars advanced to the national semifinals last year, polishing off a sparkling 31-2 record that ended in the second match of the year against Stanford in Minneapolis.
So what was so special about Tuesday night and the Lions, a team that entered the match barely above .500 with losses to Rice (twice, even), Denver and Arizona, to name a few?
History, for one.
LMU was the only team to beat BYU in-conference in the previous 27 matches, a streak that dates back to November 2017. The Lions stunned the then-No. 1 Cougars, 3-0 in last year's regular-season finale, leaving a stain on what was otherwise a perfect regular season.
In BYU volleyball lore, there's something about the Lions.
And they proved it Tuesday night in Provo.
McKenna Miller had 14 points and 2 blocks, and Heather Gneiting added 12 kills and 4 blocks to help the No. 9-ranked Cougars survive another upset bid from LMU, 25-22, 25-20, 21-25, 22-25, 15-7 in the Smith Fieldhouse.
Madelyn Robinson added 11 kills, 3 blocks and 3 digs for BYU (12-2), which improved to 3-0 in West Coast Conference play. Whitney Bower dished out 44 assists and 10 digs, and All-American libero Mary Lake added 10 digs for the Cougars, who hadn't played in the Smith Fieldhouse since Sept. 7.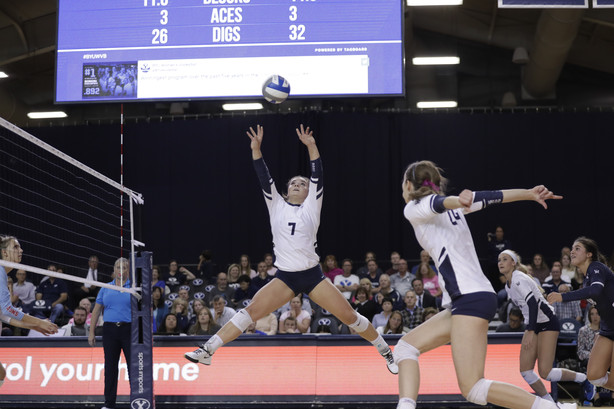 Instead, BYU has played in bigger environments, tougher environments, against some of the top-rated teams in the country — only losing to then-No. 16 Marquette and No. 3 Texas. But in West Coast Conference play, where the Cougars are picked — once again — to repeat as champions, there's a new level of targeting.
"I think we just know we kind of have a target on our back," Miller said. "Teams want to come out to beat us, especially here. So we know teams are going to play really well and probably play some of their best games against us. And that's what we want.
"We want competitive games, and LMU always does a really good job of showing up."
Rose Booth led LMU with 18 kills, and Megan Rice added 16 kills, 7 digs and 6 blocks for a pesky Lions team that got 55 assists from Jessie Prichard.
"They're really good at fundamentals, and they just put a lot of pressure on teams with their serve," BYU coach Heather Olmstead said of LMU, which had 5 aces. "They've got some offensive weapons, they can set a bunch of people, and I thought they played really well. A lot of it was us trying to figure out our side, but they put pressure on us — and I thought it was a great match."
BYU stormed to an early lead in the first two sets, but LMU threatened a reverse sweep after the mid-match break.
Robinson is our kill leader with 7 💪 pic.twitter.com/xs9onM8Atx

— BYU Women's Volleyball (@BYUwvolleyball) October 2, 2019
The Lions (8-7, 2-1 WCC), who also took BYU to five sets in a 3-2 win in Los Angeles in 2017, had four more kills on eight more attempts en route to a 25-21 fourth-set win.
No team led by more than one in the race-to-15, decisive fifth set. But freshman Katie Grimmer capped a 6-0 run with a stunning block that gave the Cougars a 12-6 advantage, and Kennedy Eschenberg's seventh kill of the match forced two chances at match point before BYU held on.
"Whitney Bower went back and did a good job serving, and getting them in trouble and scored a bunch of points in that fifth set," Olmstead said of her star freshman setter. "I thought we were just resilient the whole match. Even in sets three and four, when we weren't palying super well, we were still right there in it. We came back in the third set, where we were down pretty bad, so I thought this group tonight was just super resilient."
BYU, which beat Gonzaga and Portland in opening the WCC schedule away from home, returns to the road Thursday and Saturday at Pacific and Saint Mary's, respectively. The Cougars will begin a three-match homestand beginning Oct. 10 against San Francisco.
×
Related Stories