Estimated read time: 7-8 minutes
This archived news story is available only for your personal, non-commercial use. Information in the story may be outdated or superseded by additional information. Reading or replaying the story in its archived form does not constitute a republication of the story.
SALT LAKE CITY — Utah may soon become the next state to prohibit conversion therapy on minors if a rule change to the state's professional licensing division is officially adopted in the coming weeks — a decision that currently rests in the hands of a state agency.
During a more than two-hour emotional public hearing Thursday, nearly 50 people — including self-described "survivors" of conversion therapy, mental health professionals, suicide prevention advocates, LGBTQ advocates, counselors, and advocates fighting for conservative family values and religious freedom — passionately expressed their reasons why they support or oppose the rule change.
They packed into and overflowed from a conference room at the Utah Department of Commerce, where Judge Bruce Dibb, an administrative law judge, listened to their comments for the state's Division of Occupational and Professional Licensing as department officials weigh whether to adopt or reject the rule change — which could take effect as soon as Oct. 22.
The proposed rule change comes after legislation that would have banned the use of conversion therapy on Utah minors faltered during the Utah Legislature's 2019 session, despite consensus between LGBTQ advocates, the governor, and no opposition from The Church of Jesus Christ of Latter-day Saints.
Bypassing the Legislature, Gov. Gary Herbert directed the Utah Department of Commerce and the Utah Division of Occupational and Professional Licensing to draft a rule.
LGBTQ people and advocates say it's a matter of life and death for Utah youth, arguing conversation therapy breeds shame and suicidal tendencies among vulnerable LGBTQ children. Many psychological professionals spoke in favor of the rule change, noting there's wide consensus among the nation's leading mental health and medical associations that conversion therapy is discredited and damaging.
"The adults in this room have failed youth, and they failed me," said Nathan Dalley, who said he attempted suicide when he was undergoing conversion therapy, referring to counselors who still use conversion therapy methods. "These are professionals that are ignoring the consensus that conversion therapy doesn't work. It's harmful. It's been harmful to me."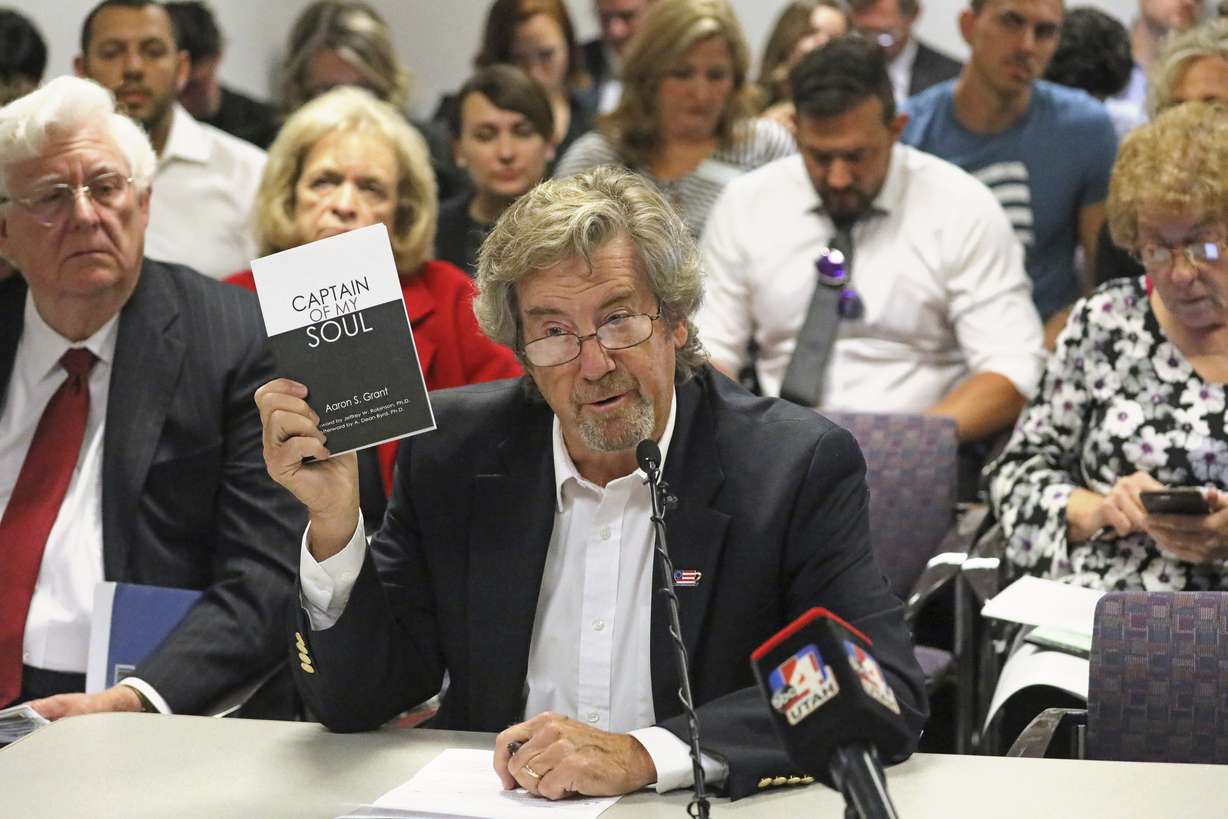 Dalley said he's "lucky" that he didn't commit suicide, but "many of my friends and people in that same position are not that lucky."
"Ultimately, when it comes down to it, this is about protecting children because we deserve to be kids," Dalley said. "My childhood was stolen from me. I still deal with issues from this today. I will deal with issues from this for the rest of my life."
Jason Lindow, who identified as a lesbian before coming out as a transgender man, said conversion therapy resulted in suicidal thoughts and left a "deep impact" on his life.
"I felt like they were trying to break me apart as a person and use the shattered pieces to try and put me back together again," Lindow said, adding it pushed him to abuse sleeping pills to turn off his emotions altogether, at times not wanting to wake up at all. "I felt dead inside."
Opponents — including some counselors who currently use conversion therapy, representatives from conservative organizations, and parents who say their children benefitted from conversion therapy — said the state shouldn't adopt the rule, arguing it would muzzle therapists and prevent parents from seeking help that they feel would be best for their children.
Stephen Graham, who said his son received conversion therapy about 20 years ago and "did overcome homosexual desires," spoke against the rule, arguing it would prevent parents from seeking professional help in "overcoming unwanted homosexuality."
"If your proposed rule were in effect two decades ago, our son would not have been able to receive the beneficial treatment he himself desired," Graham said, noting his son now is married with four children. "We've heard those today that say it doesn't work, but our son and thousands of others are proof that it does work."
Graham — who is affiliated with the group Standard of Liberty, described on its website as an "educational foundation which exists to raise awareness of radical sexual movements overrunning America's Christian-moral-cultural life" — called the proposed ban on conversion therapy an "assault on liberty" and an agenda of "sexual activists" in an "oversexed world that celebrates homosexuality like the newest fad."
Merrilee Boyack, executive director of Family Watch International, spoke against the rule, calling it "overbroad and expansive in its reach." She said it "removes choice" for families and children.
"What about those who want help?" she asked. "They deserve a choice."
While opponents claim the rule change would be unconstitutional, infringe on free speech and limit religious freedom, supporters argue the rule would not prevent parents from choosing how to raise their children — but rather prevent professional therapists from using a practice that has been largely discredited, with studies showing conversion therapy increases likelihood of suicide among LGBTQ youth.
If adopted, the new rule drafted and approved by the state's Psychologist Licensing Board would change the state's definition of unprofessional conduct to include "engaging in or attempting to engage in the practice of sexual orientation change efforts or gender identity change efforts with a client who is less than 18 years old."
Under the rule, psychologists found to have violated the rule could lose their professional license, be suspended, or put on probation, according to state code.
The rule change is similar to language already adopted by 18 other states in the U.S., according to Cliff Rosky, a professor of law at the University of Utah's S.J. Quinney College of Law. Rosky also said the rule is constitutional and would survive a legal challenge.
In June, Herbert directed the state's Psychologist Licensing Board to help on a rule change regarding conversion therapy "based on the best available science," according the board's notice of proposed rule filed with the Division of Occupational and Professional Licensing.
That board, "after extensive review and discussion," voted in July to accept language, recommending it to the Utah Department of Commerce to formally accept.
"It is our conclusion that practices intended to change sexual orientation or gender identity are not demonstrated to be effective and are associated with harm and the risk of harm, including significant increases in depression, suicidal ideation and suicide attempts in minors," the board declared.
"Interventions undertaken in the name of mental health treatment that harm — and risk harm — to others are contrary to the ethical principles and standards of our profession; chief among these ethical imperatives is our responsibility to 'Do No Harm,'" the board states in the proposed rule change. "As such, it is our determination that psychologists participating in these practices are engaging in unprofessional conduct."
That conclusion is consistent with guidelines and position statements by many mental health organizations, including the American Psychological Association, the American Psychiatric Association, the National Association of Social Workers, the Substance Abuse and Mental Health Services Administration, and others.
Rep. Craig Hall, R-West Valley City, the lawmaker who sponsored the bill that failed during this year's legislative session, said after Thursday's meeting that he supports the proposed rule change.
"If it prohibits conversion therapy on minors, then that's fine by me," he said.
Troy Williams, executive director of Equality Utah, and representatives from other LGBTQ organizations, held a news conference after Thursday's hearing, applauding the rule change, saying if it's enacted as currently written it will protect Utah youth "from the dangers of conversion therapy."
"We're confident that if this rule goes forward as drafted, that we will see a reduction of suicides in our state," he said. "More importantly, it will send an affirming message to LGBTQ youth that we see you, we value you, we love you, and you belong."
The Utah Department of Commerce is taking public comment on the rule change until Oct. 15. If department officials make adjustments to the rule, that would entail another public hearing. If no changes are made and if the department accepts the rule change, the earliest effective date would be Oct. 22, according to the department.
In addition to Thursday's public hearing, the Utah Department of Commerce has so far received more than 1,300 written comments, with 85 percent in support of the ban, according to department officials.
×
Related stories
Most recent Politics stories