AROUND THE SHIELD — After waiting around and rotating amongst a couple of teams in the National Football League, two local quarterbacks will get a chance to see significant time at the position for their respective leagues.
Who would've thought that BYU grad Taysom Hill and Logan High alum Luke Falk, who grew up just over 100 miles apart from each other, would be getting their best NFL shot at the same time?
New Orleans Saints coach Sean Payton confirmed during a news conference Wednesday that Hill would see significant time at quarterback with fellow backup Teddy Bridgewater as Drew Brees has surgery to repair a torn ligament in his thumb. As such, the former BYU signal-caller who prepped at Highland High in Pocatello, Idaho, will likely see his role on special teams and at tight end reduced in favor of taking snaps under center as the Saints (1-1) prepare for the Seattle Seahawks (2-0) on Sunday.
"We'll approach this game with two quarterbacks and we'll see where we're at with it," Payton told the New Orleans media. "We'll have the right plan relative to what those guys are going to be doing."
Hill is in his third season with the Saints after spending part of his rookie campaign with the Green Bay Packers, though he played exclusively on special teams for the final five regular-season games and playoff tenure of his first year in New Orleans.
In two seasons, Hill has been a 42.9 percent passer who averages 9.1 yards per completion as a passer, with an additional 204 yards and two touchdowns on the ground. Bridgewater was the backup quarterback when Brees was injured in last week's 27-9 loss to the Los Angeles Rams, but Hill has played in both games this season as a pass-catcher.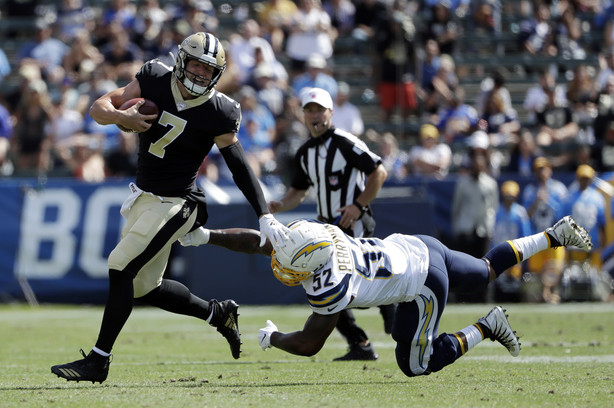 And while the special-teams ace moonlighted at several positions in New Orleans, Bridgewater was always listed as the backup quarterback. The former Louisville star even took snaps with the first-team offense as recently as last Wednesday — before Brees' injury.
"I'd be really excited," Hill told New Orleans media when asked about the chance of playing quarterback in a regular-season game. "I think this is what every kid dreams of, having an opportunity to play in the NFL. I would certainly be ready and excited. But we'll see what happens.
"I'm going to do what they ask me to do … but my expectation is still to be very much involved, from a special-teams standpoint and offensively."
Paranoia and game planning also play a role in Payton not naming a starter, no doubt. But Hill's run as a wildcat quarterback can't be ignored — and even if Bridgewater is the first QB in the huddle this Sunday, expect that trend to continue.
Hill has been involved in quarterback competitions before; prior to his senior season, he and Tanner Mangum competed for starter's reps during fall camp. So he's been around the game long enough, and he knows that winning is the most important thing — not where he lines up.
"I know what it takes to play at a really high level," Hill said. "Drew's not here, and that's disappointing. But I'm sticking to the same routine, doing what I would do if he were here and preparing to play.
"That same mindset and mentality is something that he taught me, and something I'll continue to do."
New Orleans also signed former Ohio State quarterback J.T. Barrett to the practice squad, so there's that wrinkle to think about it.
Falk, who played collegiately for former BYU rugby player Mike Leach at Washington State, was signed to the Jets' practice squad at the start of the regular season. A sixth-round draft pick by the Tennessee Titans, Falk was added to the Jets' active roster Monday when starter Sam Darnold went out with mononucleosis.
With Darnold expected to be sidelined for several weeks with the illness, the offense belongs to Falk, who replaced Trevor Siemian after a first-half injury to the starter's ankle during a 23-3 loss to the Browns. Falk completed 20 of 25 passes for 198 yards in relief, and led one scoring drive that ended in a 46-yard field goal by Sam Ficken.
Darnold returned to the Jets' practice facility Tuesday, but has not practiced as he recovers from an illness that often takes 2-4 weeks to make a full recovery. The former USC quarterback is aiming for a return during the Jets' Week 5 game against Philadelphia.
So for the foreseeable future, Falk looks like the guy — a first in his career.
"I think you get the reps, and then you get to go out and play them," said Falk, whose locker sits next to Darnold's in the Jets' locker room. "If they call my number, I'll be ready to roll. I'll be ready when they call me."
New York added fifth-year quarterback David Fales to the active roster this week to back up Falk. The San Jose State product played for head coach Adam Gase in Chicago, but most recently spent time with Detroit before being waived during training camp.
So the Jets' offense belongs to Falk, at least until Darnold gets back.
In the short run, that's a better situation for a local quarterback. But with Hill's contributions to the Saints' offense to date, expect to see a lot more of him — for a longer period of time — in New Orleans.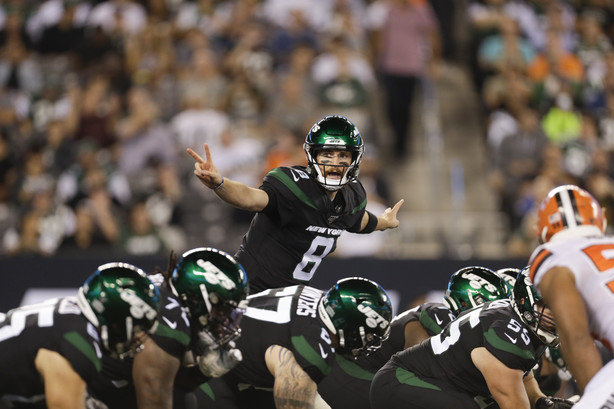 5 local NFL games to watch in Week 3
New Orleans Saints (1-1) vs. Seattle Seahawks (2-0)
Taysom or Teddy? Could the former BYU quarterback gets his shot against a loaded Seahawks squad that includes former Utah State linebacker Bobby Wagner, Utah's Marquise Blair and Cody Barton, and Highland High grad Bryan Mone?
New York Jets (0-2) vs. New England Patriots (2-0)
Luke Falk's first start of his young NFL career comes against former BYU linebacker Kyle Van Noy and the vaunted Pats, who many are calling the best team in the league.
L.A. Rams (2-0) vs. Cleveland Browns (1-1)
Eric Weddle's Rams line up against Sione Takitaki's Browns, and both former local defensive standouts are healthy and active on their respective rosters.
Green Bay Packers (2-0) vs. Denver Broncos (0-2)
Jamaal Williams wasn't the lead back in the Packers' win last week, so will he tote the rock more against a reeling Broncos team with former Utes Garrett Bolles and Tim Patrick, among others?
San Francisco 49ers (2-0) vs. Pittsburgh Steelers (0-2)
Former BYU linebacker Fred Warner has quietly become one of the standout defensive players in the Bay Area, but can he and former Utah punter Mitch Wishnowsky push the Niners to a 3-0 start?
×
Related Stories