Estimated read time: 5-6 minutes
This archived news story is available only for your personal, non-commercial use. Information in the story may be outdated or superseded by additional information. Reading or replaying the story in its archived form does not constitute a republication of the story.
MT. PLEASANT, Sanpete County — In the end, the top-rated high school hoops recruit in the state of Utah just needed a second look.
Just days after returning from his second visit to Michigan State, Wasatch Academy center Mady Sissoko confirmed his commitment to head coach Tom Izzo and the Spartans in a special ceremony Tuesday evening with close friends and teammates on the Mount Pleasant-based boarding school's campus.
And though his hand didn't hover over hats from BYU, Kansas and Memphis before picking up the green snapback with a Spartans logo, the decision to pledge his college career to Izzo wasn't as cut and dried as which hat to wear.
"Michigan State called me and wanted me really bad — but every coach called me, and I liked them," said Sissoko, a native of Mali who came to Wasatch Academy as a freshman, with no English skills and a limited knowledge of basketball. "But I felt like Michigan State is the place for me.
"It was a tough decision. It was tough. But I feel like Michigan State is right for me, and I'm so excited to put this hat on."
Through a work ethic that transcended the court, the 6-foot-8, 225-pound Sissoko translated into one of the top big men in the country. A four-star recruit by 247 Sports and ESPN Top 100 prospect, Sissoko averaged 12.5 points and 8.9 rebounds per game as a junior to blossom into one of the most heavily recruited centers in the country.
Offers from BYU, which he received from former coach Dave Rose during his freshman year, began a deluge of names that included Arkansas, Colorado, UCLA, Connecticut, and Utah State, to name a few.
In the end, Sparty won out in the race of Sissoko — and Sissoko hopes Michigan State can lead him to bigger and better things, both on and off the court, at a university that features an agricultural program that partners with his native Mali every year for field work.
"I think he can turn him into an NBA player; I really do," Wasatch Academy associate head coach Paul Peterson said of Sissoko. "The way they'll have him play isn't something that he's not good at. They'll have him play defense, rim run, and things like that.
"Development-wise, it's good to know that he's in good hands. You know that it doesn't stop after Wasatch. I'm really excited."
From a teenager with a lower-end basketball IQ to NBA prospect, in three years? That's quite the story. And yet, it's only part of the story.
"This whole story is not a normal story," Wasatch Academy head coach David Evans said. "Mady going to Michigan State, being an NBA prospect after coming here and playing basketball for 3 ½ years — that just doesn't happen without his work ethic, and the kind of person he is. That's why he is where he is at.
"A lot of it has to do with Wasatch, and the teachers pushing him. There's a lot that played into it."
The next step, after his senior season, will be the job of Izzo: take a young man from West Africa who barely knew a word of English, and turn him into a draft prospect. And Sissoko has all the tangible qualities to capture that elusive NBA dream: size, athleticism, and a work ethic to match it.
But that wasn't the main thing that stood out to Sissoko about his future collegiate coach.
"The one thing I like about Coach Izzo is he's the most humble guy I've ever talked to," Sissoko said of the four-time national coach of the year who has led the Spartans to eight Final Four appearances. "Even though he's in the hall of fame, I feel like since he started recruiting me, he's been honest with me. It's been great for me, and I believe he will help me, wherever my next level is, to get there."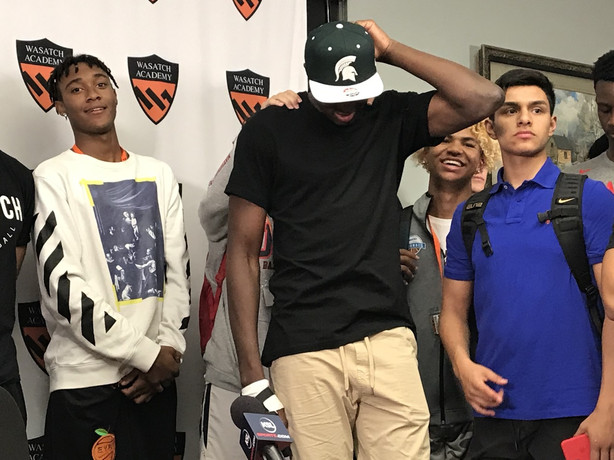 Sissoko selected Sparty from a top four that included Michigan State, Kansas, Memphis and BYU. And the fact that the Cougars, who will be led by head coach Mark Pope in his first season in Provo, even made the list of college basketball bluebloods is a mild surprise — and perhaps shows just how close Sissoko was to donning Cougar blue.
The Cougars' influence was great, under Rose and then under Pope. Sissoko took a recruiting visit to the Provo campus just a month ago when he suffered a broken hand in a terrible accident involving an ATV.
That could've doomed BYU's chances at the four-star prospect immediately. Instead, Sissoko put the Cougars in his top four last week, and he didn't fully decide on anywhere but Sparty until after his second trip to East Lansing, Michigan.
"The second visit was to go back and make sure I was making a good decision," Sissoko said. "I think when I got there on my first visit, there were a lot of people who thought I liked Michigan State. But I wasn't ready to make a commitment.
"But I waited until they offered me more stuff. Then every time I talked to Izzo and all the coaches, I liked more and more about Michigan State."
Sissoko's teammate Caleb Loehner, the top-rated Latter-day Saint recruit in the country who recently moved to Wasatch Academy from his native Texas, recently committed to Utah. The duo represent two of the top four recruits in the state of Utah — all playing for the Tigers, including Cincinnati commit Mike Saunders at point guard.
More commitments are expected from the Tigers in the coming days.
And then it will be on to a season when Wasatch Academy, which does not compete in the Utah High School Activities Association in favor of a national schedule and national tournament honors, will be on to a 2019-20 season with big goals and higher ambitions.
"It's all if we can put them together. That's our job," Evans said. "They've got the talent and the skill and the shooting; they're really good kids.
"And if we put it together, then we'll be really successful."
×
Photos
Related Stories