AROUND THE SHIELD — Taysom Hill's evolution into an athletic player the Saints use all over the field to someone who's looking more and more like a true quarterback continued on Thursday night.
The former BYU Cougar was 13-for-17 for 100 yards in a 16-13 loss to the Dolphins. In the four preseason games, Hill completed 67.8% of his throws for 443 yards and three touchdowns. He had just one interception.
He's shown development in the passing game — he's had more touch on his passes, his mechanics have looked smoother and he's been more accurate — and he still has his trademark athleticism. Against the Dolphins, Hill had 35 yards rushing, meaning he led the Saints in both passing yards and rushing yards.
With the way that he's developed, not too mention the similarities, it's no wonder that Saints coach Sean Payton compared Hill to former BYU and NFL great Steve Young.
"Well, if you look back at Steve's career, and people don't remember his time before he came into the NFL, you had a very athletic player that I think advanced when he got to San Francisco," Payton said earlier in the preseason. "And he always had great ability with his legs. ... As you began to watch (Hill's) skill set, you're just trying to think of players that were similar at an early stage in their career."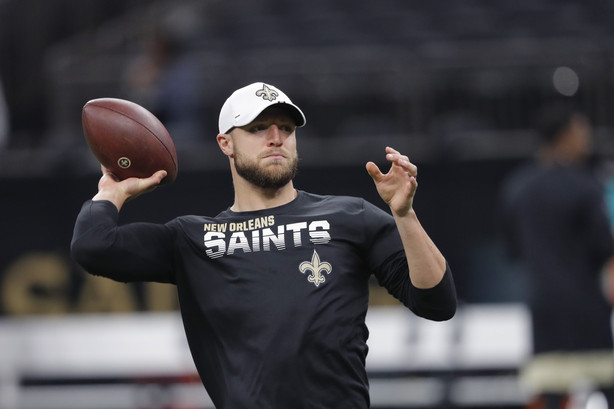 Now that the regular season has started, Hill's time in the spotlight will likely fade (playing behind Drew Brees has that type of impact), but his preseason performance might have shown that he — not Teddy Bridgewater — might be Brees' one day successor.
Former Judge Memorial High School standout Kaden Ellis had seven tackles for the Saints.
Tampa Bay Buccaneers 17, Dallas 15
If there was a negative for the Utah Utes on Thursday in their ninth straight win over BYU, it was the kicking game. The Utes missed an extra point and a field goal against the Cougars, prompting a mid-game change from Kyle Whittingham. Those kinds of struggles haven't been normal for Utah.
One of the big reasons for that was Matt Gay.
On the same night, the Utes' kicking game was struggling, Gay blasted a 53-yarder in the Bucs' win over the Cowboys. The long field goal gave Tampa Bay a 10-9 lead in the third quarter. He also made an extra-point — which may have been the better sight for Bucs coaches. Gay missed a 37-yard FG earlier this preseason and coaches have felt he has had some struggles from around that range.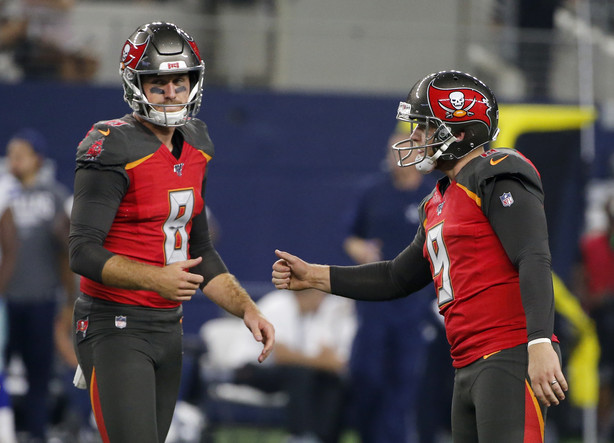 "I'd rather him just keep making them and learn by almost missing. It's just like almost losing – you learn a hell of a lot more from almost losing than you do from losing," Bucs coach Bruce Arians told media earlier this week. "I like the way he bounced back, but that one spot on the field has been a problem and I was hoping he'd fixed it. He seemed to have fixed it yesterday and today."
Seattle Seahawks 17, Oakland Raiders 15
Former Utah State and BYU safety Dallin Leavitt had four tackles for the Raiders in the loss; former SUU DE/LB James Cowser added one stop for Oakland. Cowser was waived on Friday.
Former Utah and Brighton standout Cody Barton had six tackles, former Highland High's Bryan Mone had three tackles and former Utah safety Marquise Blair had two stops for Seattle
Former Cedar/Westlake High athlete John Ursua returned one punt for five yards for the Seahawks.
New York Jets 6, Philadelphia Eagles 0
Former Logan High QB Luke Falk was 13-of-18 for 91 yards for the Jets. Falk entered the game on the Jets' second possession and played the remainder of the first quarter before giving way to Davis Webb.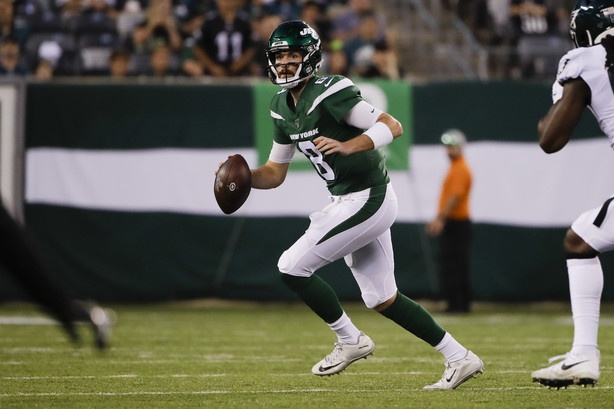 Former BYU/Utah/Bingham standout Harvey Langi and former Cougar Bronson Kaufusi each had two tackles for the Jets in the shutout.
Buffalo Bills 27, Minnesota Vikings 23
Former Utah State linebacker Maurice Alexander had three tackles (two solo) for the Bills in the final tune-up for the regular season.
Tennessee Titans 19, Chicago Bears 15
Former Utah linebacker Kylie Fitts was second on the team with four tackles (with three solo stops) in the loss for the Bears.
Los Angeles Rams 22, Houston Texans 10
The week after scoring his first NFL touchdown, former Utah State wideout Jalen Greene had two catches for 22 yards for the Rams. Former Utah corner Dominique Hatfield had one tackle in the win.
Former SUU punter Brock Miller punted five times and averaged 45.8 yards per kick. He had a long of 53 and downed one inside the 20. MIller was waived on Friday.
Los Angeles Chargers 27, San Francisco 49ers 24
Former Utah punter Mitch Wishnowsky punted three times with an average of 48.3 yards per kick. His long was a 54-yard punt and he also downed one inside the 20.
×