SANDY — There was a key number in Real Salt Lake's most recent win over the Seattle Sounders.
It wasn't three — as in three goals scored by Sam Johnson, Albert Rusnak and Corey Baird in a 3-0 win over the Sounders.
It wasn't six — as in six-straight games with a result, including three-straight wins.
It wasn't even zero — or at least not in the sense of the nil in the visitor's scoring column, the shutout for goalkeeper Nick Rimando at the tail end of his storied career.
The key zero was in a different spot on the stat sheet — the one with "shots on target" over it.
For the second time in a month, Real Salt Lake held an opponent not just scoreless, but without a single shot on goal. More than shutting down goal-scorers, RSL's defensive front — players like Justen Glad, Nedum Onuha, Aaron Herrera, Donny Toia, Kyle Beckerman and Everton Luiz — hasn't just kept a clean sheets; they've eliminated any chance of a goal-scoring opportunity.
Jumping into passing lanes. Clearing balls out of the back. Dropping balls on a dime to streaking forwards, like Herrera did on Johnson's first goal Wednesday night.
"I think everyone is working for each other," RSL assistant coach Tyrone Marshall said. "We went through a stretch where we didn't give up a goal in 3-4 games — at least, not from the run of play. As defenders, you appreciate that, and the goalkeepers as well."
It's a simple mantra in soccer that there are two ways to win a match: outscore the other team or stop them from scoring. Simple enough, right?
"The rhythm that we've been in, everyone has been trying to prevent goals from going in," Marshall said. "Look, if they don't give up goals, there's a good opportunity you are going to get a result. That's been the mentality: don't give up goals and we get results."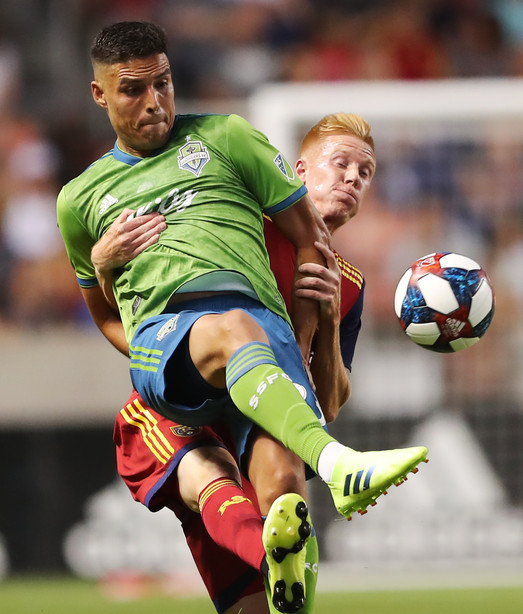 It's not just the defenders, either. It may start with the back line, aided by the likes of Beckerman and Luiz, the two defensive-minded midfielders shielding the back-four.
But the defensive mindset has spread to the rest of the team. Maybe it's not a coincidence that the mentality has seemed to hit its peak over the past four matches when Freddy Juarez — a defense-first coach by nature — has taken over as interim head coach, officially as of Sunday night when RSL terminated the contract of Mike Petke.
But it's not just the defender's job to defend. It's not just Juarez's job to instill defense.
It's everyone. It takes a village.
"Watching the team, we believe in defending — not just from the back, but from the front," Onuoha said. "Instead of it being reactive all the time, people are in the right positions. And we have that desire to keep the ball out of our goal – you can't really buy that. Some people have it, and some people don't.
"But I think the amount of goals we've conceded recently, the starters and the guys coming in as well, that's the mentality going forward."
The mentality has Real Salt Lake (12-9-4) in the top-four spot in the Western Conference, a staggering 40 points in a division that most project would take at least 42 points to qualify for the postseason.
Now, RSL can focus on doing even more than just make the playoffs. The top-four seeds will earn home-field advantage for at least a portion of the one-match, winner-take-all postseason. And with league-leading Los Angeles FC (17-3-4, 55 points) lapping the field in the regular season, every point taken from the rest of the conference matters.
Speaking of LAFC, Real Salt Lake hosts the West's best Saturday at Rio Tinto Stadium (8 p.m. MDT, KMYU and KSL.com). Getting a win would be impressive, a draw significant, and a shutout — well, some might call that hopeful against a side carrying double-digit goal-scorers Carlos Vela (23) and Diego Rossi (13).
But hopeful is something RSL has in abundance right now.
"I think everybody is motivated right now," Johnson said. "Since we came back from the break. At the beginning of the season, we were doing good. But now everybody has woken up, everybody wants to have something, and everybody knows we need to do something.
"Now everybody is good, I think."
MLS: LAFC (17-3-4) at Real Salt Lake (12-9-4)
When: Saturday, Aug. 17 at 8 p.m. MDT
Where: Rio Tinto Stadium, Sandy
TV:KMYU
Streaming:KSL.com
×
Related Stories