This archived news story is available only for your personal, non-commercial use. Information in the story may be outdated or superseded by additional information. Reading or replaying the story in its archived form does not constitute a republication of the story.
SANDY — Mike Petke is silent no more.
The former Real Salt Lake head coach offered a lengthy statement Tuesday via Twitter, sharing parts of his side of the story that led to his termination after a three-match suspension for "repugnant" language directed at a referee following a Leagues Cup match.
While stopping short of using words like "apologize" or "sorry" in the public tweet, Petke showed remorse for his actions on July 24 following a 1-0 loss to Mexican side Tigres, when he allegedly used a Spanish-language word that many consider to be a homophobic slur directed at referee John Pitti, who is from Panama, and his assistants.
He said he has already apologized to Pitti for those actions — perhaps the most important step.
In his statement, Petke appeared clear on his contrition.
"While I'll never stop bringing passion and all my heart to what I do, it is true that I lost my temper and showed poor judgement," he said. "That's why, before my termination, I willingly served the suspension imposed on me by both the league and the team, and have already apologized to that official and the league.
"Much has already been said about the Spanish word I used and the different interpretations of it," he continued. "Regardless of how my actions have been misinterpreted or twisted, I have always respected the rights of all individuals and always will."
The 43-year-old Petke was hit witih a three-match suspension by Major League Soccer commissioner Don Garber, who called the language used during the incident "repugnant," as well as a $25,000 fine — the largest in league history directed at a coach.
He was also suspended three matches of Leagues Cup play, which will be served in subsequent years whenever he returns to the competition, and suspended for two weeks without pay by Real Salt Lake while he served the suspension. In addition, Petke was mandated to attend anger management courses after incurring a suspension for speaking out against officiating for the third-straight season.
Petke, whose contract with RSL was terminated with cause Sunday night by owner Dell Loy Hansen, expressed his full support for his former team, its players and former lead assistant coach Freddy Juarez as they begin to transition away from him.
"While I may no longer be the head coach, I continue to believe in the players at Real Salt Lake and want to wish them and coach Juarez the very best in their pursuit of a place in the postseason," Petke said. "This is a tremendous group of athletes and it has been my honor and privilege to work with them. Knowing them as I do, I expect nothing but the best."
His players, colleagues and friends stood by him and affirmed his character — including many still with RSL in some capacity.
"As a veteran of the game, I have had the opportunity to know and work with Mike Petke as a teammate, player, friend and lastly coach," RSL goalkeeper Nick Rimando said in a statement. "Our relationship spans over a decade; trust that I know the man very well on and off the field. He is a great husband, wonderful father and mentor. He has always been someone I can trust and as loyal as they come. His love and passion for the game and the teams he represents has never changed. His passion comes in many spirited forms which I feel this team and its supporters have appreciated. I know Mike, the. Whole person. I know Mike, the whole man. I hope you all can trust me when I say that this instance should not define him. It's a very unfortunate turn of events.
"The Mike I know wishes us nothing but the best. The Mike I know wants us to finish the 2019 season with a fight and on a high. We are ready to continue and battle the rest of the way."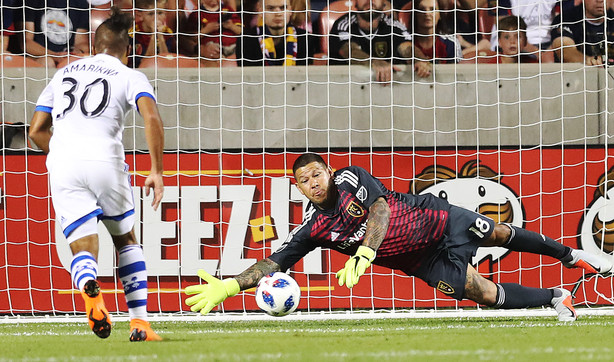 Former RSL winger Brian Dunseth has gotten to know Petke through his radio show on Sirius XM, and most recently with an RSL-produced coach's show and podcast.
"To be clear, I consider Mike Petke a friend," Dunseth said. "And I sincerely do not believe Mike is homophobic, having spent hours upon hours sharing the screen and microphone with him on subjects that are extremely personal to the both of us.
"But I also am obviously aware of the fact that words can be weaponized and actions can most definitely cross a line. The club has made its decision and I personally wish Mike and his family all the best as they move forward."
Several other players expressed love for Petke, while also expressing support for his replacement, Freddy Juarez. Many of the players on the current senior team have known Juarez since his days as director of the RSL Arizona academy, including star striker Corey Baird, the reigning MLS rookie of the year.
"It's unfortunate. I think that it's nothing anyone was super happy about it," Baird said after Tuesday's training. "But Freddy's been here since the start for me. He's been the guy running a lot of sessions.
"I think Freddy's just a good team person. He's good at talking to people, and getting what he wants to say through to you in a good way. With him on the sideline, he sees things that we don't see. He's able to relay that information to us in a quick way and a precise way."
Juarez himself stood up for his (now former) boss, too.
"Mike's a great human being," Juarez said. "I know him personally. Right away, I knew this isn't something he should've done. He apologized.
"You know Mike the way I know Mike. He's a good guy. The players know who he is."
The Athletic reported Monday through sources that Petke will try to seek damages from RSL for his early termination, claiming that the club owes him a buyout because the termination was outside the parameters of cause. Petke seemed to confirm the report in his statement.
Regardless, Petke's coaching career isn't over.
"I hoped to continue coaching RSL and, in fact, just after this incident, had signed an agreement with the team to do just that," he said. "It saddens me that while I held up my end of the bargain, including not speaking about this matter publicly until now, the team has chosen to go the route of terminating my contract. Team ownership and I will have the chance to discuss the club's decision in a forum in the future.
"To the fans of RSL and the people of Salt Lake, thank you so much for all you have done for me, for my family and for the team. Your support and your energy make possible all the good we have accomplished. And for that, I will always be grateful."
RSL returns to MLS play Wednesday night against Seattle Sounders FC. Kickoff from Rio Tinto Stadium is scheduled for 8 p.m. MDT on KMYU and KSL.com.
×
Related Stories