AROUND THE SHIELD — Taysom Hill is not a tight end. He's not a running back, or a safety, or a special-teams ace capable of blocking punts, returning kicks and making tackles.
Sure, he's done most of that in his brief time with the New Orleans Saints. But when asked about his position in the modern NFL, Hill is unabashed: he's a quarterback, and he wants to play quarterback.
And while that puts him at a disadvantage in terms of starter's minutes — the Saints currently have the former BYU signal-caller behind All-Pro Drew Brees and Teddy Bridgewater at the position — Hill isn't about to let his dream of being an NFL quarterback die.
And while playing is better than not playing — even at tight end or fullback or special teams — Hill enjoyed his preferred position Friday night.
"It's still early in my career," Hill told Saints media after the game. "I'm still figuring out how to manage all that. But I had a lot of fun playing quarterback tonight."
Hill, who was the second quarterback out of the chute behind Bridgewater, completed 8-of-14 passes for 80 yards, a touchdown and an interception in the Saints' 34-25 loss to the Minnesota Vikings.
He also ran six times for 45 yards, including an electric run after getting flushed out of the pocket shortly after entering the game in the second half.
Hill's arm was just as true, as well. The Pocatello, Idaho native hurled a dart to former Texas wide receiver Lil'Jordan Humphrey for a 33-yard score that pulled the Saints within two, 27-25, in the fourth quarter.
Another rookie trying to impress in Saints camp is rookie Porter Gustin, the former Salem Hills quarterback-turned-USC linebacker who went undrafted before signing with the Saints. Gustin had one tackle in his preseason debut with New Orleans, so he'll try to use two more games with the Saints to prove he belongs in the NFL.
Just like everyone else playing right now.
"Look, this is preseason three for me. I'm aware of the game," Hill said. "We're all trying to make the most of every situation. But we try to simplify the things that we do, to play fast, and evaluate everybody on the film.
"It doesn't change my mindset to take advantage of every opportunity I get."
Locals in the NFL
Pittsburgh Steelers 30, Tampa Bay Buccaneers 28
Former Utah kicker Matt Gay drilled a 55-yard field goal — with room to spare — in the his NFL debut with the Buccs.
Gay lined up from just off the left-center hash from close to midfield in the second quarter of Friday night's game, and the former Orem High kicker and Utah Valley soccer player made it look easy as the ball floated through the uprights.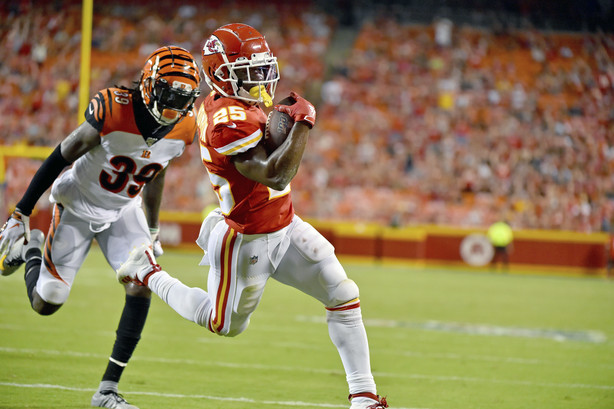 SATURDAY'S GAMES
Kansas City Chiefs 38, Cincinnati Bengals 17
Former Utah State running back Darwin Thompson ran for 22 yards on five carries — and added a 29-yard touchdown on a pitch to help the Chiefs to a win over the Bengals.
Former Layton High star Marcus Kemp, who played collegiately at Hawaii, hauled in his only target for a 9-yard gain.
Former Aggie receiver Hunter Sharp was targeted three times, hauling in two catches for 22 yards for the Bengals. His college teammate Nick Vigil added a tackle for Cincinnati.
Oakland Raiders 14, LA Rams 3
Former Utah State cornerback Nevin Lawson had four tackles, a tackle for loss, one pass defended and a tackle on special teams as the Raiders nearly shut out the Rams.
Dallin Leavitt, the safety who started his career at BYU before finishing at Utah State, added two tackles for Oakland.
Another former Aggie, wide receiver and punt returner JoJo Natson, got the start for the Rams. Natson targeted just twice, finishing with one catch for four yards, in a wide receiving corps that also included former Aggie Jalen Greene.
Former Southern Utah punter Brock Miller averaged 48.8 yards per punt for the Rams, including a booming 52-yarder in the second half.
Utah's Dominique Hatfield made two tackles for Los Angeles — and he was coached up by fellow Ute grad Eric Weddle, who made the move to LA from Baltimore in the offseason.
San Francisco 49ers 17, Dallas Cowboys 9
Perhaps the biggest note of the 49ers' win over the Cowboys (from a local perspective) was former Utah punter Mitch Wishnowsky, who had six punts for 297 yards.
The Aussie punter averaged 49.5 yards per punt, including a long boot of 64 yards, three punts downed inside the 20 and one touchback for the Niners.
Former Bingham tight end Dalton Schultz, who played at Stanford, caught a pair of passes for 13 yards.
×
Related Stories