AROUND THE SHIELD — Football returned Thursday night, with 22 NFL teams kicking off the season.
Or preseason, at least.
But it's still football, and for a lot of rookies it's their first taste of the NFL experience. Several former Utah stars weren't going to miss the moment.
Marquise Blair definitely didn't let the opportunity pass him by to send a strong first impression in Seattle. The former Utah defensive back tied for the team-high with five tackles in the Seahawks' 22-14 win over Denver.
But Blair — who also had a tackle for loss, a quarterback hurry, and a special-teams tackle — may best be remembered in the game for a 15-yard penalty in the second half. That's when the rookie safety went in for a bruising hit on Broncos wide receiver Nick Williams, sending the opponent to the turf with a flat-footed hit through the shoulder pads and helmet that caused Williams to struggle to get up.
During his senior year at Utah, Blair was ejected for targeting in two games — once against Washington, and again against UCLA — for similar hits, though even the defensive back from Wooster, Ohio, admits he has had to learn to tone it down to play in the NFL.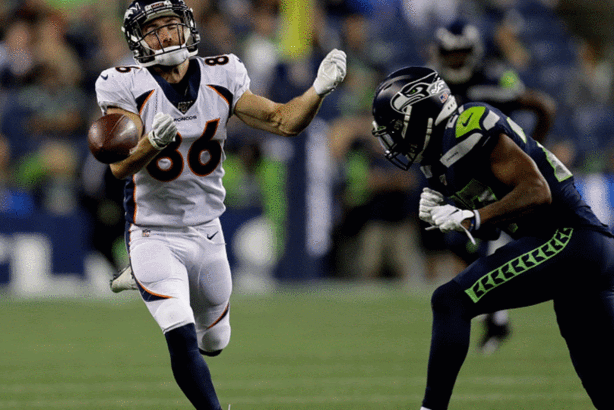 "At Utah, I probably would have (led with the head), you know," Blair told the Seattle Times after the game. "But I've been working on it."
The Seahawks don't want to change their second-round pick's physical, sometimes violent style of play. They just want him to channel it effectively — and keep him on the field, Seattle head coach Pete Carroll told the Times.
"You can see that he's a ballplayer," Carroll said. "We loved what we saw from him tonight. We also learned a lot about him. He makes one play coming off the edge that it was not a blitz, but he took off and made a big hit in the backfield, and then he tried it again, and that's when they dumped the ball in the flat.
"He has a lot to catch up on. But he showed you that he's a hitter, he's aggressive and tough. We can work with that now. It was exciting to see the plays he made."
Marquise Blair postgame. pic.twitter.com/pAlG7fjyn1

— Adam Jude (@A_Jude) August 9, 2019
Former Utah linebacker Cody Barton, a Brighton High product who was drafted in the third round, also had five tackles for the Seahawks in the win.
Here's how several other former local standouts fared in their NFL preseason debuts.
Arizona Cardinals 17, LA Chargers 13
Former Utah and Timpview High star Pita Taumoepenu played sparingly in the Cardinals' defensive-mind win over the Chargers. But he left his mark with a 7-yard sack in the second half.
Taumoepenu also had a quarterback hurry, a forced fumble, and a tackle on special teams in the win.
Former Weber State tight end Andrew Vollert caught a 25-yard-pass for the Chargers, and teammate Michael Davis, a BYU alum, made three tackles.
NY Giants 31, NY Jets 22
Former BYU defensive end Bronson Kaufusi had one tackle and a quarterback hurry in his debut with the Jets. Former Cougars teammate Harvey Langi was inactive on the night.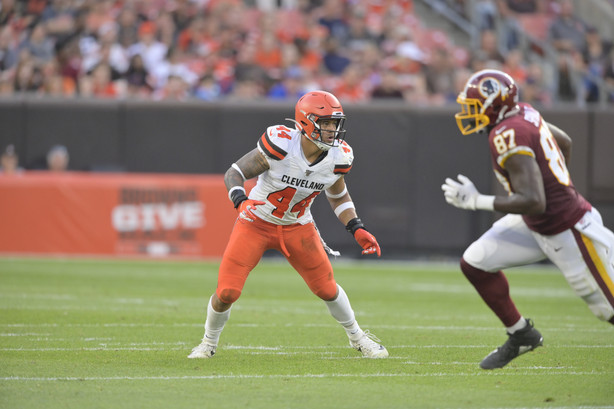 Cleveland Browns 30, Washington Redskins 10
Recently graduated BYU linebacker Sione Takitaki made three tackles Thursday night in his first NFL start against Washington.
Former Salt Lake Stallions quarterback Josh Woodrum of the now-defunct Alliance of American Football completed 6-of-11 passes for 44 yards and an interception in Washington's loss.
New England Patriots 31, Detroit Lions 3
Former Southern Utah standout Miles Killebrew had six tackles and a tackle for loss in Detroit's loss to the Patriots.
Former BYU linebacker Kyle Van Noy was inactive for the Pats.
Miami Dolphins 34, Atlanta Falcons 27
Former Utah and Highland High defensive star Nate Orchard recorded a 5-yard sack in the Dolphins' win over Atlanta.
Former Bingham High standout Durrant Miles, who played collegiately at Boise State, had two tackles, a 2-yard sack, a quarterback hurry, and a forced fumble for the Falcons.
Tennessee Titans 27, Philadelphia Eagles 10
LeShaun Sims posted two tackles, a six-yard sack and a quarterback hurry in the Titans' 27-10 win over Philadelphia.
Carolina Panthers 23, Chicago Bears 13
Former Utes were all over the defense of Carolina's win over Chicago, where Corrion Ballard tied for the team lead with five tackles and Jared Norris added two tackles. Former SUU cornerback Josh Thornton added a tackle and a pass defended for the Panthers.
Former Utah State tight end Dax Raymond was targeted twice by the Bears, finishing with one catch for six yards in the Timpview High alum's preseason debut.
Green Bay Packers 28, Houston Texans 26
Former BYU all-time leading rusher Jamaal Williams did not play in the Packers' 28-26 win over the Texans. But Utah State grad Kyler Fackrell had a tackle on special teams for Green Bay.
The NFL preseason continues Friday with two more games (Tampa Bay and Pittsburgh, followed by Minnesota and New Orleans), and three more games Saturday (Cincinnati-Kansas City, LA Rams-Oakland and Dallas-San Francisco).
×
Related Stories