Estimated read time: 5-6 minutes
This archived news story is available only for your personal, non-commercial use. Information in the story may be outdated or superseded by additional information. Reading or replaying the story in its archived form does not constitute a republication of the story.
SANDY — Utah Royals FC added three players during the 2019 NWSL College Draft Thursday in Chicago, the same day the nine-team league announced two more roster slots for each franchise, as well as a raised salary cap and minimum salary expectations.
With the No. 23 overall pick, the Royals selected versatile Pepperdine standout Michelle Maemone as the club's first pick in the third round.
"We identified each of the three picks as players we wanted to select with those picks," Utah coach Laura Harvey said. "We're happy that we were able to get the players we wanted. Now we're just looking forward to getting back onto the field with the all players.
"We have competition at every position and right now and that's a good problem to have."
A four-year starter for the Waves, Maemone played in 78 matches in her four-year collegiate career, totaling three goals and four assists while playing mostly on defense and moonlighting at forward. The 5-foot-6 native of San Jose, California, led the Waves to a West Coast Conference-best 0.82 goals-against average as a senior in 2018, while also scoring two goals on seven shots in her split-session time.
Maemone earned all-WCC honorable mention honors as a sophomore in 2016, when she played in a career-high 21 matches, primarily at outside back.
Maemone joins former Pepperdine midfielder Gunny Jonsdottir with the Royals, who was an all-WCC honorable mention as a freshman in her one season with the Waves in 2010. She's also the second Waves product taken in the 2019 draft, joining teammate Hailey Harrison, the No. 9 overall pick by North Carolina.
"I am so excited to come in and play wherever they want me to play," Maemone said. "I just got off the phone with coach Harvey and said she can always count on me giving 100 percent, no matter the day. My coaches kept encouraging me in this process and this is just another reminder that there are people out there who believe in me. I am so excited for this journey and I cannot wait to get there and get after it with my new teammates."
Utah added Penn State defender Maddie Nolf with the final pick of the third round. A fifth-year senior for the Nittany Lions, the 5-foot-3 Rolf started all 25 matches of her senior year in 2018, registering two assists, seven shots, and bolstering a Penn State back line that posted 14 shutouts and allowed just 13 goals on the year.
The 14 shutouts are the fourth-most in Penn State soccer history, and the 0.51 goals-against average is tied for third all-time in the program's record book.
With their final pick, the Royals added Alex Kimball of North Carolina. The 5-foot-7 midfielder from Chapel Hill, North Carolina struggled with injuries during her five-year UNC career, including off-season shoulder surgery in 2016 and several hip injuries that cost her the entirety of her junior season in 2017.
But Kimball recovered from both, scoring a career-high four goals and two assists in 2018 to finish with nine goals and seven assists on 88 shot attempts at UNC.
Kimball was born in Salt Lake City, but grew up in Chapel Hill, where she went on to play for prominent Latter-day Saint soccer coach Anson Dorrance at UNC.
"Getting back to Utah with the opportunity to play in front of my family, has always been a dream of mine," Kimball said. "Especially now with Utah Royals FC being a part of the NWSL. I am just excited to get to work, improve my game, and hopefully be a piece for Laura [Harvey] to use this season coming up."
Utah did not have a first-round pick in this year's draft, having traded the No. 1 overall pick to Chicago in exchange for the rights to Christen Press in a trade that also brought defender Sam Johnson to the Wasatch Front.
The Red Stars turned that picked into Stanford defender Tierna Davidson, a U.S. international center back who deferred her final year of collegiate eligibility to turn pro.
UCLA forward Halie Mace went to New Jersey's Sky Blue FC with the second overall pick, followed by Stanford midfielder Jordan DiBiasi and Clemson defender Samantha Staab to the Washington Spirit. USC's Leah Pruitt went to the North Carolina Carolina to round out the top-five picks.
The Royals also added former Spanish national team captain Vero Boquete last week to bolster their midfield, and only declined options on three players following the 2018 season: defender Alex Arlitt, midfielder Katrina Gorry, and forward Elise Thorsnes.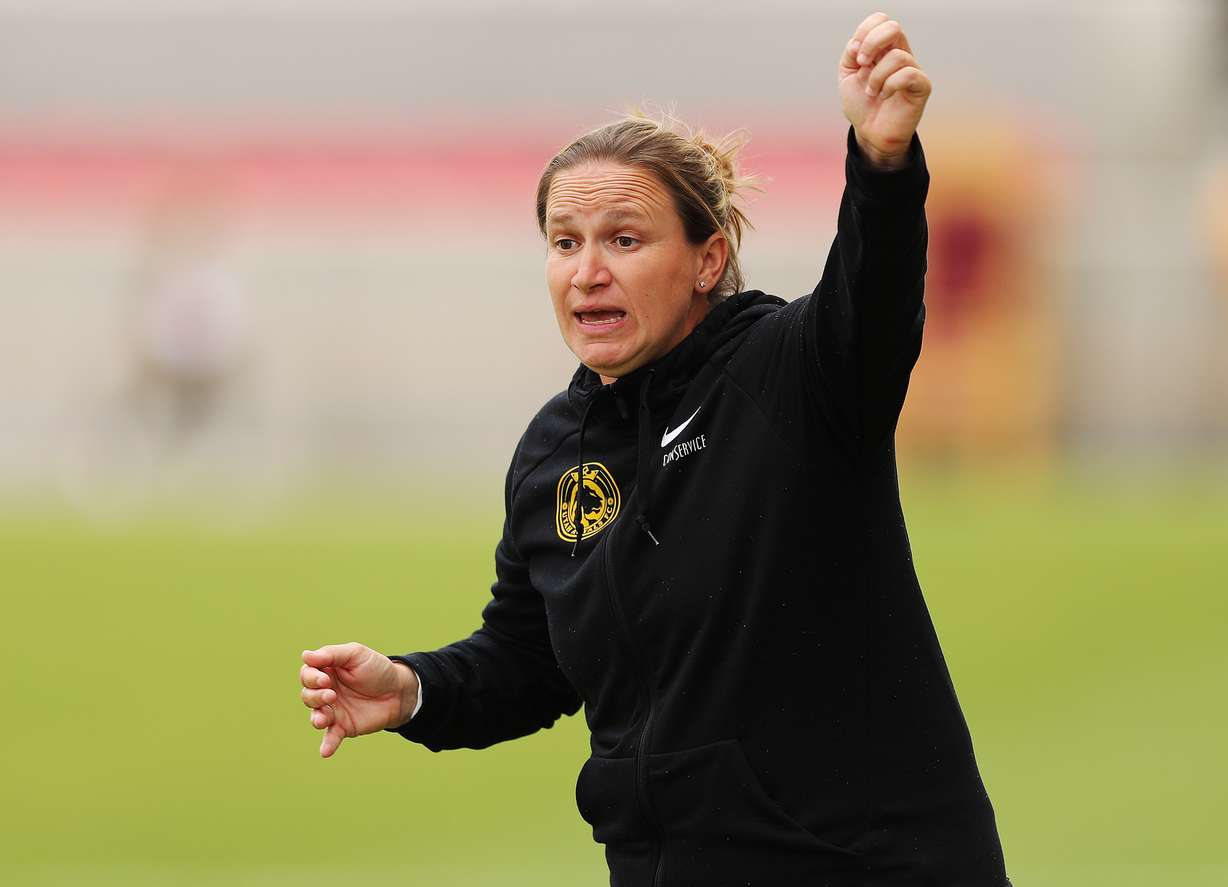 Increased rosters, salaries in 2019
2019 will be a historic year for National Women's Soccer League, and not just because no previous iteration of professional women's soccer in North America has made it to a seventh season.
The NWSL announced prior to Thursday's draft that roster sizes for all nine teams will go up to 22 players on the active roster, with an additional four supplemental spots for reserve and practice-squad players. Those supplemental spots will not count toward the league's salary cap, which has been raised to $421,500, while minimum and maximum player salaries have been raised to $16,538 and $46,200, respectively.
"This is an important step in the growth of the league," said NWSL managing director Amanda Duffy in a statement from the league. "In addition to these roster changes allowing the league and its teams to provide additional employment opportunities for more players plus additional benefits in connection with housing and auto, this marks the sixth consecutive season the board of directors has supported increased compensation."
Reserves on the way
The Royals will also launch an affiliate in the Women's Premier Soccer League (WPSL), a league designed for top-level amateur players from collegiate, post-collegiate and international backgrounds.
The team, called URFC Reserves, will begin play in summer 2019 and be led by Utah Royals managing director Stephanie Lee. It replaces the former Real Salt Lake Women, an amateur affiliate of RSL that won the WPSL Elite national title in 2015 and has played the past two seasons in United Women's Soccer under the direction of Salt Lake Community College coach Mark Davis.
RSL Women will be shuttered with the announcement of the new club, and no coaching staff has been named for the new reserve side URFC Reserves.
The club will hold open tryouts Feb. 17 at the Zions Bank Real Academy in Herriman. RSVP notices can be found at UtahRoyalsFC.com.
×
Related stories
Most recent Real Salt Lake stories