This archived news story is available only for your personal, non-commercial use. Information in the story may be outdated or superseded by additional information. Reading or replaying the story in its archived form does not constitute a republication of the story.
Editor's note: KSL.com's "Into the Voting Booth" series is meant to inform Utahns about the election process, how voting makes a difference in local communities and why the political process is important. Check KSL.com for future stories in this series over the coming weeks. Thanks for reading!- - - - - -
SALT LAKE CITY — I moved to Utah nearly eight years ago. On Thursday, I finally got a Utah driver's license.
Why did it take me a full eight years to do something the law technically says you should do within the first month of moving to a new state? I was a college student from California, convinced that as soon as I graduated I'd be out of Utah and back to my home state. There was no need to go to all that trouble if I wasn't going to stick around.
Well, three years into a job and one marriage later, it looks like I may be here for a little while.
I might have been able to slide by without a trip to the state Driver License Division, however, if it weren't for one small thing: voting.
I always voted in California with an absentee ballot, but after living here a while I realized I knew a lot more about Utah's politics and candidates — and they affected me more, too. During last year's midterm elections, I was able to take advantage of Utah's new same-day voter registration policy and vote with my California license and a utility bill that proved I lived in the Beehive State.
But as the municipal elections approached this year, I realized I wouldn't be able to be at the polling place on Election Day and would need to request a mail-in ballot. When I went online to request one (and change my address after a recent move), I soon hit a roadblock: I couldn't do either of those things without a state driver's license or state ID number.
It was time to bite the bullet.
Here's what I did to prepare to vote:
Get a Utah driver's license
I called the Driver License Division (in Utah, it's separate from the DMV) and asked what I needed to do to get a license. They told me to come in with my birth certificate or passport, Social Security card, two pieces of mail as proof of address and my current driver's license. I was surprised they didn't ask for my firstborn child.
They also reminded me that I'd need to take a 25-question test, and I had a flashback to driver's ed in high school. Before going in, I did a few practice tests — and by "a few," I mean maybe 20 — until I was sure I had cycled through all the sample questions.
On Thursday, I went to the Driver License Division and filled out an application, including the section that asked if I wanted to register to vote. I then took an awful picture (Is it the law that your license photo always has to look terrible?) and waited until my number was called — which, surprisingly, wasn't long.
I'm finally getting a Utah driver's license 8 years after moving here so I can get a mail-in ballot for the upcoming municipal elections.

I hope I pass the test or this will be v embarrassing. pic.twitter.com/NglDdxTilV

— Liesl Nielsen (@liesl_nielsen) August 1, 2019
After getting all my paperwork squared away, the man behind the desk told me to go to the kiosks to take my test, which I later learned was open book (but not open cellphone). The questions were more intuitive than the ones on the practice tests I had taken, and I passed easily.
I went up to another desk, got my new-but-temporary license, and the man behind the counter punched a hole in my old license — signifying a true end to my carefree California days.
Then I was out. All in all, a fairly painless process.
Request a mail-in ballot
As soon as I got home, I jumped online to request my mail-in ballot at vote.utah.gov. Halfway through the application, though, I got confused. If I registered as a Republican, I could request almost any primary ballot I wanted. But if I registered as anything else, I couldn't request a Republican ballot.
I always register "unaffiliated" as a matter of principle but wanted to ensure I'd be able to vote for the candidates I wanted.
I went to slc.gov/elections/ to see who and what I'd be voting for and realized that, while Salt Lake was electing a new mayor, only some of the city's districts were electing other officials. After my recent move, I had no idea which district I was in.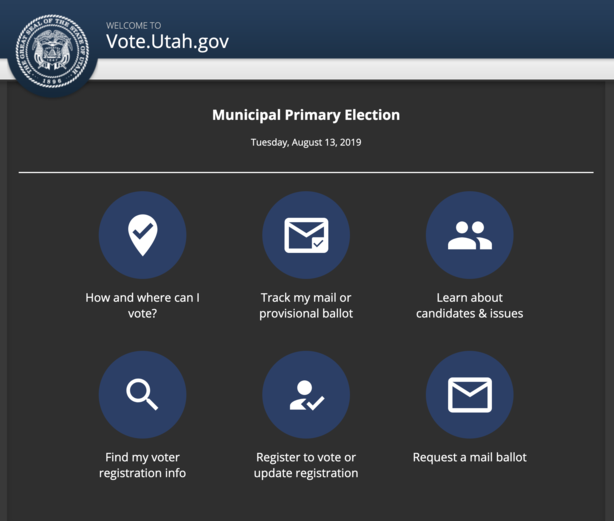 So I did some Googling and found a citizen representation map on slc.gov. My district, I discovered, would not be voting for anything other than mayor.
But I was back in the same predicament: Would the party I registered with change what I saw on my ballot? I decided to call up my county clerk's office and ask.
A very helpful city employee answered the phone and explained that, no, the mayoral election was nonpartisan and my party affiliation didn't matter. He also told me not to bother with the online application for a mail-in ballot; he would personally make sure I was delivered one.
I hung up the phone wondering if I should have just called the clerk's office to begin with.
Research the candidates
After ensuring I'd get a ballot, it was time to actually decide what my vote would be. So I went back to slc.gov/elections/ and read each candidate's bio. Some were more helpful than others, and I realized this was going to be the most arduous part of the whole process.
The main issues almost all the candidates addressed were air quality, homelessness and the controversial inland port. I did some more Googling, visited the candidates' web pages (if they had one), and read some media coverage.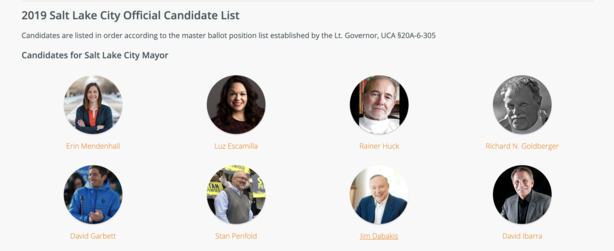 I'm still deciding what my vote will be, but I have a little while before my ballot arrives in the mail. I may even call some of the candidates since they all have numbers listed.
If you want to vote in your upcoming municipal elections, your process probably won't be as complicated as mine. Start at vote.utah.gov and go from there. If you hit a snag, do a little Googling, find your city's website and, if you're still stuck, just call up your city clerk.
×
Related Stories