SALT LAKE CITY — No Petke. No goals. No win.
But a result on the road for Real Salt Lake.
Nick Rimando made two saves as RSL split the points with FC Dallas with a 0-0 draw Saturday night at Toyota Stadium in Frisco, Texas.
FC Dallas goalkeeper Jesse Gonzalez stood on his head with five stops for the hosts, who have only lost once to RSL in their home history.
The shutout was No. 500 in the storied career of Rimando, who is retiring after this season and received a "going-away present" from FC Dallas president Dan Hunt of boots and a cowboy hat prior to the match.
"We've all been extremely organized," said RSL defender Aaron Herrera, who played next to fellow RSL homegrown Justen Glad in the latter's 100th MLS career appearance. "It starts with the front guys, giving us pressure. In the back, you have to make plays, and fortunately we were able to do that again."
RSL (9-9-4, 31 points) controlled the work flow through the first 30 minutes in North Texas, outshooting the Hoops 5-2 with the only three shots on goal and 53 percent of possession.
But Dallas (9-8-6, 33 points) came back with three more attempts in the final 15 minutes of the half, and Salt Lake was scoreless as Dallas took some momentum into the break — without a goal, thanks to a pair of back-to-back reflex saves by Rimando in the 45th minute.
"Good game. Hat's off to the guys; I think we deserved a win," RSL assistant coach Freddy Juarez told team reporter Samantha Yarock after the match. "No one could say that we didn't deserve three points.
"Their goalkeeper was pretty good tonight. But the commitment from the guys to defend as a group … it was overall, a very good performance. I'm happy for the guys."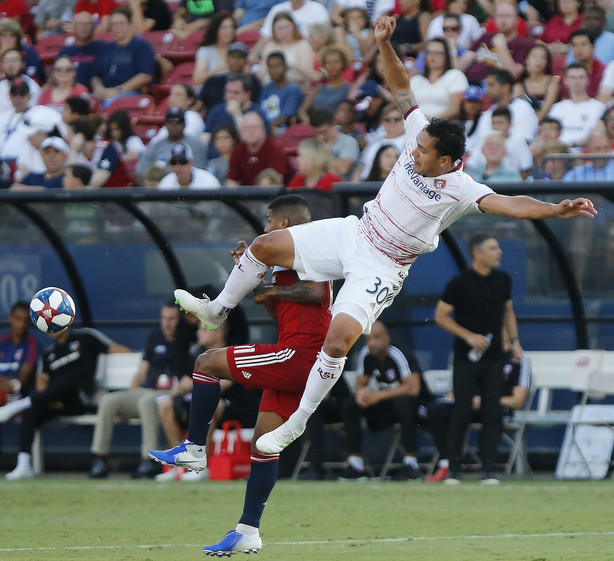 Real Salt Lake poured in 17 shots against Dallas' defense, including five on frame. But an an open game ensued on the other end, as well, with RSL holding the home side to two shots on target among 10 shots faced.
Still, even with the hard-earned point on the road, the visitors could be disappointed not to get a little more against a team that started the day two points ahead in the Western Conference table.
"Every game we go into, we want to get three points," Herrera said. "That was the mentality we had here. I don't think we sat back.
"But obviously, on any away trip, a point is good."
The draw is just the fifth result earned against FC Dallas in Texas, and the fourth draw. RSL improves to 1-13-4 all-time on the road against the Hoops, with 13 goals scored and 34 goals allowed.
"They're learning," Juarez said of the team's defense. "But I think we don't talk about the last six league games; we haven't given up a goal in the run of play. It's been set pieces.
"With an attitude like that, we are going to be in a lot of games."
DENIED 👐🚫⚽ pic.twitter.com/lrmzxL1z4o

— Real Salt Lake (@realsaltlake) July 28, 2019
Juarez commanded the bench Saturday in the absence of Mike Petke, who has been suspended by Major League Soccer during an investigation involving an incident with officials during the Leagues Cup match with Mexico's Tigres.
The length of Petke's suspension is yet to be determined, pending the investigation. He also received a red card from the officiating crew following the match, a 1-0 loss.
RSL returns home Saturday, Aug. 3 against New York City FC.
And they will do it with a valuable point on the road — something they haven't often been able to grasp in 2019.
"One mental lapse can kill you in this league. It happens quick," Herrera said. "Any time you are able to stay locked in for 90 minutes, it's a good thing. But that's the standard for us."
×
Photos
Related Stories