PROVO — On the first day of fall camp on college campuses across the nation, emphasis is often put more on who isn't present than who is.
BYU was no different.
Neil Pau'u, the junior-to-be wide receiver from Santa Ana, California, was not with his teammates Wednesday as the Cougars opened preparations for the 2019 season in the Indoor Practice Facility.
Pau'u was arrested by BYU police over the summer on suspicion of driving under the influence. After pleading guilty to a reduced charge of impaired driving, a Class B misdemeanor, the 23-year-old wide out's status with the team has been called into question.
Question no more.
The younger brother of former BYU linebacker Butch Pau'u will remain a student at the university and with the team but will redshirt during the 2019 season, head coach Kalani Sitake said.
"He's in school and he's on the team, but he's not going to play so we're not going to bring him into fall camp," said Sitake, who added he "loves (Pau'u) to death.
"He's here, and he's a part of the team, being around the guys."
Pau'u played in 13 games as a sophomore, wracking up 18 catches for 216 yards and a touchdown. He played in 12 games as a freshman returned missionary two years ago, when he had 14 receptions for 139 yards and two touchdowns.
As part of his plea deal, Pau'u agreed to two years of probation, a $1,000 fine and 48 hours of work diversion. If he violates probation, he could be liable for up to 178 days in the Utah County Jail, according to court documents.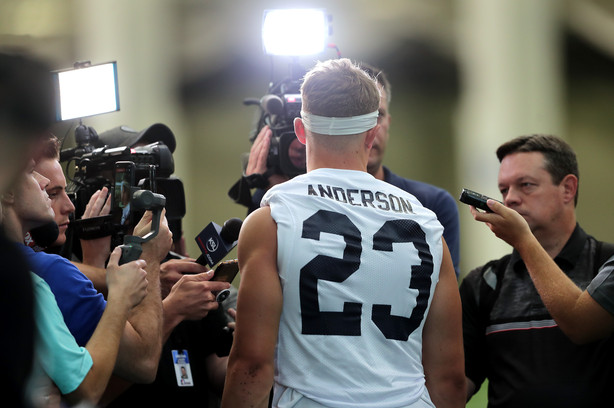 Middle linebacker depth
With the graduation of Butch Pau'u and Sione Takitaki, the Cougars are replacing a starter in the middle of the linebacker group.
While lone senior Zayne Anderson appears destined to start at outside linebacker, assistant head coach and linebackers coach Ed Lamb said three players are battling to start in the middle: Jackson Kaufusi (a cousin of the aforementioned Corbin), Kavika Fonua and Payton Wilgar.
Fonau makes the move back to linebacker after spending spring with the running backs. But the return of Lopini Katoa, mixed with the additions of two graduate transfer running backs, made the former Syracuse High star more expandable on offense.
"We feel like we have a lot of guys at the running back position, and he'll help us at linebacker," Sitake said of Fonua. "He's played there before, at safety and linebacker.
"And he has some experience, so it's not like he's brand new."
New numbers
Several of the newcomers were assigned numbers for the opening of fall camp. Among them are graduate transfer running backs Ty'Son Williams (No. 5) and Emmanuel Esukpa (No. 33), Colorado speedster Luc Andrada (No. 24), former Weber State defensive back Shamon Willis (No. 33), tight end Carter Wheat (No. 99) and former Utah offensive lineman Mo Unutoa (No. 68).
Joe Tukuafu, who left the university a year ago but recently returned, will wear No. 87 as he suits up at tight end. Ula Toluta'u, the former BYU running back who left school around the same time as Tukuafu, is still in the NCAA transfer portal, according to a source.
×
Related Stories