SANDY — There's no easy way to say it: the Utah Royals FC are in a funk.
Mired in a five-match winless skid, the Royals have just one of nine points from their last three home matches — and now face the daunting task of playing four of the next five on the road, beginning Saturday against the Chicago Red Stars (6 p.m. MDT, Yahoo Sports).
What's worse is that Utah, which once led the nine-team National Women's Soccer League, now sits seventh in the league with a 5-5-3 record (18 points).
The team's once-promising playoff bid is slipping through each player's fingers.
So what gives? Why has a team that started so strong struggled so much in the aftermath of the 2019 FIFA Women's World Cup, when attention to women's soccer has been at a four-year high?
In short, they aren't playing like they once did. They aren't defending like they used to.
The Royals aren't playing like the Royals.
"We have to get back to the clean sheets and being hard to beat," Utah coach Laura Harvey said after the team's recent 2-1 home loss to North Carolina. "If that means we win 1-0, we win 1-0. Because it doesn't matter if we create all these chances if we don't win games."
Utah was once a team that others around the league dreaded to play: tough, brutal, physical, often hard-tackling (and even hard-fouling). Some fans bordered on the term "dirty." But it wasn't just that — Utah's players had bite, a physicality once unmatched in terms of fouls committed and fouls suffered.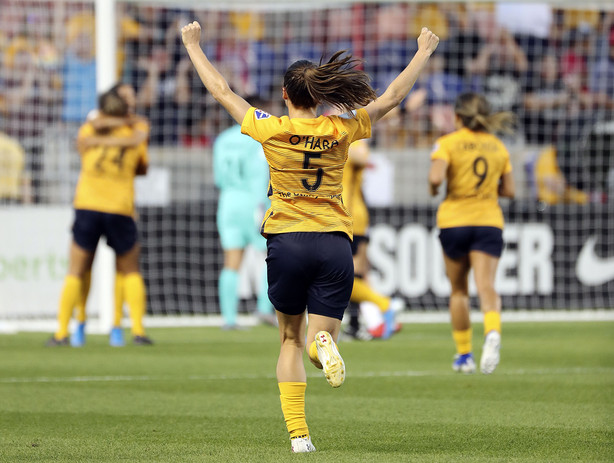 The Royals could roll with the best of them. So what changed?
In the first six matches of the season (when the Royals were 4-1-1), Utah averaged 11.3 shots per game and 10.6 fouls per game with more than 56% possession.
In the five-match winless skid, the Royals have just 9.4 shots per game, 6.8 fouls and less than 54% possession. For a team that prides itself on physical, defensive-first tactics, that's a dramatic switch.
"I think the more we try to press, we are creating more," said midfielder Desiree Scott, the gritty defensive midfield nicknamed "The Destroyer" by her national team. "But also the more we push numbers forward, the more we leave gaps and holes. So it's finding that balance of still being that defensive rock we know we can be, not getting stretched, but still creating those chances."
How do you balance a team's defensive needs — especially one coached by Harvey — with the ultimate need of a soccer match: to score goals? For some players, it's more difficult than others.
With Vero Boquete's role in the midfield, transition is a primary role.
"It has to be in your mind every day. That is what we do every day in training," Boquete explained. "Our first goal is to work hard. If you want to win a game, you have to defend well. I think this team shows every game, no matter the result, that we work together we defend really strong.
"But then every player has a role, and my role is to create something different in the attack. When we don't have the ball, there's something in my mind that says, 'I have to defend.' But then when we get the ball, I try to make my teammates look good."
Defensively, they've had lapses. The Royals haven't had a shutout since June 21, and have gone away from being the defensive juggernaut of the first year-plus of franchise history.
Utah opened the season with three straight shutouts and racked up points in the first two months of the season, primarily by allowing just two goals in the first six matches. That included a handful of games without the World Cup contingent of Becky Sauerbrunn, Kelley O'Hara and Christen Press as they were with the U.S. women's national team, preparing to go to France.
The return of the foreign internationals — Canada's Scott, Scotland's Rachel Corsie and New Zealand's Katie Bowen — coincided with that 1-0 loss in New Jersey (the U.S. players returned a week later).
It's hard to blame the world-class talent in those six players, of course. Their return was already halfway through the club's current five-match winless run.
Instead, it's more of a mentality shift. Are teams playing the Royals different? Likely.
Are the Royals not adjusting as well to their own tactics? Maybe.
Does something need to change? Definitely.
"Defensively, when we're set, we're very hard to beat," Scott said. "But this is an attacking, transition game, and that's when they find those holes and pockets."
Harvey doesn't want a team that features the likes of Press and O'Hara to stray away from the dynamic, attacking (even fun) soccer that has been on display for the past two weeks.
But all things must come with moderation — and that includes gritty, hard-nosed defense.
"We need to get back to being hard to beat and not giving up goals, but keep that creating chances," the two-time NWSL coach of the year said. "It's a tough coin to keep flipping. The more hard to beat you become, the more you don't create chances.
"But the more expansive we want to be — because we can be and we should be — the more you put defenders under pressure."
NWSL: Utah Royals FC (5-5-4) at Chicago Red Stars (7-5-2)
When: Saturday, Aug. 3 at 6 p.m. MDT
Where: SeatGeek Stadium in Bridgeview, Illinois
Streaming: Yahoo Sports (live), KSL.com (tape delay)
×
Related Stories