SANDY — The World Cup is over; the United States has won.
The ticker tape dropped on New York's Canyon of Heroes has been swept up following the victory parade.
The keys to the city have been handed out by Salt Lake City Mayor Jackie Biskupski to Utah's local World Cup heroes — a ceremony that was part honor, part photo-op, and part rally advocating for equal pay of the U.S. women's national team compared to their male counterparts.
After all the excitement and celebration, the honors and delirium, the Cloud 9 and largest American audience for a soccer event, it's time to focus on the playoff chase in the National Women's Soccer League.
And what a way to say "welcome back" for Utah Royals FC. First, the Royals welcomed home their U.S. internationals with a home match against the Portland Thorns, a 2-2 draw against the team that currently sits atop the table.
Next up, Utah hosts North Carolina, the defending league champs who are four points behind the Thorns and could boast as many as nine internationals when they kick off Saturday at Rio Tinto Stadium in the Royals' lone nationally televised match of the 2019 regular season (8 p.m. MDT, ESPNNews).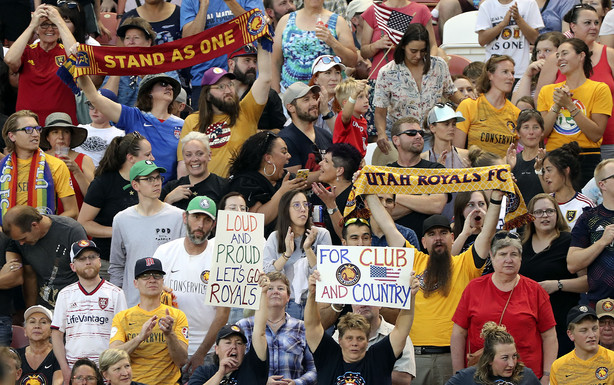 "I think the two oppositions that we've had since everyone been back (from the World Cup) in Portland and North Carolina, both at home, have helped us," Utah coach Laura Harvey told KSL.com after training Friday. "Whenever Portland comes to town, you want to win; and you can't turn up against North Carolina half-hearted or you are going to get beat.
"I feel like that has helped us to be able to switch gears very quickly with everybody. And I think that the players have reacted really well to that."
The cloud of delirium after winning and titles and champagne showers is real, and it can have an impact on everyone involved if you're not careful.
Even beyond the Royals' trio from the United States — Becky Sauerbrunn, Kelley O'Hara and Christen Press — Utah was well represented with three other national team members playing in France.
All of the international trio of Desiree Scott (Canada), Rachel Corsie (Scotland) and Katie Bowen returned prior to the United States (for obvious reasons), and all have worked their way back into the starting lineup.
"After a big campaign, it will always be a tough first game back," said Bowen, who anchored New Zealand's defense in France. "But I think I've settled in now, gotten used to the altitude again, and the heat, and I'm completely settled in."
.@UtahRoyalsFC. @TheNCCourage. ESPNews.

You don't want to miss #UTAvNC on Saturday. #NWSLpic.twitter.com/b31IWcni82

— NWSL (@NWSL) July 25, 2019
The grind of summer in the NWSL is real, and more real when you add a playoff chase to the heat and humidity and long summer nights. The Royals (5-4-3, 18 points) currently sit in sixth place, but just three points behind third-place Washington.
This means Saturday's match isn't just important for national television, or marketing, or celebrating the post-World Cup bump that has included rating spikes, attendance records, and national television packages; it's time to get a result.
"The reason why the U.S. are World Cup champions is because they are so professional. They know when they are here, they've got a job to do — just like when they are in camp with the U.S. That's what makes them so special," Harvey said. "In terms of how everyone honors them at their stadiums and in public, we're thankful for that and we appreciate that. They deserve it. But there's no secret that we have a job to do, and they know that, and they turn up every day working for that."
So bring it on North Carolina, a team that features the likes of Crystal Dunn, Abby Dahlkemper, Jessica McDonald and Debinha.
The Royals are ready with an international contingent of their own.
"I came to this league because it's arguably the best league in the world with the best players," Bowen said. "I think they have some nine internationals on their team, and that speaks volumes of people who want to come here and play. It's going to be a big game, a great game; they're a class team with some class players.
"We've got to bring it tomorrow."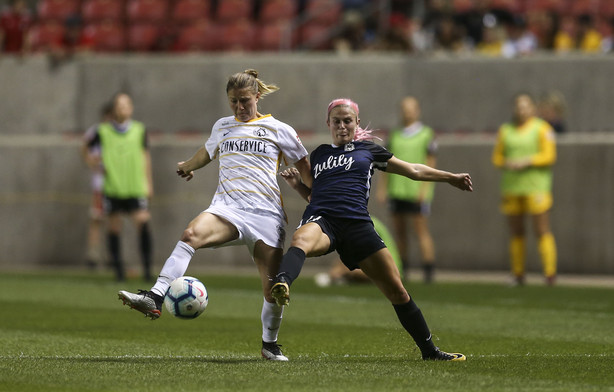 NWSL: NC Courage (6-3-4) at Utah Royals FC (5-4-3)
When: Saturday, July 27 at 8 p.m. MDT
Where: Rio Tinto Stadium
TV: ESPNews
Streaming: WatchESPN
×
Related Stories