SANDY — Real Salt Lake forward Jefferson Savarino made a break for it, ripping a shot from inside the box toward the Tigres' net in the fourth met.
Tigres goalkeeper Nahuel Guzman made a terrific diving save, eliminating the chance to fall behind early.
Oh, what might have been if that shot — or a number of others — had gone in.
Eduardo Vargas scored the match winner in the 58th minute, and Liga MX power Tigres UANL held on for a 1-0 win over Real Salt Lake in a Leagues Cup quarterfinal match Wednesday night at Rio Tinto Stadium.
"We had some quality opportunities to score tonight. They are a better possession team, and in the first half had a lot of possession," RSL coach Mike Petke said. "They're a quality team; we were chasing shadows at times. But we created some quality opportunities and just weren't precise enough."
RSL, which returns to MLS play Saturday in a key Western Conference match at FC Dallas, felt the full blunt of Tigres' attack — even without star forward Andre-Pierre Gignac for all but 12 minutes of the game. The visitors outshot Salt Lake, 11-8, held 62.5% of possession, and converted one of their three shots on target into a critical goal.
"This is the game we expected," Tigres technical director Ricardo Ferretti said in Spanish after the match. "They're a team that plays with a lot of intensity, they have good players, and they are a very hard-working team.
"But slowly as the game progressed, we controlled more and more of the game, controlling the ball more and more, and we dominated a little more."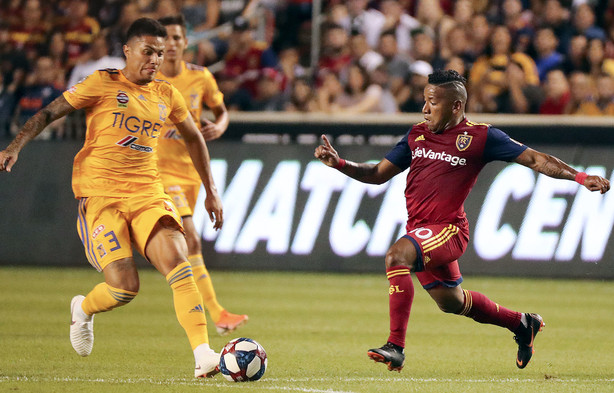 As many expected, Real Salt Lake put several reserves into the Starting XI, including defender Erik Holt and midfielder Nick Besler. But Petke's side also featured veterans like Damir Kreilach (who wore the captain's armband) and the steady hand of Nick Rimando in goal. He even added club captain Kyle Beckerman into the game at halftime, replacing Everton Luiz against the seven-time Liga MX champs.
"We wanted to win this game. We wanted to advance in the tournament," Petke said. "There's a lot of extra money at stake for the players. There's a big bonus package for all the players involved in this tournament. I was hoping for a way to get them some extra money that they deserve.
"I always want to win. But now that it is over and we lost, I'm not thinking about it at all. I'm think about Dallas and the rest of the season."
Vargas stroked the opening goal of the match in the 58th minute, putting Tigres up 1-0 as the crowd of 14,036 roared with aplomb.
The goal, ripped from about 20 yards beyond the penalty box, took the slightest touch off RSL defender Justen Glad and found the back of the net after a rainbow volley.
If the night didn't feel like a road match for RSL because of the volume of gold-and-blue jerseys in the stands, the reaction to the goal left little doubt, temporarily drowning out the series of Pioneer Day fireworks shows raining down from across the valley.
"I would think that at times, (the crowd) was a bit more international. You could hear the 'oles' and all that stuff," Petke said. "But there were also times it was pretty quiet."
Real Salt Lake missed plenty of opportunities, as well. Jefferson Savarino appeared to draw a penalty kick via a handball on Guzman in the 24th minute, but the Venezuelan striker was ruled offside.
Kreilach had a crack in the 50th minute that found the back of the net. But the goal was waived off for Baird's offside positioning.
Meanwhile, the Nuevo Leon side converted when it mattered most.
"At the end of the day, those chances get reviewed," Besler said. "You kind of have to trust that they got the calls right. You can't really get down on those (missed) chances; they weren't goals.
"We didn't create a whole lot. We had three chances, probably, that we could've scored. But we didn't put them away.
"At home, we just have to create more chances. The more chances you create, the higher success that you get goals."
Real Salt Lake kicks off Saturday at 6 p.m. MDT at FC Dallas. The match will be televised live on KMYU and streamed on KSL.com.
Editor's note: An earlier version of this article incorrectly identified Tigres' No. 3 player as Juninho. It has been corrected to reflect that the player is Carlos Salcedo.
×
Photos
Related Stories