This archived news story is available only for your personal, non-commercial use. Information in the story may be outdated or superseded by additional information. Reading or replaying the story in its archived form does not constitute a republication of the story.
SALT LAKE CITY — In a previous article, I set lofty expectations for the Utah football team to finish the first half of the season with an unblemished record. While not impossible, it will take significant effort to escape USC with a win and closeout the slate on top.
So, considering that Utah is undefeated as it hits the second half of its season, what are the chances the Utes can closeout the regular season strong and claim the Pac-12 South Division. That answer is nuanced, but I'll take my best crack at it.
The projections for the season are based on a relatively healthy Utah team, and one that meets or exceeds its expectations. Injuries can derail a season. Other teams may exceed expectations and give Utah a surprise.
Based on the preseason looks, here's how I predict Utah finishing the second half of its regular season schedule.
vs. Arizona State, Oct. 19
Last season, the road game against Arizona State was a turning point for the Utah season. The Utes still managed to claim the South Division title, but the rest of the season was hampered by the loss of Tyler Huntley and Zack Moss — both of whom were lost to the season after this game.
The Sun Devils are a formidable opponent and will offer Utah a tough test, but they lose receiver N'Keal Harry, who gave Utah fits all game, and starting quarterback Manny Wilkins. Running back Eno Benjamin, though, will test Utah's defensive line and will force Utah to limit the run while managing the passing game.
Because Arizona State will be breaking in a new quarterback, it's hard to predict the outcome of this game. But Utah has the upper hand with experience on its side. Still, they'll need to control the game early and not let coach Herm Edwards work his magic.
Result: Utah win (7-0)
What will be @Utah_Football's second half of the season record?

vs. Arizona State
vs. California
@ Washington
Bye Week
vs. UCLA
@ Arizona
vs. Colorado

— Josh Furlong (@JFurKSL) July 17, 2019
vs. California, Oct. 26
Offensively, Cal is basically a mess. They're looking for a starting quarterback and need some talent at the skills positions to stand out if they expect to hang with the rest of the conference. The projected offensive S&P+ ratings by Bill Connelly gives Cal one of the worst offenses (125 out of 130 teams) in FBS. Basically, points will come at a premium.
On the other side of the ball, though, the Cal defense will be one of the best in the nation. They're expected to have a top 10 defense — and quite possibly a top 5 defense — which is nothing to scoff at. In a conference often void of defense, it's a bit of a jarring switch to face a team that likes to stall an opposing offense.
As long as Utah can stay healthy in this game and score enough points, there shouldn't be a problem for the Utes winning this game. Utah has an 80% win probability and is expected to win by two touchdowns, but that will depend on how well the team can combat Cal's tough defense.
Result: Utah win (8-0)
@ Washington, Nov. 2
This has always been a terrible matchup for the Utes, and it won't get any easier this season. After coming off a tough defensive battle against Cal, Utah won't get any help with a road matchup against a Huskies team that continues to plug in new talent to a dominant game plan. Not to mention, Chris Petersen has owned Utah in basically every game played, including Utah's former days in the Mountain West Conference.
Washington, again, is expected to be a top 15 team in the country and will feature another tough defense to combat Utah. If Utah is undefeated up until this point, this could be a game that features two top 10 teams in the country and a potential look at the Pac-12 Championship again — though Oregon may have some words about that.
The saving grace for Utah is that Washington's defense is taking a slight dip from the 2018 season. That's not to say this team will experience much of a drop-off, but it's expected to be a little less potent than last season. Washington doesn't make a lot of mistakes, so Utah has to play near perfect to get this win on the road. While the Utes have the experience and talent to compete with Washington and win this game, until they actually do this will be a loss.
But don't be surprised if this game comes down to the wire again … with a national audience tuning in.
Result: Utah loss (8-1)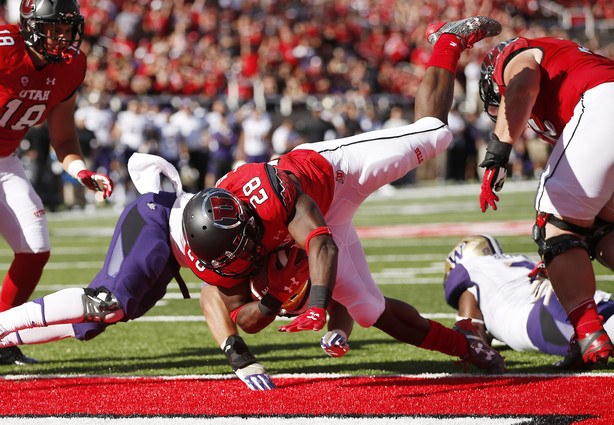 Bye Week
After back-to-back weeks against the best defenses in the conference, Utah's second break comes at a perfect time. With three games left in the season and a predicted loss the previous week, the bye will give the Utah coaching staff a great opportunity to get some last-minute recruiting in before the early signing day period, while also giving the team a needed break.
vs. UCLA, Nov. 16
UCLA should be an improved team from last season, but how much so is unknown. Chip Kelly had a good thing going at Oregon before his stint in the NFL, but he has yet to find a sweet spot in Los Angeles. Until they can actually show some improvement, it's anyone's guess as to whether Kelly is a long-term coach or just another bump in an otherwise unstable situation.
As with any Kelly team, the offense will be better off than the defense. But the UCLA defense isn't expected to be anything more than average, which gives Utah a good opportunity to combat a team still looking to find a footing. With this game being played so late in the season, it'll be easy to know what UCLA is all about. They'll likely hover around bowl eligibility, but not a team that should give Utah too many fits.
Result: Utah win (9-1)
@ Arizona, Nov. 23
Quarterback Khalil Tate will continue to be the headliner for the Wildcats as Utah travels to the desert. However, if the senior signal-caller is limited to a pass-heavy offense like he was last season, it likely benefits the Utes. Tate is most dynamic and hard to defend when he plays the dual-threat QB game. If the playbook is opened up for the senior, this could be a tough matchup for the Utes.
Though Utah is favored in this game by a touchdown, things could get out of hand if the Wildcats are allowed to open up the playbook. Utah's best opportunity against Arizona will be limiting Tate and the offense to a pass-heavy game plan and making them beat Utah through the air. Barring injury in the secondary, Utah should be fine to weather a pass-heavy game.
On paper, this game should easily be in favor of the Utes, but nothing ever goes as planned against an Arizona school. I ultimately think Utah should and will win this game. But due to the chaotic nature of this series, it's a toss-up game for me and I wouldn't be surprised if Utah leaves the Grand Canyon State with a loss.
Result: Utah win (10-1)
vs. Colorado, Nov. 30
By now, if all things above have come to play, this game is essentially there to ensure Utah has a fighting chance at the College Football Playoffs or a seeding in the New Year's Six bowl games. The South Division will have already been locked up, and now it's just about getting to the best bowl possible.
But Colorado always has the makings of screwing up opportunities for Utah. Still, this is a team that has a new head coach and will likely be near the bottom of the conference. Although the Buffs feature what many believe is a top-tier quarterback in Steven Montez and a dynamic receiver in Laviska Shenault, they're a relatively one-trick offense.
Shut down the passing game and Utah should roll to a comfortable victory. This game should be about fine-tuning the depth and making sure Utah is ready for the Pac-12 Championship game. However, it's never one to take lately even if it is at home.
Result: Utah win (11-1)
Will Utah finish the season 11-1? Probably not, but they'll be somewhere in the nine to 11 win category. Running the table for an undefeated season would be tremendous, but not likely either. Still, the schedule has all the makings for one of Utah's best seasons ever in Pac-12 play. It will take Utah playing as the top dog and now coming into games as the underdog team hoping for a win.
If Utah wants to reach its potential, they can't play down to their opponents and must look at every game as though the opposing team will give them their best effort — which is likely to be the case as the perceived favorite coming out of the South.
×