SANDY — It wasn't supposed to end this way.
Not for Utah Royals FC coach Laura Harvey. Not for veteran center back Sam Johnson. Not for the Royals, who were riding high near the top of the NWSL table — just one point behind league-best Washington.
But Friday night's 2-0 loss to the Tacoma, Washington-based Reign FC was perhaps unsurprising as it was painful. In four matches since the franchise's inception in 2018, the Royals have gone winless against the Reign: three losses, one draw, four goals-against.
Not a single goal scored.
Friday night was more of the same, thanks to Jessica Fishlock, who had a goal and an assist before departing in the 54th minute with an injury.
But the pre-Fourth of July week match, the same week that included Utah's bye from NWSL play, was also scheduled to be Johnson's last. The 28-year-old center back who has starred in every season of the league's seven years had already decided to hang up her boots.
It was time to move on, to do other things, was how she put it to Harvey.
In many ways, though, everything in the 2019 campaign leading up to Friday night was a little extra.
Just a little something more.
"She could have walked away," said Harvey, who tried to keep Johnson's move as quiet as possible until the final seconds. "She felt like it was the right time for her.
"But she stuck with it, and I feel like she's been on of our most consistent players throughout this really tough period (during the World Cup). We want to thank her for that, and we wish her all the best in her next endeavor, no matter what it is."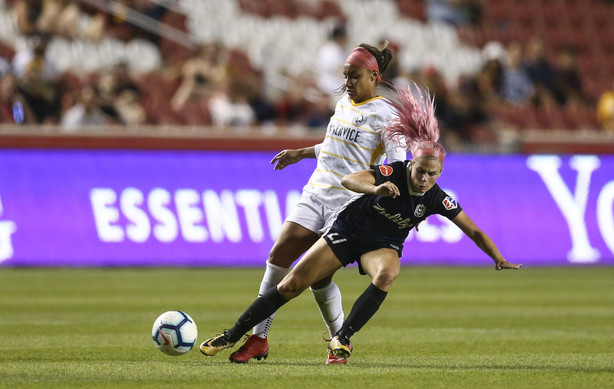 Johnson didn't have to be there. After playing every season of NWSL's short history, including the past two years in Utah following a mid-season trade that also brought Christen Press to Utah through Chicago, she had made up her mind in the preseason, told Harvey her plan, and let the Royals find a suitable replacement center back for her. Utah didn't draft one that worked out — but they did uncover Gaby Vincent, the undrafted prospect from Louisville who has been a revelation in Utah's early season.
"She made it really clear to Gaby that her No. 1 job was to get Gaby ready for when she left," Harvey said. "I think she's done a pretty good job of that.
"She leaves Gaby in a really good spot; she's been excellent for us."
With Rachel Corsie set to return from her run as Scotland's captain in the FIFA Women's World Cup in France and fellow center back Becky Sauerbrunn to return to Utah once the United States' World Cup run expires, Johnson set off into the sunset.
To leave Utah Royals FC. To leave a group that has become like family.
So much so that Friday night became "Dress Like Sam Johnson Day" in the Royals' locker room.
But secrets — even ones as tightly kept as Johnson's departure, with club management telling everyone in the organization to keep it on the down low — can't stay for long. So it's a wonder that no word had leaked of Johnson's departure, even before a couple of players posted a few videos on Instagram announcing the semi-retirement, or whatever semantic iteration the defender chooses to use in stepping away from the game.
Johnson wasn't available to the media after Friday's loss — she hasn't spoken to the press all season, so that's not a surprise.
Laura Harvey confirms that tonight was @UtahRoyalsFC DF Sam Johnson's final game. The veteran center back acquired from Chicago last year is stepping away from the game. #URFC || #NWSLpic.twitter.com/z0jUcA0aQZ

— Salt City FC (@saltcityfc) June 29, 2019
But teammate Mandy Laddish left a fitting tribute as she steps into the next chapter.
"She's a fighter," Laddish said. "She comes in and crunches.
"We love Sam Johnson … she's a really strong center back for us, and we love her."
Johnson almost didn't tell the players about her departure. A private person by nature, she even declined an invitation from Royals management to host a pregame ceremony in her honor.
That's simply her nature — and so Friday's quiet slip-away from the bowels of Rio Tinto Stadium was perfect for her.
It just shouldn't have ended quite like it did on the field.
"She handled it brilliantly," Harvey added, "and as a club we handled it brilliantly."
×
Related Stories