SANDY — The more things change, the more they're still the same.
Even with a change in venue — from urban Seattle to the outskirts of Tacoma, Washington — the NWSL's Reign FC proved it still has Utah's number.
Jessica Fishlock had a goal and an assist about five minutes apart, and Ifeoma Onumonu added a goal as Reign FC took a 2-0 win Friday night over Utah Royals FC in front of an announced crowd of 6,910 fans at Rio Tinto Stadium.
In four matches since Utah joined the NWSL a year ago, the Reign have gone undefeated against the Royals (5-3-2, 17 points), with a symmetric 4-0 record, four goals scored and four shutouts that includes a 1-0 win in Sandy a year ago.
"We weren't good enough, from minute 1 to minute 90, we were beaten by a better team," said Utah coach Laura Harvey, who called the performance "opposite" to the team's 0-0 draw at Portland a week prior. "We were slow, lethargic and we didn't have any spark."
Casey Murphy made one save to keep the shutout for Reign FC (4-1-5, 17 points), which out-shot the Royals 12-7 and held Utah to just two shots on target.
"If we show up every week like that, we can forget about that playoffs," Royals midfielder Gunny Jonsdottir said. "That's the NWSL. If we're not ready to meet that, then we shouldn't be playing in this league. We just need to get physical back. If they come hard on us, we get hard back. We didn't do that today."
The Reign put Utah under pressure from the start, and Fishlock opened the scoring in the 30th minute. The 32-year-old England native finished off a one-touch pass from Bethany Balcer inside the box to give the Tacomans a 1-0 lead.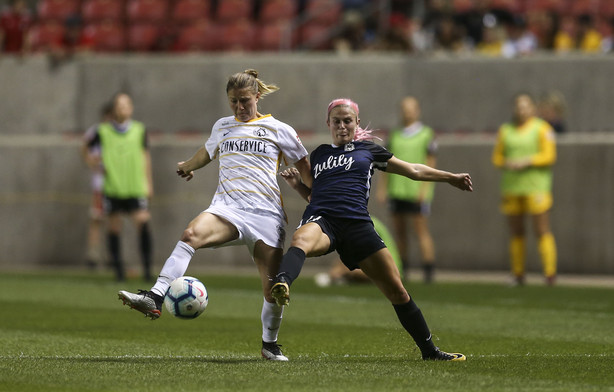 Five minutes later, she was on the helping end of an assist to Onumonu for the final margin.
Those five minutes determined the game. But Utah coach Laura Harvey — who is admittedly superstitious about football — felt the loss might be coming early.
Call it intuition, superstition or simply a feeling, she added. Harvey felt something was off and hoped for the better.
"In the warmup and pregame, we just didn't have that spark," Harvey said. "This game is as much about mentality as physicality and tactics. We often set the tone really well in games, and we didn't. They did, we didn't, and we never recovered from that."
Katie Stengel had Utah's best chance of the night in the 70th minute when the target striker tried to redirect a cross from Makenzy Doniak. But Murphy was quick with the face-save to keep the ball out of the back of the net — as blood streamed from her nose.
🤦‍♀️ 💁‍♀️

Katie Stengel has a go, but Casey Murphy denies the goal -- with her face. #UTAvSEA || #NWSLpic.twitter.com/fwhGIfTtO8

— Salt City FC (@saltcityfc) June 29, 2019
That play, perhaps more than most, summed up the match: physical, debilitating, and with plenty of aches, pains and bruises forthcoming. Utah's Gunny Jonsdottir was forced to the turf with a knock early in the first half, and fouls and chippy play slowly accumulated on both sides, including a yellow card to the Reign's Shea Groom — who left the match early in the second half, replaced by former Riverton High standout Darian Jenkins.
Even Fishlock couldn't finish the match. The standout striker in the Pacific Northwest was carried off via stretcher in the 54th minute after a violent injury.
Stengel was also given a yellow card in the 83rd minute following another collision — one that the hard-charging forward just shrugged off, because of the nature of the evening. It was a flashback for many of the former FC Kansas City players who featured regularly for head coach Vlatko Andonovski, who succeeded Harvey with the Reign.
"I played for Vlatko, and he emphasizes being physical with teams," Utah midfielder Mandy Laddish said. "You can really get in people's heads and knock them off their game. We knew that Seattle would come in physical and come in fighting; Vlatko is a really good defensive good, and we knew they would be ready to fight for a win."
Notes:
Harvey confirmed that the Friday night's match was the final of center back Sam Johnson's career. The 28-year-old defensive stalwart acquired by Utah from Chicago in the same trade that brought Christen Press to the Wasatch Front had previously decided to hang up her boots before the team's bye week.
The Royals are off next week and will return to NWSL play July 12 against New Jersey-based Sky Blue FC. The match will be streamed live on KSL.com.
×
Photos
Related Stories