This archived news story is available only for your personal, non-commercial use. Information in the story may be outdated or superseded by additional information. Reading or replaying the story in its archived form does not constitute a republication of the story.
SALT LAKE CITY — Rudy Gobert got his encore.
The Utah Jazz center won his second consecutive Defensive Player of the Year award Monday at the NBA Awards show in Los Angeles.
"It's a team game and when you have guys that bring it every night and come every day with the same focus and compete like we do, it's inspirational," an emotional Gobert said during his acceptance speech.
Of 100 possible votes, Gobert received 65 first-place votes, 27 second-place votes and five third-place votes. Giannis Antetokounmpo, who won the league Most Valuable Player award, finished second.
Gobert led the league in defensive real plus-minus (how many points are allowed when a player is on the court versus off of it), he was second in blocks and shot contests, and he helped the Jazz to the league's best defense, according to cleaningtheglass.com a basketball research and discussion website.
But even those numbers don't tell the whole story of Gobert's defensive dominance.
"It's not the blocks that you are worried about, it's the alters," Washington Wizards coach Scott Brooks said in March. "He probably alters about a dozen shots a game."
"It's a team game and when you have guys that bring it every night and come every day with the same focus and compete like we do, it's inspirational."#TakeNote | @rudygobert27pic.twitter.com/vRAMMXJWQU

— Utah Jazz (@utahjazz) June 25, 2019
"I think most of his stuff doesn't show up in numbers," Los Angeles Clippers coach Doc Rivers said in February. "You clearly can see the blocks, but you can't see the change of thought. There's no stat for that. There should be a stat — a Rudy stat — where you can literally see a guy not deciding to go into the paint anymore."
There actually kind of is, you just have to search a little bit. Jazz opponents took 32.5% of their shots at the rim when Gobert was on the court last season — that's below the average of all but just four teams.
In April, the Jazz released a unique campaign for Gobert's second DPOY award in which they recreated a John Coltrane album cover. Everything on the album was authentic. They used a Los Angeles-based music packaging company to print record sleeves and inserts, and they had a United Record Pressing in Nashville produce 300 copies of the record itself.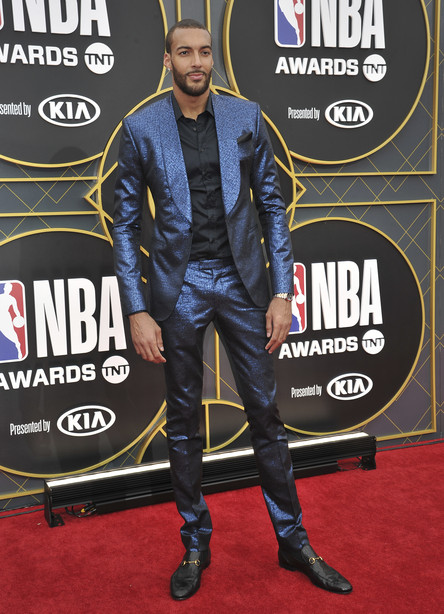 It turns out the attention to detail was worth it — and it might've been even if Gobert hadn't won the award on Monday.
"It means a lot and it makes me want to work even harder for this organization," Gobert said of the elaborate marketing campaign.
Gobert is the tenth player to win the award multiple times, joining a list that includes Hall-of-Famers Hakeem Olajuwon, Dennis Rodman, Dikembe Mutombo and Alonzo Mourning, as well as former Jazz great Mark Eaton.
"It's unbelievable," Gobert said.
Gobert had already been named the First Team All-Defensive squad and the All-NBA Third Team this offseason.
×
Related Stories