Estimated read time: 3-4 minutes
This archived news story is available only for your personal, non-commercial use. Information in the story may be outdated or superseded by additional information. Reading or replaying the story in its archived form does not constitute a republication of the story.
SALT LAKE CITY — The BYU women's track and field program brought home four more first-team All-American distinctions Saturday afternoon.
Brenna Porter, Erica Birk-Jarvis, Whittni Orton and Anna Camp all earned All-American status to lift the BYU women's track and field team to a 25th-place finish at the NCAA national meet Saturday in Austin, Texas.
Arkansas finished first with 64 points, followed by USC (57), LSU (43), Texas A&M (38) and Oregon (34).
"I was impressed by the grit that the ladies manifested," BYU coach Ed Eyestone said. "Each of them were tough and fought to the end. It was a really strong showing from our women's team and proves that we really are a top-25 program. I'm very happy for both the men's and women's teams to finish in the top 25."
One day after the men's program finished in the top-10 for the 24th time in program history, the Cougars, who scored 10 team points, finished tied for 24th with Cal, Iowa, Texas Tech and UCLA.
Orton captured first-team All-American status with her eighth-place finish in the 1,500-meter run. The junior from Panguitch finished in 4:14.73, nine seconds after champion Sinclaire Johnson of Oklahoma State.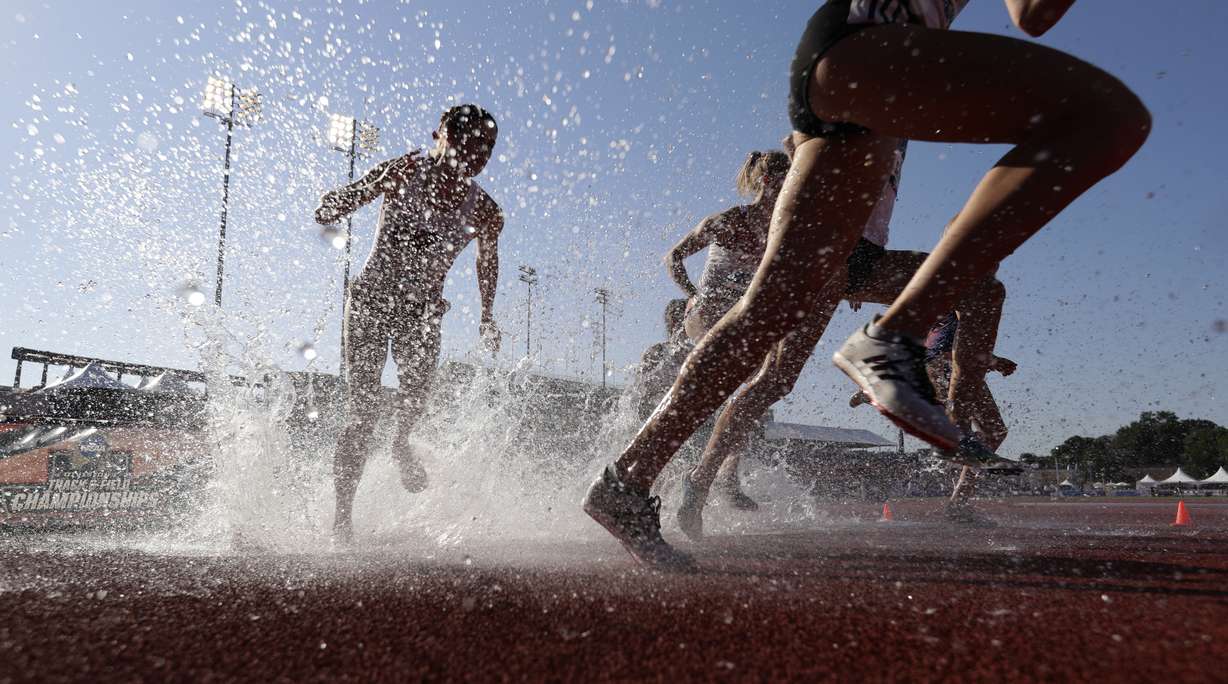 Birk-Jarvis surged to a fifth-place finish in the 3,000-meter steeplechase. The five-time BYU school record-holder raced in at 9:46.47 to clinch first-team All-American status.
"Erica maybe could have run a safe race for second, but when a move by the leader was made she decided to respond and you have to respect her for that," Eyestone said. "If it weren't for a little stumble over the last water jump she probably would have ended up in second place."
After earning a surprising qualification for the 800-meter finals, Camp, a junior, finished the mid-distance event in 2:05.93 for eighth place and first-team All-American honors.
Porter finished fifth in 57.26 seconds in the final 400-meter hurdles race of her collegiate career. The school record holder earned yet another first-team All-American designation in the final race of her career.
Andrea Stapleton-Johnson finished just outside the final round in the high jump, clearing a 5-foot, 10-inch mark for ninth place.
NCAA men's track and field
Southern Utah's Angie Nickerson capped her career with the Thunderbirds in the 5,000-meter final. The senior who prepped at Murray High finished 18th in 16:38.08.
"What a fabulous career," SUU coach Eric Houle said of Nickerson, who represented the Thunderbirds in the program's first-ever trip to the NCAA national cross country meet, as well. "To be that fast and develop at Southern Utah has been a crazy process with her and we're so grateful for her. Not every race works out like you'd like it to, and I think if it had been a cooler climate the outcome probably would have been different. But she just felt like she was sapped of any energy and you don't have a lot of time to make adjustments in a race like this on this kind of a stage.
"She gave it a valiant effort, and it brings to a close a very, very impressive career at Southern Utah."
×
Related stories
Most recent BYU Cougars stories