Estimated read time: 3-4 minutes
This archived news story is available only for your personal, non-commercial use. Information in the story may be outdated or superseded by additional information. Reading or replaying the story in its archived form does not constitute a republication of the story.
PROVO — Steele DeWald isn't from Provo or Utah County, nor did he grow up driving the fairway at East Bay Golf Course.
But the pro golfer who now makes his home in Park City holds a special place in his heart for the city, and in particular, the Provo Open golf tournament.
So Saturday's win was a little extra special for the one-time reality television star.
DeWald tied a tournament-low round with a 65 Saturday, surging up the leaderboard from two-back to clinch the 80th annual Provo Open title with a three-day total of 12-under-par 204 at East Bay Golf Course.
"I play golf because I enjoy it, and the Provo Open is one of my favorite tournaments. To win it is a lot of fun," DeWald said. "I'm going to continue to play, whether I win or not. But this was a fun day, and this is a great tournament to win."
DeWald, who played previously on the Web.com Tour and PGA Tour Canada, started the day at 7-under, two shots back of BYU golfer Rhett Rasmussen following Friday's blustery round. The former Arizona State golfer knew he had to be a little aggressive to make a run at the crystal hardware that will now sit in his trophy case — or more likely somewhere at his girlfriend's house, he jokingly admitted.
"You've got to pick your spots, though; you can get aggressive and take yourself out of it very quickly," DeWald said of his eight-birdie, one-bogey round. "I was just fortunate that I made some good 15-20 footers early on, and then I had some spots to get aggressive — and it went well. It doesn't always pay off like that, but it did today."
The Park City pro held off second-place Jordan Rodgers, the former BYU golfer who has played most recently on the PGA Tour Latinoamérica, and Utah County pro Matt Baird. The two tied for second with a three-day total of 11-under 205, one shot ahead of Rasmussen, who claimed his second low amateur title in Provo and first since 2015.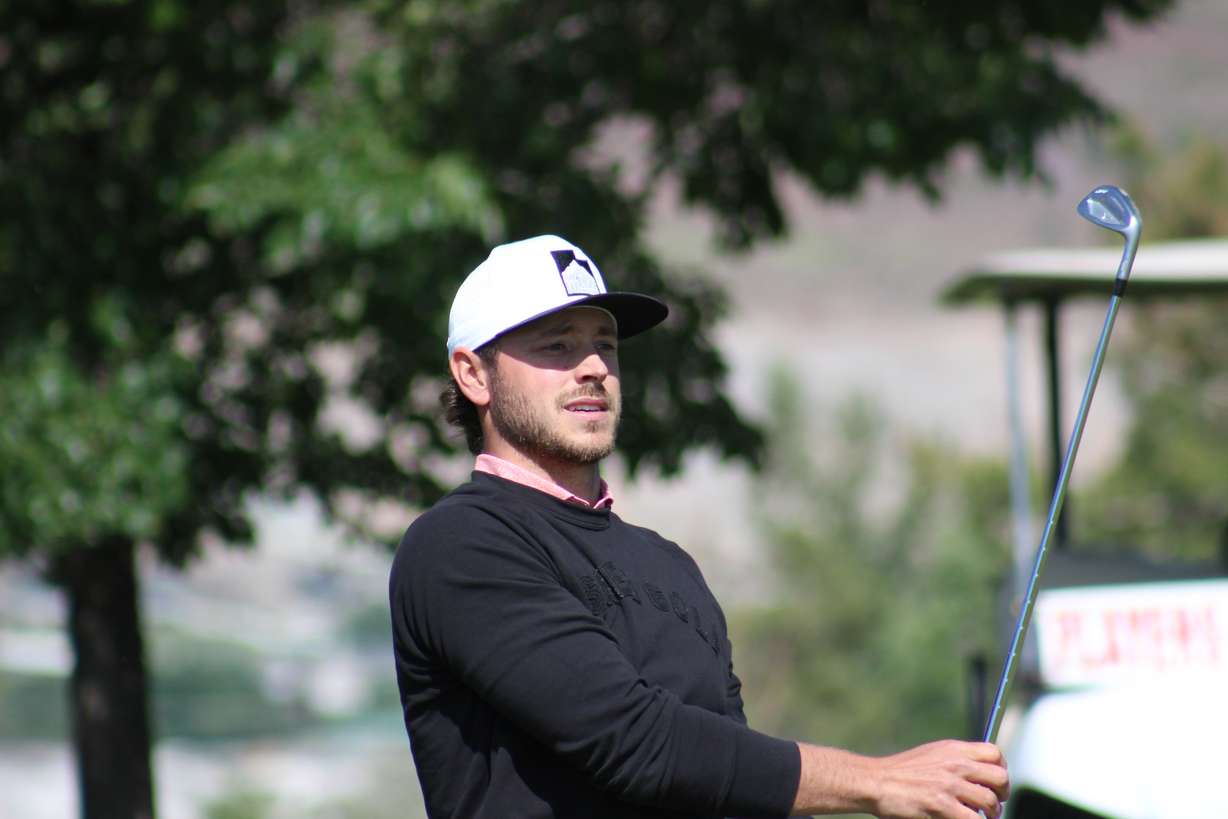 "I felt like I was really steady the whole week," said Rasmussen, a Corner Canyon product who has played East Bay since he was 10 years old. "I was hitting my driver well, putting good, hitting good iron shots. Nothing was crazy good, but everything was really solid."
The senior-to-be will take confidence of his low round into next season with the Cougars, who are expected to contend in several high-end college tournaments with a stacked roster that includes veterans Peter Kuest, Kelton Hirsch and Utah State transfer Brock Stanger, in addition to Rasmussen.
And prep for that season starts during the summer circuit, which will also include the Utah Open and Utah State Amateur.
"When I don't win, it frustrates me a little bit," Rasmussen said. "But this motivates me to get out, to practice, and to shoot as low as I can in the upcoming season."
Texas pro Kavan Eubank and local amateur Nathan Ouimette finished tied for fifth at 9-under 207, followed by Mark Owen (8-under 208), Taylor Montgomery, Tommy Sharp (7-under 209) and Gipper Finau (6-under 210) rounding out the top 10.
80th annual Provo Open
East Bay Golf Course
Top 20
204 — Steele DeWald
205 — Jordan Rogers, Matt Baird
206 — Rhett Rasmussen*
207 — Kavan Eubank, Nathan Ouimette*
208 — Mark Owen
209 — Taylor Montgomery, Tommy Sharp
210 — Gipper Finau
212 — Davis Garner, Denny Job*, Joe Summerhays
213 — David Jennings*, Milo Lines
214 — Pete Stone, Derek Hislop*, Zach Johnson, Joshua Lillywhite*
215 — Blake Tomlinson*, Tommy Johnson*, CJ Lee, Derek Penman
*denotes amateur player
×
Photos
Related stories
Most recent Sports stories