Estimated read time: 4-5 minutes
This archived news story is available only for your personal, non-commercial use. Information in the story may be outdated or superseded by additional information. Reading or replaying the story in its archived form does not constitute a republication of the story.
SALT LAKE CITY — Last week, Utah Jazz wing Royce O'Neale sent a tweet to no one in particular.
"Sometimes you just gotta question yourself on how bad do you want it," it read.
He might be questioning himself, but there aren't many questioning him. At least not anymore.
Over the last month, the Utah Jazz have brought in a number of draft prospects that most people have never heard of. They are thought of as workout filler, players that have been brought in as favors or just to fill space. A look at O'Neale's journey, though, shows they could be so much more.
O'Neale went undrafted in 2015 before playing his first pro season in Germany. He came back to the United States for the summer of 2016 to play for the Golden State Warriors Summer League squad before signing with a pro team in Spain. In the summer of 2017, he had already agreed to join Lithuanian club Zalgiris Kaunas, but things quickly changed when he was offered a partial-guaranteed contract with the Jazz.
"Not many people may have known who Royce is coming into this league," Jazz shooting guard Donovan Mitchell said. "But I think the past two years he has shown what he can do on both ends of the floor."
That's why James Harden came up to O'Neale, who had hounded and shadowed him over the course of a five-game playoff series, and embraced him. O'Neale said that Harden shared some encouraging words with him. It wasn't so much what was spoken that resonated with O'Neale, it was that the moment happened at all.
"Earning that respect of him, as an MVP candidate and great player, that was a big moment for myself," O'Neale said. "It goes to show that all the hard work that I put in isn't taken for granted. A lot of people show respect when it's due. Just earning that respect from him was one of those good moments for myself and made me feel like I'm being embraced and becoming someone in this league."
The NBA recently pushed out a video of all the best dribbling moves of the playoffs. It features many of the usual suspects: Damian Lillard, Steph Curry, Kyrie Irving, Lou Williams — and O'Neale.
Yeah, he's becoming someone. Ask his Jazz teammates, though, and he is already someone; there's no "becoming" about it.
"I think a lot of guys need to watch him because he's a dog," Mitchell said.
"He's bought in every night. It doesn't matter if he has zero points he's going to guard, he's going to guard, and he's going to compete every single play," Rudy Gobert said.
"It wasn't just one game, it was a lot of games," Jazz forward Joe Ingles said.
In the playoffs, O'Neale averaged 10.6 points and 4.6 rebounds while being the Jazz's preferred matchup on the league's top scorer. In Game 5, he had 18 points and five rebounds as he tried to push the series back to Utah.
It was one of his best all-around games of the season, and one that he's hoping to use as a springboard this summer and into next season.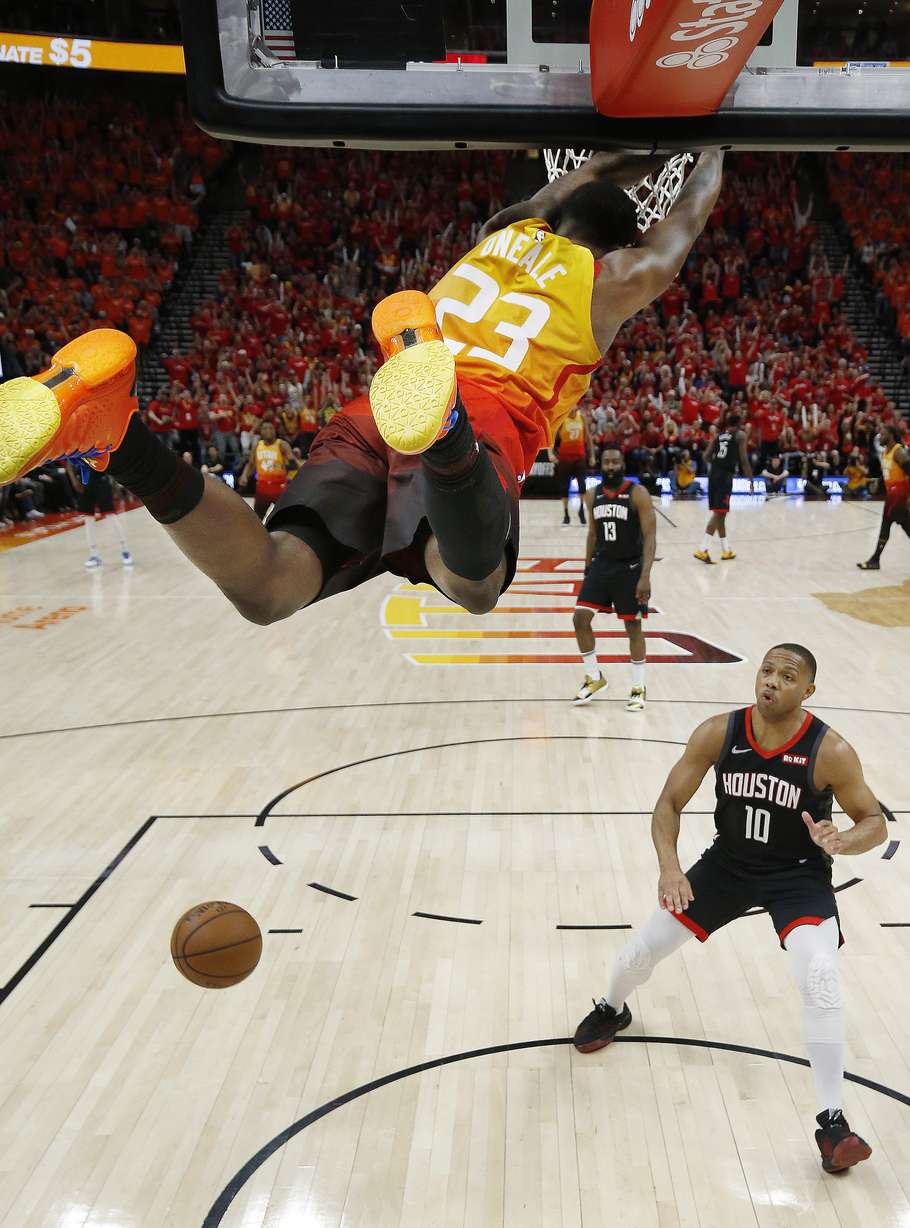 "Trying to take that step to the next level, be better every day," O'Neale said, "still become a more consistent shooter, ball handler; embracing defense as well. Take it and getting better every day."
O'Neale, though, wasn't always a regular in the Jazz lineup last season. He averaged 13.7 minutes in October and just 15.1 minutes in January. And while his minutes fluctuated, how he practiced didn't. How could it? He'd been hopping around overseas waiting for a chance to play against the best in the world, and so he wasn't going to allow some sporadic playing time change what got him to Utah in the first place.
That selfless, unrelenting work ethic is one of the things that has helped endear him to his teammates and the Jazz fan base (his fun-loving personality, manifest by his pre-game dance routines, also helped).
"He works his (butt) off and he is getting awarded for that," Ingles said. "He was in there every day. … I think early on, he was a bit in and out of the rotation. He stuck with it. He's an unbelievable defender. He became a 40 percent 3-point shooter. He just competes. You saw it the last game, but it was a lot longer than just that."
And the Jazz are expecting it to continue for some time, too.
"He's going be a huge piece for us moving forward," Ingles said. "He's going to keep getting better. He's still young. He has a lot of upsides. It was awesome to see. I'm proud to be a teammate of his."
×
Related stories
Most recent Utah Jazz stories