Estimated read time: 5-6 minutes
This archived news story is available only for your personal, non-commercial use. Information in the story may be outdated or superseded by additional information. Reading or replaying the story in its archived form does not constitute a republication of the story.
TAYLORSVILLE — In a state softball tournament that was delayed countless times by weather, rescheduled for a variety of venues, and featured shuffling, bustling and inconsistent start times for a variety of reasons, West High's squad knew it would have to play the long road to win its second title in school history.
This is a Panthers team that waited 13 days from one game — a 10-2 win over Box Elder in the second round — until its winners bracket semifinal May 29.
And when the Panthers lost that game 2-1 to Roy, the reality set in. Long road, short road; it didn't matter.
A championship is a championship, and West brought its long ball for the long road.
Keisha White struck three home runs and winning pitcher Mikayla Ulibarri added another of the Panthers' eight homers to roll by Bountiful, 17-4 in the second game of a winner-take-all Class 5A state championship Thursday at Valley Sports Complex.
"After yesterday's loss, we picked it up," said White, who went 5-for-9 with three home runs and six RBI in the two-game championship set. "This morning, when we got on the bus, we had a different attitude. We all wanted to win. I definitely saw this coming today."
The Panthers (26-2) had to win three games Thursday to do just that, but they wasted little time in their third state championship series in four seasons.
With a pitcher in Ulibarri who has pitched every game of the season — all 26 wins, both of its losses, including the only loss to an in-state opponent in the tournament quarterfinals — they were ready.
Ulibarri pitched a complete-game with eight strikeouts, scattering seven hits with seven strikeouts to collect her third win of the day. She pitched the Panthers through three wins in the loser's bracket, including a 13-3 victory over crosstown rival East, to set up Thursday's championship date.
For the senior who moonlights at first base but virtually never played it this season, the wait was worth it.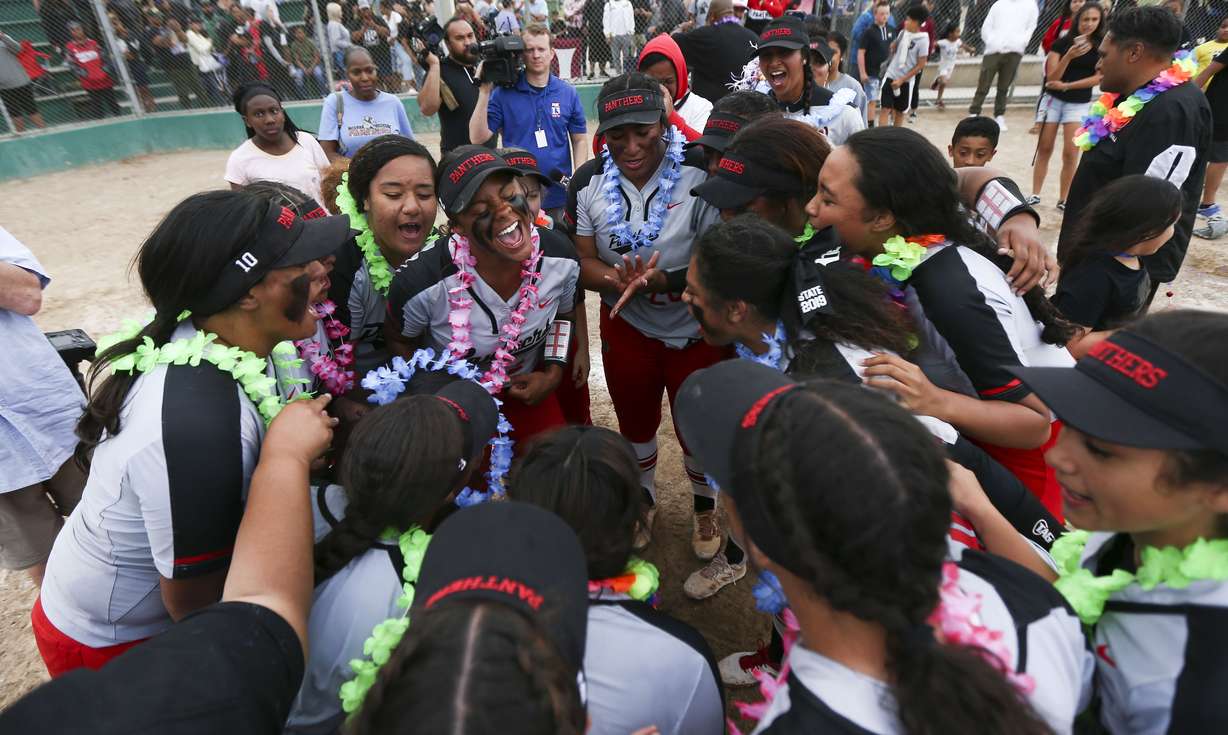 "That just made us want it more," Ulibarri said of the loss to Roy. "We tell ourselves we're unstoppable, and I think that gave us an extra boost."
She got plenty of help from her bats, too.
After a slow start to the second game, leadoff hitter Daisy Taloa opened the scoring with a two-run shot in the top of the third. And even as Braves pitcher Corinne Hall did well to get out of the inning with just the two runs of damage, the rout was on.
"They've worked so hard for it," said West coach Keith Lopati, who praised Roy as the only Utah team to beat the Panthers but added that it gave them the motivation to win their second state title in three years. "With that two-week break, it was hard for us to get going. But yesterday and today were a testament to how hard these ladies worked. They've done that all year, and I'm glad they showed up and played well. It would've been disappointing if we didn't."
West piled on with nine runs in the fourth, batting around in the inning to allow White to hit two home runs, including a three-run shot over the left-field fence that capped a frenetic scoring spree.
If three goals in a soccer match is a hat trick, how about three home runs in a softball game be called a Keisha?
"I'm hoping we'll come up with one," she said.
Taloa finished 2-for-3 with a home run, a double, two RBI and a walk for West, and teammate Huntyr Ava went 2-for-4 with three RBI, including a two-run shot in the fifth to give the Panthers the necessary 10-run edge for a shortened game.
Cheyenne Sue'sue and Josie Vaenuku also hit home runs for the Panthers.
For a group of seniors that started playing together with Under-8 teams in little league — and will play in at least one more club showcase this weekend in Las Vegas — the "long road to a state title" is the perfect way to go out.
"We started as 8-year-olds, and our community is all here to support us," White said. "It means a lot to us.
"We don't win a lot out there on the Salt Lake side, the west side, and it's amazing."
Related Story
Abby Steed hit a three-run homer for Bountiful (22-9), and Sophia Stoddard added a solo hot in the second game for the Braves, who won the 5A winners bracket Wednesday with an 11-1 win over Roy.
Championship, Game 1
West 13, Bountiful 2
At Valley Park, Huntyr Ava went 2-for-3 with four RBI, a walk and a two-run homer, and Cheyenne Sue'sue was 3-for-4 with an RBI and a double to help the Panthers overpower the Braves in the first game of the two-game final.
Winning pitcher Mikayla Ulibarri threw a two-hitter with five strikeouts for West.
Libbie Hawker went 1-for-3 with a walk, a stolen base and two runs scored to lead Bountiful.
Losers bracket final
West 6, Roy 1
At Valley Park, Huntyr Ava crushed a home run in the top of the third to help the Panthers overwhelm the Royals in the first game of the day.
The win avenged West's only loss of the tournament, a 2-1 defeat to Roy in the winners bracket semifinals that was also the Panthers' first loss to an in-state opponent in 2019.
×
Related stories
Most recent High School stories