Estimated read time: 3-4 minutes
This archived news story is available only for your personal, non-commercial use. Information in the story may be outdated or superseded by additional information. Reading or replaying the story in its archived form does not constitute a republication of the story.
TAYLORSVILLE — Herriman's softball team went down 7-2 in the sixth inning of the winner's bracket final against Copper Hills and — by the Mustangs' own admission — morale was seriously depleted.
Grizzlies pitcher Addy Tibbits was keeping the Mustangs off-balance for all but the first inning, and Mikaiya Gomez's two home runs gave Copper Hills enough offense to book a spot in Thursday's state championship.
Herriman coach Heidi McKissick had one message for the Mustangs, though: it isn't over, even against a team that had already beat the Mustangs twice.
"We weren't really in it," said junior Alexis Smith, who pointed to seniors Sydnee Hoffman and Libby Parkinson for the morale boost. "So we decided to just play for ourselves, make sure we worked together as a team, and work hard together."
Winning pitcher Libby Parkinson had a game-tying three-run homer, and Alexis Smith went 3-for-4 with five RBI and the game-winning, bases-loaded triple during an eight-run sixth inning to help Herriman rally by Copper Hills, 10-7.
"It's the girls in the dugout who won that," said Parkinson, who went 3-for-4 with two runs and three RBI. "I'm blessed with the best teammates, and they have so much heart.
"Every day, they want to play and they want to have fun. It's them."
With the win, the defending 6A champion Mustangs (18-10) booked a spot in their second-straight Class 6A state championship, which will be played at 2 p.m. Thursday at Salt Lake Community College.
"We've been thinking about this moment since we won last year," Parkinson said. "I knew it wasn't going to be easy; that's a great team (in Copper Hills), who I played with in summer ball. They have fight. You just have to get on your team, and do it for these girls."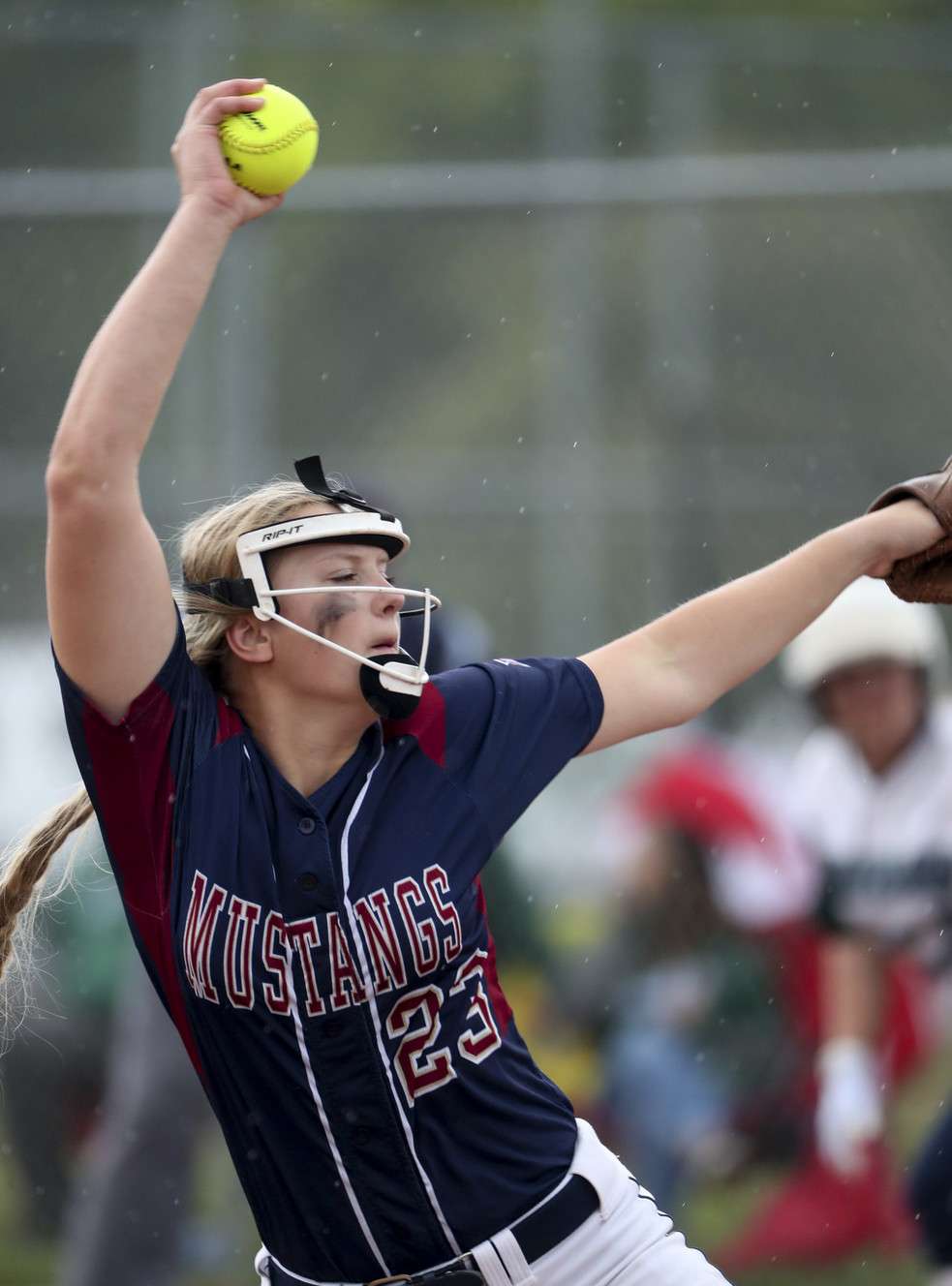 Gomez's second homer of the day gave Copper Hills a 7-2 lead in the top of the fifth inning after the Grizzlies poached 10 hits with only four strikeouts off Parkinson.
But the senior pitcher who has batted leadoff during the Mustangs' four-game state tournament run did plenty of damage from the plate. Parkinson was 2-for-3 a run scored before stepping up to the plate, down three in the sixth frame.
With one swing of the bat, she erased that deficit with an explosive shot over the right-field fence that tied the game at 7-all.
"I haven't hit (a home run) in a while, which I was thinking about right before I hit it," Parkinson said. "But I saw Kaitlyn Slade rounding second, and she put her hands up. That's when I knew it was over. It's an awesome feeling."
Herriman wasn't done, though. The Mustangs loaded the bases with small ball, setting up Smith's heroics. With a near-full court, the junior ripped a shot that bounced down the first-base line, scoring three teammates with a triple on a ball that hung just off the outside edge of the plate — her favorite pitch.
"I just took it for a ride," Smith said, "and I hope something good happened.
"It feels so amazing for the second year in a row."
Hoffman went 2-for-4 with two runs scored for the Mustangs, and Abigail Grundy went 2-for-4 with two RBI and a run scored.
Gomez finished 2-for-2 with two walks and two homers for Copper Hills (19-4), and Kaylee Butterworth went 4-for-5 with two RBI, a double and a run scored for the Grizzlies.
Loser's bracket semifinal
Layton 5, Bingham 3
At SLCC, Sadee Watkins scored the winning run in the top of the ninth to help the Lancers hold off the Miners in extra innings.
Watkins got on base with a single, and after Bingham drew the putout on the international tiebreaker at home plate, the baserunner cruised around the paths courtesy of a passed ball hurled deep into center field.
×
Photos
Related stories
Most recent High School stories