Estimated read time: 3-4 minutes
This archived news story is available only for your personal, non-commercial use. Information in the story may be outdated or superseded by additional information. Reading or replaying the story in its archived form does not constitute a republication of the story.
KANAB — Every year — or every other year — greyhounds and other sighthounds from across the country invade the small town of Kanab in southern Utah.
They parade down Main Street and go for a quick 15-to-45 miles per hour run. But most of the time they lounge.
The dog party began when Claudio Presto quit her job about 25 years ago. She had a lucrative position at an early internet access company Prodigy in White Plains, New York, as well as a house in Connecticut. But she wanted something else.
"I was working 60-70 hour weeks. I didn't want to die with my tombstone saying she was the best employee Prodigy ever had," she said. "It wasn't how I want it to be defined."
She bought a pickup truck and a trailer and set off across the country in search of a life devoted to greyhounds.
She'd adopted her first greyhound, a racing dog named Eliminator, in 1987. In the racing industry at the time, dogs were expendable — destroyed if they weren't fast enough or were too old to race.
"When I heard their story…I immediately knew that I had to do something," she said.
Hooked by the rusted red scenery, Presto settled in Kanab and started the Greyhound Gang, a one-woman effort to find homes for the dogs and raise money to help the cause. She figures that over the past 20 years she's raised up to a million dollars.
Every year or so, she holds a Greyhound gathering, but this year renamed it to the Sighthound Shivoo.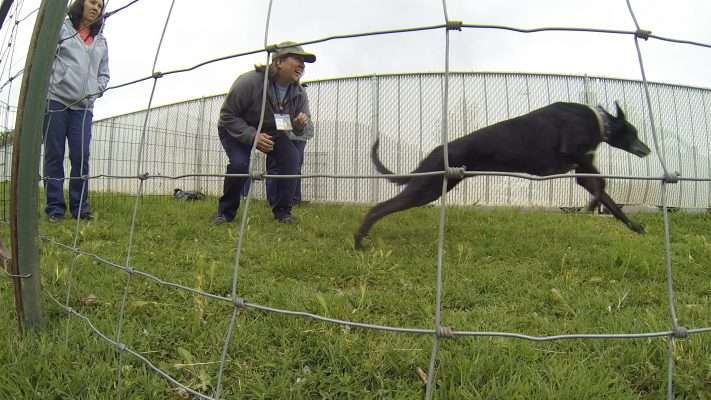 Greyhounds date back to the time of the Pharaohs. They were revered as gods and reserved for royalty. Thousands of years of breeding made them prized hunting dogs, able to spot and capture prey at incredibly fast speeds, and, therefore, the choice of the racing industry.
Most of the time they're storing up energy for those impressive sprints, so in Kanab they were mostly off their feet.
"We call them 45-mile per hour couch potatoes for a reason," Presto said. "They want to know 'how big is your bed? And how many couches do you have?'"
"They're so different," said Las Vegas resident Dana Provost, who trains her hounds to be therapy animals. "I come home to my dogs and I'm just like zen; they are zen dogs."
The 130 humans and 102 hounds in costume paraded down Main Street. There were dragon dogs, pharaoh dogs and greyhound bus dogs, among others. The last day of the gathering featured a "blur of fur" — dog speed trials outside the local elementary school. Kanab Police Chief Tom Cram brought his radar gun.
When asked, after clocking a dog at 28 miles per hour if they can go that fast in a school zone, he deadpans, "You can't. That's eight over."
"You gonna give that dog a warning?" he's asked.
"We don't give warnings," he replied.
He clocked Jennifer Boykin's dog at a high speed of 33 miles per hour.
"Yeah, and this is just jogging," said Boykin of Durango, Colorado. "Yeah, 33 is jogging for Greyhound, 'cause they go up to 45."
Presto said this is the last gathering; but then in the same breath added that she says that every year. When asked if she's glad she came out west and devoted her life to greyhounds, there is no ambivalence.
"This is who I am," she said. "This is this is how I want to be defined."
×
Photos
Most recent Southern Utah stories