Estimated read time: 3-4 minutes
This archived news story is available only for your personal, non-commercial use. Information in the story may be outdated or superseded by additional information. Reading or replaying the story in its archived form does not constitute a republication of the story.
PROVO — By most accounts, BYU's baseball team had a successful season.
With 36 wins, the first outright league title in 30 years, and West Coast Conference player of the year Brock Hale, the Cougars had a banner year in 2019.
But the postseason was more disappointing at BYU, going 0-2 in the WCC Tournament at Banner Island Ballpark in Stockton, California.
So all the Cougars could do Monday morning when the NCAA announced the 64-team field in the annual national baseball championship was wait. With the No. 46 RPI and a No. 24 national ranking at the end of the regular season, there was a chance.
Hold your breathe. Pucker up. Be prepared.
When you leave it up to chance, sometimes you get burned.
The Cougars were not one of 64 teams selected to the NCAA baseball tournament, as the bracket unfolded live on ESPNU without BYU's name coming off the television screen.
BYU coach Mike Littlewood admitted before the WCC Tournament that anything but any automatic bid won by virtue of the conference tournament title was leaving their tourney hopes up to chance — and open for potential disappointment.
Add to it BYU's longstanding university-wide policy of not playing on Sunday, and the school sponsored by The Church of Jesus Christ of Latter-day Saints was leaving little room for error as the tournament selection committee could only consider it in half of the NCAA's 16 regional sites.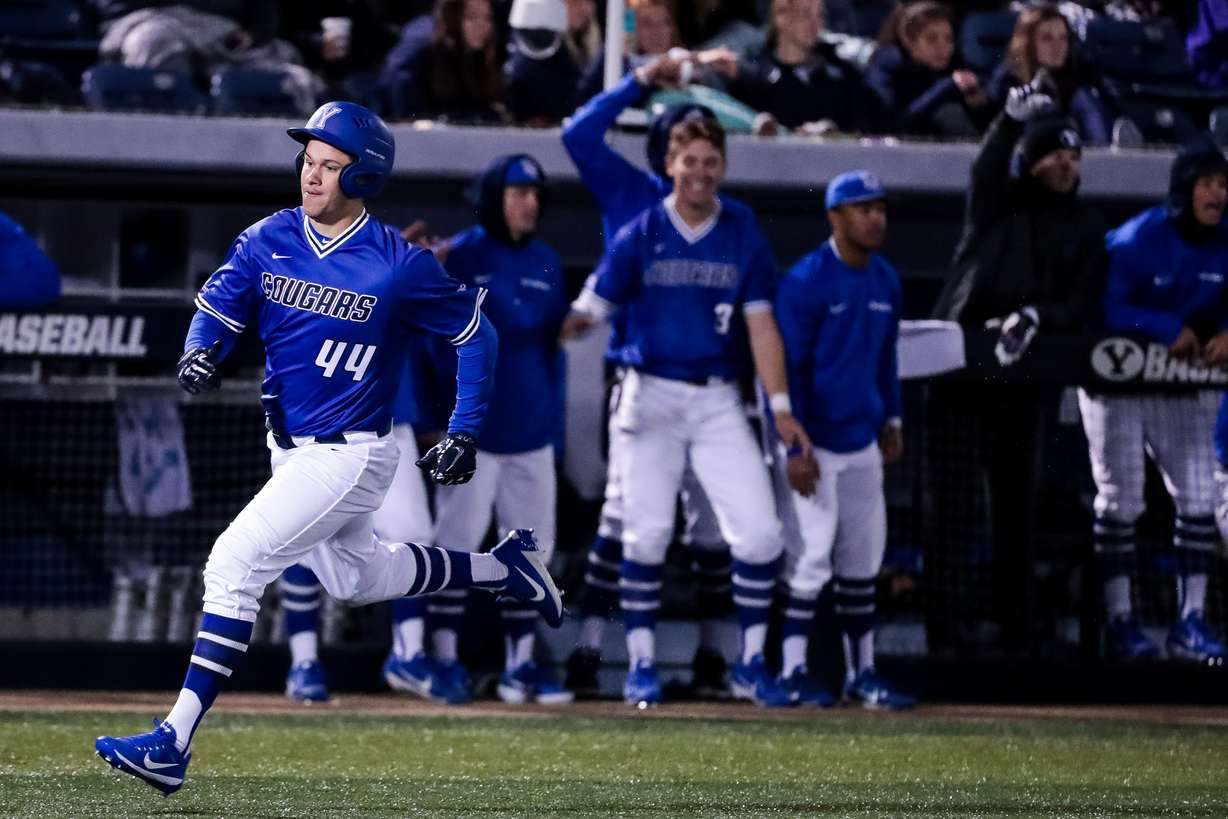 "I feel like we should be," Littlewood responded when asked if he felt his team was an NCAA Tournament-caliber squad for the second time in three years. "I feel like if we get to the championship game, then we are probably a lock for it. But then the no-Sunday play could come into play. Those are human beings making the decisions.
"I would rather win it alone. But I would think our body of work is proof enough."
At the time, the Cougars' RPI had dropped nearly 10 points, to No. 41 after a loss to league-worst Santa Clara in the final series of the regular season. BYU rebounded to win two of the three games with the Broncos, but additional losses to LMU and Gonzaga in the conference tournament dropped the Cougars to No. 46 nationally with a 7-7 record in their final 14 contests.
Tournament teams with a lower RPI score than BYU include Florida State (36-21, No. 50), Coastal Carolina (35-24-1, No. 57) and TCU (32-26, No. 59).
Houston (31-22, RPI 42), Missouri (34-20-1, RPI 31), Texas State (36-20, RPI 52) and UCF (33-23, RPI 47) were the first four teams left out, the selection committee chairman confirmed to ESPN.
"I know there are a lot of teams that do a lot of work, and don't get in — and there are a lot of teams that comparatively speaking 'should' be in but don't," BYU shortstop Jackson Cluff said.
The only WCC team to receive an NCAA berth: tournament champion Loyola Marymount (32-23), which will open the Los Angeles regional Friday against Baylor, with the winner potentially advancing to face No. 1 overall seed UCLA (47-8). It's the Lions' first NCAA Tournament appearance since 2000.
The Cougars finished the 2019 season with a 36-17 record, including a 19-8 mark in West Coast Conference play. Hale was named WCC player of the year, hitting .330 with 45 RBI and 11 home runs in his senior season with the club. Jackson Cluff returned from a two-year church mission last summer and went on to hit .327 with 56 RBI and four homers en route to all-WCC first-team honors, and head coach Mike Littlewood was named the league's coach of the year.
But BYU lost their only two games of the postseason, first falling 4-1 to fourth-seeded LMU in the opener before being eliminated a day later by Gonzaga, 3-1.
×
Related stories
Most recent BYU Cougars stories