Estimated read time: 2-3 minutes
This archived news story is available only for your personal, non-commercial use. Information in the story may be outdated or superseded by additional information. Reading or replaying the story in its archived form does not constitute a republication of the story.
SALT LAKE CITY — Conner Mantz and Clayton Young had already guaranteed themselves a trip to Austin, Texas, for the NCAA outdoor track and field championships when they lined up Saturday in the 5,000-meter run.
The BYU duo placed in the Top 10 Thursday at Sacramento State in the 10,000-meter run, with Mantz finishing fifth in 29:00.50 (just one-tenth of a second behind teammate Connor McMillan) and Young adding an eighth-place finish in 29:00.77.
Those were two of six BYU distance runners to qualify in the event, which also included regional champion Rory Linkletter (28:59.43), Dallin Farnsworth (29:01.07) and Connor Weaver (29:02.15) securing the last spot through to nationals.
"I was hopeful that we could go for the NCAA record in advancing five or more men in one event," BYU coach Ed Eyestone said. "To get six, it surpassed my expectations."
But Mantz and Young had additional ideas — why not run twice?
So they did. And they qualified in the 5K, finishing in 13:48.69 (Mantz) and 14:07.98 (Young) with top-five marks in their respective heats.
They weren't the only ones, either.
BYU will send 21 athletes to Austin after a stunning round at the NCAA West Preliminaries in Sacramento, California. That includes 15 men's track and field spots, the third-most of any school in the country and narrowly behind Florida (16) and Texas Tech (18).
It also includes Rickey Fantroy Jr., who was one of the last athletes to qualify from the group and did so with a career-best 15.55 meters in the triple jump.
"Perfect ending to what was really a perfect meet," Eyestone said late Saturday. "Rickey Fantroy Jr. coming through in the triple jump really shows that people rise up when given the opportunity. The coaches did a great job getting the athletes ready for this meet. It's the best first round that we've come to and it does well for the NCAA championships."
The NCAA outdoor championships run June 5-8 at Myers Stadium in Austin, Texas.
Here's a list of other local athletes who will represent Utah schools.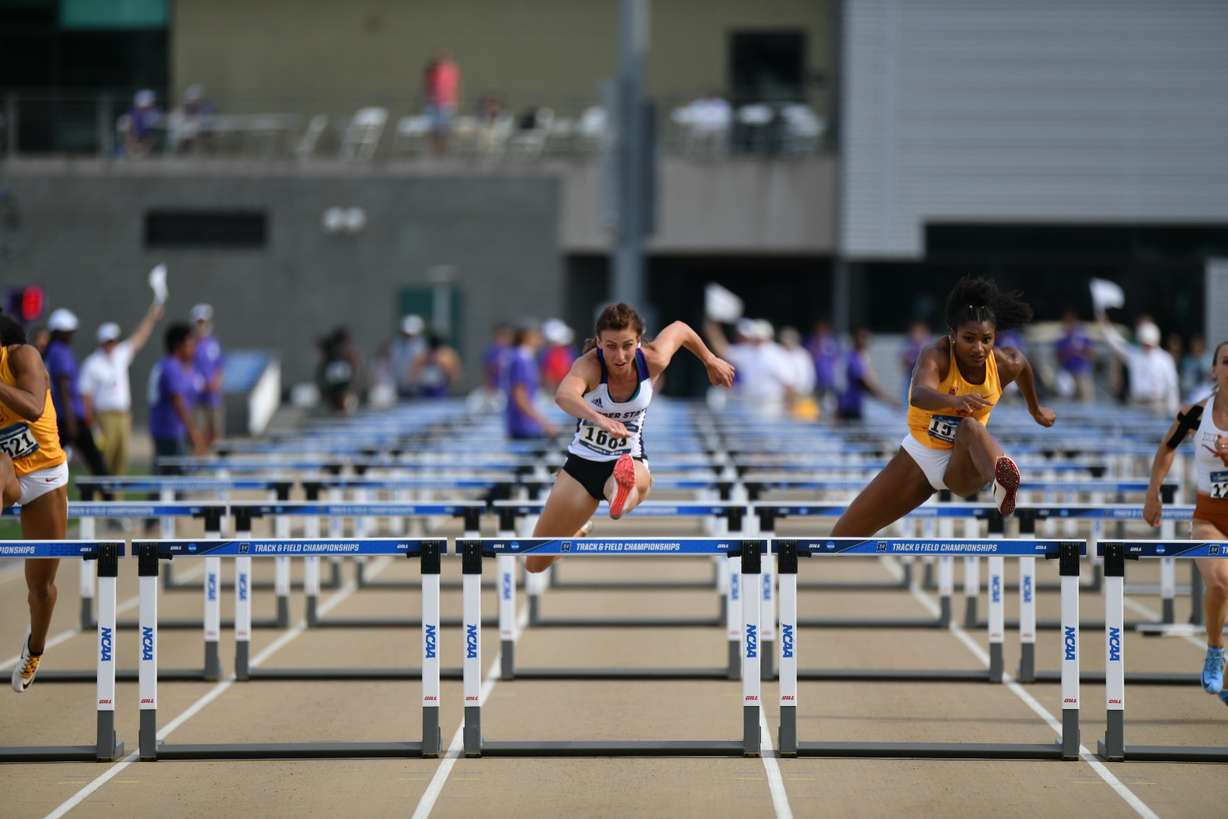 BYU
Rory Linkletter, 10,000 meters, 28:59.43
Connor Mantz, 10,000 meters (29:00.50) and 5,000 meters (13:48.69)
Clayton Young, 10,000 meters (29:00.77) and 5,000 meters (14:07.98)
Connor McMillan, 10,000 meters, 29:00.49
Dallin Farnsworth, 10,000 meters, 29:01.08
Connor Weaver, 10,000 meters, 29:02.15
Kenneth Rooks, 3,000-meter steeplechase, 8:36.08
Clayson Shumway, 3,000-meter steeplechase, 8:36.25
Jacob Heslington, 3,000-meter steeplechase, 8:39.95
Matt Owens, 3,000-meter steeplechase, 8:39.95
Talem Franco, 1,500 meters, 3:42.15
Rickey Fantroy Jr., triple jump, 15.55 meters
Abram Schaap, Blake Ellis, Colten Yardley, Michael Bluth; 4x400-meter relay; 3:06.67
Whittni Orton, 1,500 meter run, 4:13.58
Andrea Stapleton-Johnson, high jump, 1.80 meters
Brenna Porter, 400-meter hurdles, 56.98 seconds
Anna Camp-Bennett, 800 meters, 2:03.69
Lauren Ellsworth-Barnes, 800 meters, 2:05.10
Erica Birk-Jarvis, 3,000-meter steeplechase, 9:42.54
UTAH STATE
Sindri Gudmundsson, javelin, 73.68 meters
Cierra Simmons-Mecham, 3,000-meter steeplechase, 9:59.22
SOUTHERN UTAH
Frank Harris III, high jump, 7' 1"
Kasey Knevelbaard, 1,500 meters, 3:41.69
Angie Nickerson, 5,000 meters, 15:48.08
George Espino, 800 meters, 1:48.39
Skyler Porcaro, javelin, 222' 3"
WEBER STATE
Tawnie Moore, 100-meter hurdles, 13.13
Kate Sorensen, 400-meter hurdles, 57.46
Nathan Dunivan, discus, 182-11
×
Most recent Sports stories